The Tommy Bahama Paddleboard Race & Ocean Festival takes place on June 11th, 2016, on the south side of the Santa Monica Pier in Los Angeles, California.
Hey Brennan! Can you please introduce yourself and give a brief description of your SUP experience to the TotalSUP readers?
Hey everyone my name is Brennan Rose. I'm a born waterman who has been stand up paddling for almost 7 years now.  I first fell in love with SUP living in Maui, which is still my favorite place to paddle. Now living in Southern California where I can paddle in any season anywhere from lakes, harbors, rivers, and obviously the ocean. Sup has changed my life in so many positive ways. I've met many people in this sport, I've explored on more water then I've ever imagined, and the most important thing it's brought a whole new world of happiness and health to my life.  I want to show the world my love for stand up paddling.
Can you give us some details and history on this race?
The Tommy Bahama Santa Monica pier paddle race is one of my favorite races of the year. I've been going to this race for the past 5 years and plan on the next 40 :). This race is awesome because it holds a variety of racing sports. From lifeguard boat races to the mile swim to kids beach races and multiple SUP and prone races, this is a great event for everyone. Besides this being one of SoCal's biggest races, it's also one of the oldest.
As a Tommy Bahama sponsored athlete, what makes this race so special?
As a Tommy Bahama ambassador this race is very special to me because I trust their judgment and decisions on making this the best race of the year and it allows me to help make decisions and create a special race for stand up paddlers. I helped design the Tommy Bahama Surf Race, which allows paddlers to surf waves while racing or get totally pounded by the waves to provide a good race to watch from the beach or pier!
Besides intense ocean racing, what else should people expect at this event?
There's also a lot of action at the Tommy Bahama Santa Monica pier paddle besides all of the intense racing. We have great bands playing all day, which includes Dick Dale, a legendary guitar player. We also will have multiple kids' beach games, volleyball, a beer garden, and other fun game making this one of the best family events of the year. I've seen this race have 10 foot breaking waves to completely flat, so it's obviously up to the ocean for that day to either create an intense brutal beach start and race or a casual flat water ocean race.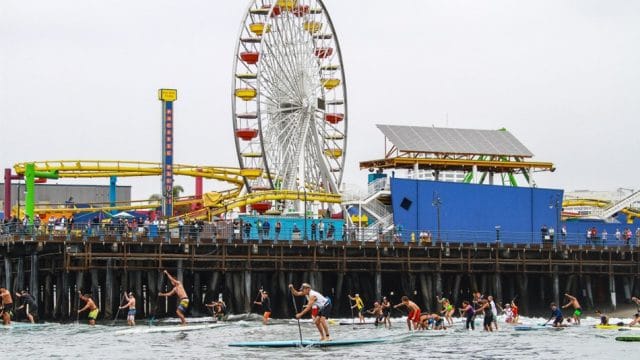 You can follow Brennan's journey on social media:
@Brennan_Rose on Instagram
@Brennan Rose on Facebook
**Check back for post race updates with full results & recap!**