Robert Norman, the new (and first) Men's 24 hour SUP Guinness World record holder received a little surprise from QuickBlade's very own founder Jim Terrell yesterday: a superb commemorative paddle, with the SUPerman sign (SUPerman being Robert's nickname). Also on it, the inscription "Robert Norman, World Record, 24 hours, 111,8 miles".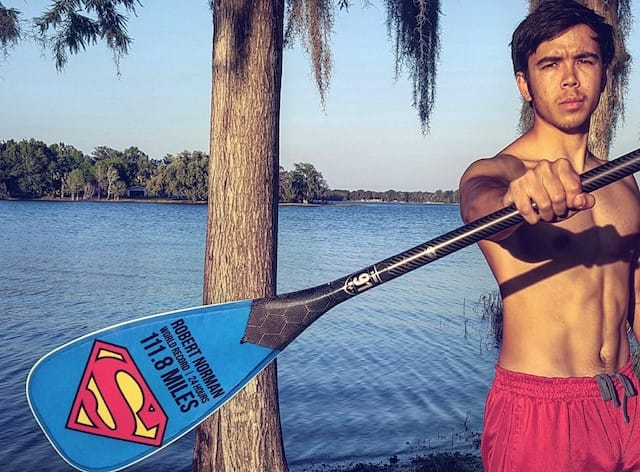 Here is what Robert said on his Facebook account:
"I was at a loss of words opening up my package from Quickblade. I didn't really get many details from Jim Terrell about the specifics of the paddle, so the surprise and shock just left me speechless.
Before the event took place I was able to speak briefly with Jim thanks to Adam, who literally ran him down for me. We discussed the paddle I was using for the event and possibly a commemorative paddle being made… if I successfully beat the record.
During the 24 hour event at around 3 or 4 a.m (15-16 hours in) I had a moment where I stopped paddling and looked at the moon and thought "Ha, I bet no one would really hold it against me if I stopped paddling after coming this far." And, as corny as it sounds, I remember thinking "I really want that awesome paddle though." My caffeine-fueled brain was imagining this fictitious superman paddle (which wasn't even this amazing), and I had to keep fighting to earn it. That thought got me through the last portion of the night.
Having this in my hand is still leaving me at a loss of words. It's a physical embodiment of all the effort that went into the world record, and it will always be a reminder of what has been done, and what can be done.
I can't thank the Quickblade Team enough, I wouldn't have broken the record without their paddle."