Canadian paddler Lina Augaitis is fresh back from success from the London SUP open, on
APP World Tour.
Lina claimed second place in the long distance after a battle with American paddler Seychelle.  But the story doesn't end there, the proud mother of two combines her passion for SUP with parenthood, an insanely difficult task. From breastfeeding through the Yukon to pulling her kids in her chariot for strength training, it is fair to say what Lina has achieved is amazing. TotalSUP talks to Lina about how to juggle it all, and
still paddle to the top!
Hi Lina, can you introduce yourself to our readers?
I am 38 years old and I have two kids 3 year old boy Tavas Dye and 1 year old daughter Aiste Dye. My first race on SUP was in 2010 and I really starting racing at some bigger events in 2013  in USA and took it up a notch in 2014 where I raced full time on all the tours and all over the world. I am based in Coldstream/Vernon BC which is in Canada. I live by lakes, about 5 hours drive from the ocean.
Whilst you were pregnant. How long did you compete for? What were the struggles on an athletic level?
I found out I was pregnant with my first child whilst at ISA World Championships in Mexico. Well, I technically didn't know but I had a good feeling. I was racing the long distance race and I was up front with Candice and my body started to breakdown. It was very unusual for me and I couldn't really understand what was happening I remember telling Candice to just go as I couldn't keep going hard anymore. I barely held onto second and felt so sick after my race. I didn't know I was pregnant but something inside me had a feeling after that experience. I did continue to race and managed 4th in the technical. Once I arrived home I did the tests and I was 5 weeks pregnant.
I had already booked my travel for the Eurotour so decided to give it a go and just really listen to my body. I managed to win the Fastest Female on Earth sprints in Germany. During the event it was very hot and I was sick in the morning of the distance race and decided to pass but a week or so later I managed to win the Bilbao race by a large margin, so it was very strange. I just continued to listen to my body, my mind and my emotions until I gave birth. I was able to push myself sometimes and other days it didn't feel right so I didn't. I stayed very active throughout both of my pregnancies. Once my first was born it took several months of healing as I had a c section and couldn't really use my stomach muscles. To be honest once I was healed in the first few months it wasn't so bad as I could carry and push Tav around. The hardest was doing sports like SUP, mountain biking and Alpine Skiing where you can't take the baby with you and train hard.
In the winter we love to nordic ski and we could do that together with the chariot and in the summers we got into Canoeing, running and biking with the chariot. Its hard for us as we do not have any family even remotely close to us, plus most of our friends have multiple kids themselves so we don't have that support where we can easily just drop a child or two off for an hour or so to do something, so its either Andrew or I or we really have to plan and pay for babysitters.
When did you return to paddling after the birth?
Both of my babies are in the winter months so I started off with nordic skiing as my return sport. About 6 weeks post partum I started to ski and run a bit, always pushing or pulling the chariot(the cart they can sit and sleep in). Once it got a bit warmer I started SUP, mountain biking and trail running. It was mostly about being creative. Like I mentioned we don't have help and we don't have lots of free money to spend, so its just about  juggling between the two of us. We both like being active and being adventurous.
You paddled the Yukon whilst breastfeeding? what was that like?
I had paddled the Yukon in 2011. I was the first to Paddle the route on a SUP in 2011. I SUPed and Andrew kayaked with me. I wanted to race but they wouldn't let me and so I just did the route and proved it could be done. So that being said I felt like I really wanted to be part of the first group of SUP paddlers racing the race for the first time officially. Unfortunately for me when they announced it it meant I would have a 6 month old baby. I signed up and knew that there was a good chance I would not be able to do it. I really could not train for it effectively for obvious reasons so that race was all about finding my old adventure racing brain and mind to get me through it.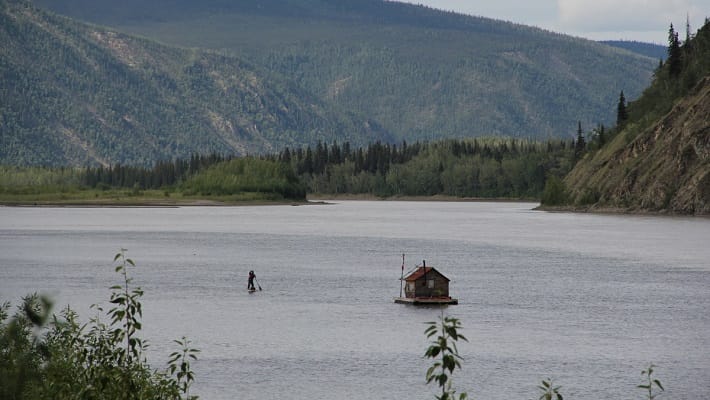 I had to figure out how to pump while padding as I was still very much breastfeeding a lot. We had to start Tav on food a little earlier so he wouldn't starve without me. But I also needed to release my milk so I wouldn't get mastitis and also be able to to continue to breastfeed when I finished. I used an electric pump, I put holes in my sport bra then used a water proof waist belt to set up a hands free pump system. This meant I could pump and  even paddle at the same time! It was crazy but it worked I would pump until the bottle was full then empty the bottle and change sides I believe I pumped about 8 times each side throughout the race.
I got to see Tav 7 hours from the start for  7 hours and then not again until the finish which was just under 60 hrs. It all worked out in the end but it wasn't easy for me,Tav or Andrew my husband:) A fun story to share with him when he is older. That race I won the female division on SUP and managed to be in the top 5 SUP paddler.
How do you juggle being a mum to 2 babies and training?
Two babies is definitely way more difficult then one. Actually it makes having one feel like nothing but you don't feel this until you have a second. Just one is super hard when that is all you have! (hahaha). Again with very little to no help it has been tough. A lot less time to do anything and I like to be busy with them so we are always out doing things.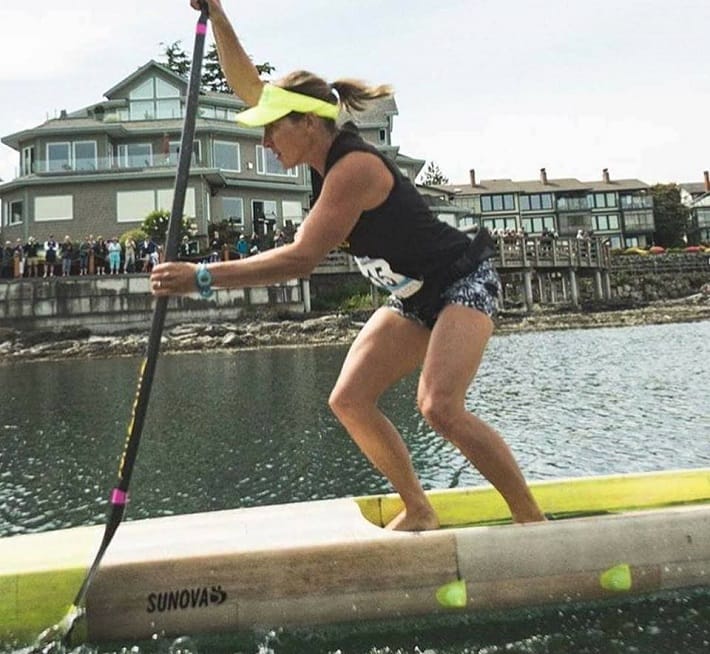 They had to get used to napping in the chariot stroller for my runs, bike rides and ski sessions. I have weights for the house and on good days if they kept sleeping in the stroller I would do a weight workout in the basement. The hardest was getting paddling in especially while breastfeeding. Again, both Andrew and I are active, we both like doing stuff so sharing that time after work is tough with kids, getting them fed and ready for bed etc and also at the same time making sure they are doing fun things. Phew I am tired just writing about it all!
We also really value family time and love doing things together, so are creative with that as well like biking while we each tow a child or same with skiing and running. We got into canoe camping as we can do that all in one canoe together. Now I paddle early in the mornings as it seems to be the only time I can get it in (I am not a morning person so its tough). I manage if I am lucky to run with the kids if Tav will sit for me (Aiste still naps) and if I am lucky Tav will hang out and play while I do weights, it is  tricky with Aiste though.
How did it feel to be a mother returning to elite paddling?
It is different. I am still very competitive so it is a mind battle for sure I want to be there and be on top but I definitely don't have time to train as much as others. I can't come early to races and so far 95% of my races I have brought a child/baby with me so I can't really fully concentrate on the race. The few races I have done with no kids I am still thinking of them all the time so its not the same anymore. The amazing thing is I feel like I do it for them more than me, I feel excited that they get to have a mom who is a successful athlete, for them to have that inspiration and role model.
Can you talk about any notable victories or events that tasted sweet, just because of the amount of juggling you had to do?
The Yukon River quest I think is my proudest mom moment as I don't even understand how we made it all work, how my body and mind could even do such an event. To this day I can't believe I paddled and pumped. Plus I paddled such a crazy race on my.own with a 6 month old. Also that we had to drive there and back which took 3 to 5 days each way! The whole thing still amazes me!
After my first child it was only 3 months until I raced the Carolina Cup and managed 8th overall which I thought was great. I also won the gold at 2016 ISA world championship in Fiji in the sprints, that was when my first was 10 month old. I also managed to continue to hold my Canadian titles as well.
How did it feel to but in such a good performance in London? do you feel Lina is coming back?
It felt so great. Ha I was 100 percent shocked. I was more thinking I would either be struggling in the back of the front or be in the second group. I feel like maybe yes I am back but different as I will never be like I used to be not in mind or spirit. My number 1 is always and will always be family, where is before I could have just focused on myself! I am still competitive and clearly my speed is coming back so it's kind of exciting to see what I can accomplish in this new life 🙂
What is in store in the next year for you?
From now on I function not too far in advance as I am not sure what will happen with family and work life. There are a couple of events I would love to do like 11 cities which is tough, as I am a teacher and it usually lands on the first week or two of school. I would love to find the adventurous races as my heart has and is always around adventures and expeditions. This is  what really fuels my joy. So if there are any events anyone knows about please let me know! I also want to start trying to do just SUP adventures with the whole family, to me that would be the coolest!