Lexi Alston, at 14 years old, is one of the most promising paddler of her generation. She especially revealed herself last year at the Pacific Paddle Games, finishing 7th on the ELITE Women's division. To start her 2016, she took the opportunity to come to Europe to compete against the world's best paddlers on The Euro Tour's biggest races. We interviewed her to learn more about how this experience went for her at such a young age.
.
.
Hi Lexi, congratulations on your 3rd place at the Pier Paddle Race last month, it must have felt good to race back home, right?
Thank you! Yeah, it felt really good to be back home!! I was still trying to get back on California time after being in Europe for the month but I was excited to race at Santa Monica because it is one of my favorite technical races.  The weather was cloudy and overcast but I was extremely happy to see that there was chop and small waves throughout the morning.  I definitely missed those elements while racing in Europe.  The chop was very convenient for the longer race as it added a little more fun to the first half of the laps, until of course we had to go upwind.  Later in the afternoon the waves stayed, but the wind was gone so that was perfect for the technical race.  It was fun to be back in California and see all of my friends.
.
A few weeks ago, you travelled across Europe to compete on The Euro Tour, what races did you do and which countries did you visit?
I still cant believe it but I traveled through France, Germany, Austria, Switzerland, Spain, and Italy!  It was so much fun.  I attended numerous races along the Euro Tour which included the races in St. Maxime, Lost Mills, and Bilbao.
.
How did you travel between each events?
.
Between each of the events I traveled with my Hobie team mates April Zilg and Martin Letourneur.  We drove the roads of Europe with our Hobie inflatables in the trunk so we could practice when we didn't have our race boards.  We saw so many beautiful places and paddled our inflatables wherever we could find water to explore.

.
What place and what race did you like the most?
My favorite place and race along the trip took place in St Maxime, France.  I saw the greatest views and scenery while I was there.  I paddled through clear waters and ate the most amazing food.
.
What was your best and your worst memory during this trip?
.
Best memory : My best memory from this trip was making crepes with Martin's mom Catherine and touring all of the historical places with Martin and April.
.
.
.
.
.
.
.
Worst memory : 
My worst memory would have to do with food. I would definitely have to choose between the disgusting cheesy bread I ate in Switzerland or a terrifying smashed rat ice cream that looked nothing like the picture in the menu.
.
.
.
.
You travelled with Martin and April Zilg for more than two weeks, was it hard for your to be far away from your family?
Even though it was hard to be away from my family for a long time, it was a such a great experience to travel around Europe and see all the countries I got to visit.  I am glad I stayed as long as I did.  I am so thankful to Hobie Stand Up Paddleboards, Martin, April and my mom for all they did to make this amazing and memorable trip happen.  I am so grateful for all the nice people I met along the way.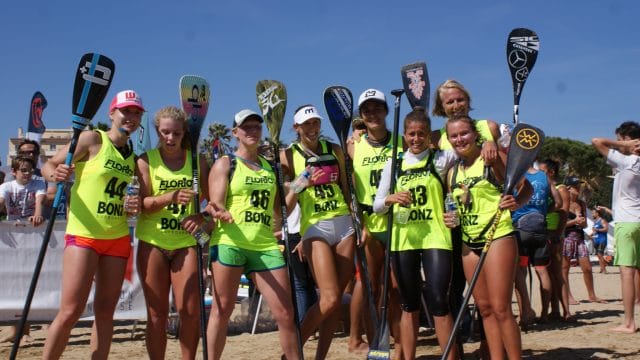 .
You missed a few weeks of schoolwith this trip, how did you organize your work?
My teachers all worked with me to make sure I had the work I needed to fulfill my Independent Study Plan and graduate 8th grade.  It was not easy to organize and do my school work during the trip because of the lack of wifi and all the fun I was having but I got almost all of my work completed and turned in on time.
.
What are your next projects for this year?
My main goals for this year are to finish out my SUP racing season strong and try my best to improve my placings from last year.  I will be starting High School in August and taking accelerated classes so I want to focus on getting good grades too.  I am also working hard to better my SUP surfing and Longboarding.
.
Click HERE or HERE to learn more about Hobie Stand Up Paddle Boards.