Known worldwide as a Stand Up Paddle pioneer, Candice Appleby is also the winningest female SUP athlete in history. If she started SUP racing in 2008, and was still at the top of her game last time we checked in 2019, Candice's history with the ocean started way before her love for racing and is very much rooted in surfing. Her recent USA National Championships SUP Surfing title (the 3rd one in her career among many other national and international achievements) reminds us that Candice Appleby is also a fierce competitor in the waves. Armed with her Infinity SUP Surf quiver, Candice opens for TotalSUP a little window on her surfing childhood, her SUP surfing debuts and her new coaching projects with the Ocean Academy.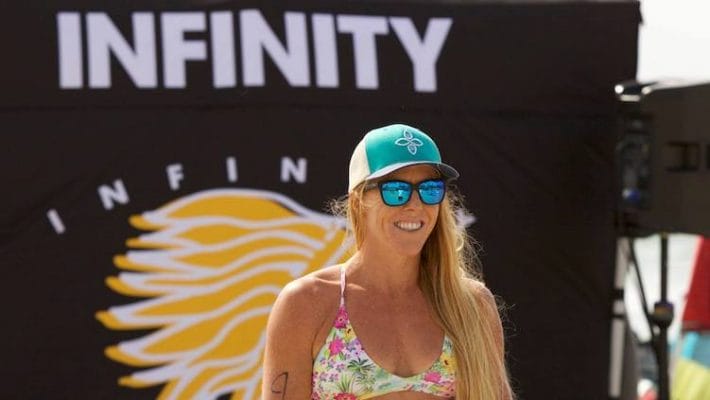 What board did you use throughout the competition?
At the US Championships I used a custom 7'7" x 25" 77L Blurr that was shaped for me last year. Before Pan-Ams and ISA Worlds in 2019, I was surfing smaller sup surfboards at 7'5"x24" and lower volume, but I wasted so much energy just trying to balance. I feel like I can move a bigger board well, so I have gone back up to 7'7" & 7'8" for my performance sup surfboards. I actually really love the 7'8" production BlurrV2 and surf it more often than the custom 7'7".

Is that your "everyday" board?
Honestly, my everyday board is probably my Infinity 9'0" performance longboard. Most of my time on the water is spent coaching from my Blackfish raceboard, but when I do get to surf, I really love longboarding. I love every kind of surfing actually. I usually load my truck up for the beach with 3-5 different types of boards. I really just love to play in the ocean.
What's your SUP surf quiver like?
7'5" Custom Bline
7'5" Custom Blurr w/Round Tail
7'7" Custom Blurr w/ Squash Tail
> 7'8" Production BlurrV2 
> 9'0" New Deal
> 9'6" New Deal
I personally think that the Infinity New Deal is the MOST FUN sup surfboard ever. Turns great like a performance longboard, and has a little bit more volume in all the right places for stability, but it doesn't slow you down.
Not many people know that but you were a surfer before being a stand up paddler. Can you tell us about your personal history with the waves?
I've been in the water since I was really small. Like most kids, I started off with boogie boarding and bodysurfing. When I was young I actually lived over an hour away from the beach, but my family went to San Onofre Surfing Beach almost every weekend with my mom. My parents were divorced and my dad lived at the beach so when it was his weekend my sister and I would be with him in Laguna, Huntington or Newport Beach. It was neat because I got to experience many different waves. I started surfing regularly when I was nine years old (my mom taught me) and began competing at 10 years old while I still lived an hour from the beach. My dream came true when I was 11 and my parents moved to San Clemente and I no longer had to commute an hour to surf. I literally got to run down the street after school with my surfboard under my arm.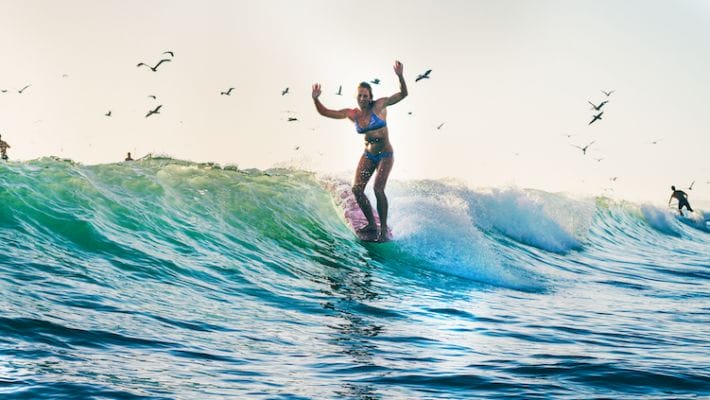 In high school, we had a surf team and I was the captain my senior year. I got to go surfing for my first class of the day, and get a grade for it which was really cool. Our High School team was national champions all four years that I went there, and has produced several world tour surfers. When I graduated high school, I was asked to be on the USA national team for shortboarding and invited to compete in the ISA World Games in South Africa. I couldn't afford the trip and would have missed my first week of college at the University of Hawaii, so I had to decline the invitation. At 17, I moved to Oahu to pursue an education and a surfing career. 
My first few years in Hawaii I competed in shortboard and longboard events in the Hawaii Surfing Association. I went on to win a state title and short boarding and national title in Long boarding, as well as the Women's Pipeline Pro in 2011 in the Longboard division.
In 2006 I was spending a lot of time Surfing at Makaha on my longboard and that's when I was introduced to stand up paddling. I was lucky to be at the right place at the right time and have some really incredible mentors. I was living in Waikiki at the time and would borrow the big rental surfboards from the beach boys (there weren't even proper sup boards to rent yet), and would practice all of the things that I saw the guys at Makaha doing, with a paddle that was given to me by Rusty Keaulana. Over the next couple of years, I was usually one of the only women competing against men in sup Surfing events because there was no woman's category. In the 2008 Duke's Ocean Festival, I won both the Open Pro division and the Women's division for SUP Surfing. I was the only woman in the pro division that year. Fun fact, Slater Trout won the amateur division that year and Kai Lenny won the kids division. That was the year I started racing as well.
How have you managed to keep it together over the difficult past year and a half ?
It sure has been a crazy year, but honestly there have been so many blessings. It's been strange to have no events or travel, but it's also been really nice to be home. When Covid started I had already been coaching a couple of women privately. After the crazy strict lockdowns settled, my client load went from 3 to 4 to 5, and it just kept growing. I was really loving the time I got to spend on the water teaching people to surf, paddle, and build confidence in the ocean. During this time, I was inspired to start my new coaching business Ocean Academy. I've always loved coaching, and as you know I founded Performance Paddling years ago with Anthony Vela, but with Anthony running that program the past several years, I've realized that I missed that part of my life. So here I am now with Ocean Academy.

Tell us all about Ocean Academy then!
Ocean Academy is my new coaching business, but more than that, it's a lifestyle brand. My specialty of course is private coaching and clinics, but I love teaching groups, families lessons and corporate events as well. It really is a place for all people of all abilities to have fun, be encouraged, and build confidence in the ocean. I'm also writing training programs for athletes around the globe and doing virtual coaching via video analysis. I have some other fun projects in the works that I will be announcing later on this year as well.  I really love being a coach. I especially love helping athletes fine-tune their technique with the dozens of different drills that I've created over the years. It's so fun for me to see my clients learn new things and get excited when they accomplish a new goal or skill. My life right now is pretty much a full-time coach and business operator. A slow week for me right now is 10 private clients. I'm paddling at least 45 miles a week just with clients alone. I love what I'm doing and I think my clients are having a great time too. I am truly blessed to have found my purpose and to be able to pass along all the things that I've learned. I look forward to more traveling next year where I can take some of my clinics to different places and help more people build confidence on the water. I take it as a great honor and privilege to be someone's coach, that they would trust me to help them towards their goals. Really, I get to help people improve in the thing that they choose to do for fun. How cool is that!
After more than 15 years of SUP competitions, are you still victory-hungry? What are your main objectives for the rest of the year and beyond in both SUP surfing and racing?
At the beginning of the year, I was really fired up to compete and was deep in training mode. But then my client load tripled as I launched my business. With the tour dates continuing to be pushed back, and my business growing, I'm finding myself more and more focused on growing Ocean Academy. I am a competitor at heart so I know that I'll always have that drive in me no matter what I choose to do. As for this year and competition, I'm kind of just taking it as it comes. I'm sure I'll get on the start line at some point, but my main focus right now is helping my clients achieve their goals. I love racing and winning is great, but if my success ends with me, then it ends. I believe real success lies in what I can do to help others achieve, and that is my main focus right now.