SMIK E-Sea Rider 9.1 x 31
Retail Price €1,200 / $1,325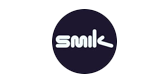 | | |
| --- | --- |
| Structure | Rigid |
| Board Type | SUP Surf, All Round |
| Volume | 144 |
| Length | 9.1' |
| Width | 31" |
| Volume | 144L |
| Weight | 10.3Kgs |
| Shaper | Scott McKercher |
The e-Sea Riders are fun, colourful, entry-level boards that are easy to carry, easy to paddle and provide the confidence to venture out into ySMIK's first waves.
They're very stable with ample volume and width. The rocker is a perfect blend of glide for flat-water paddling and smooth, effortless turns when surfing ySMIK's first waves.
As you progress, you start to notice and appreciate the built-in performance attributes such as the double concave bottom, thruster fin set-up and tail kick pad.
The e-Sea Riders are actually more than competent longboards, which more advanced riders will also enjoy.
So the astute hubby will be able to buy his wife a board that's "totally for you, honey" but then take it to the beach and have a cranking surf on it as well.
Construction / Technology
The Full Wood Glass lay-up is SMIK's price point technology, available for the eSea Riders and selected Hipster Twin models. It uses compression moulding to ensure accurate, durable shapes at an even more affordable price.
Boards with just EPS and glass will quite quickly have heel indents around the standing area and tail where heels compress.
SMIK's Full Wood Glass Performance construction, as the name suggests, uses a full wood deck, with additional wood reinforcement in the standing area for boards that feel crispy and light under foot.
Rails, nose and tail areas are also reinforced with extra layers of glass and make the boards extremely tough and durable.