Fanatic Ripper Air 7.1 x 29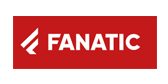 Fanatic's kids inflatable SUPs match the strength and size of the next generation perfectly. Light, strong and with easy handling, the ultimate fun package that they can carry to the water themselves on their bike or skateboard, and set up easily.
The 7'10″ Ripper Air is the soft and playful all-rounder, designed for easy action on flat water, or riding small waves for the first time. Stable and easy handling, its innovative design makes it especially user-friendly, maximum fun is guaranteed!
Construction / Technology
Fanatic's single layer Drop-Stitch Light technology provides a lightweight and quality construction without reaching deep into your pockets. Still produced at one of the world's most renowned manufacturers, this inflatable technology is created with top quality materials and production standards you'd expect from Fanatic.