Fanatic Ray Air 12.6 x 32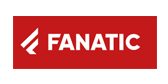 The Ray Air is Fanatic's inflatable touring SUP that has sleek lines and immense glide, making it the ideal partner for exploring miles of coastline, lakes, channels or rivers.
It's generous volume and maximised waterline combine stability and straight-line performance, while the optimised thickness offers great rigidity for effortless paddling. The Ray delivers the ultimate touring experience – from beginner to experienced paddler!
The Ray Air Pure Edition comes in Fanatic's light, strong and value-minded Drop Stitch Light Technology.
Construction / Technology
DS LIGHT: Drop Stitch Technology – Fanatic's single layer Drop-Stitch Light technology provides a lightweight and quality construction without reaching deep into your pockets. Still produced at one of the world's most renowned manufacturers, this inflatable technology is created with top quality materials and production standards you'd expect from Fanatic.