Fanatic Tandem Air 16 x 34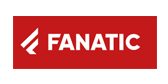 Whether it's 'two-stroke' Windsurfing with a friend; or SUP cruising with your kids on board; it's always double the fun-factor on the Tandem Air Premium!
The ultimate play-toy for families, groups or clubs; Fanatic's Inflatable Tandem is equally at home Windsurfing with two sails attached, or stand up paddling on flat-water. Packed with volume for stability, the soft comfortable deck has plenty of space for two people and their luggage and it glides and tracks well thanks to the elongated shape and removable centre and rear fins.
Fanatic's Double Layer HD technology creates maximum stiffness with an ideal weight / durability ratio,
and multiple handles make carrying easy. For easy transportation, we've developed a premium bag for the Tandem Air, including Fanatic's Fanatic Power Pump HP2 for quick and easy inflation.
Construction / Technology
The Double Layer Light technology is Fanatic's Premium construction. Featuring a second PVC layer, which is welded directly to the core layers and around the V-Drop Stitch material – the heart of each Fanatic Inflatable. An additional third layer of coloured rail bands round off the highly durable and premium quality, with stylish optics of the deck print.
The benefits of the Double Layer Light construction when compared to the standard Double Layer technology is a 20 – 25 % reduction in weight, and around 25 – 30 % increase in stiffness. Simply the best inflatable technology out there!