Are looking for your first stand-up paddleboard and something along a 4×4 model? The Wattsup inflatable Espadon 11′ stand-up paddleboard is an option you may wish to consider. Developed by French watersport brand, Wattsup, the board is a versatile allround SUP, suitable for both paddling and using in some light SUP surf. With its width and volume (32″ wide x 304L) the Espadon can be used by more than one paddler at a time and it also allows that extra cargo!
To find out more, TotalSUP caught up with Gaël Beven, French hiker, paddleboarder and the Founder of a popular Facebook group "Randonnée PACA", dedicated to outdoor activities, who has been using the Espadon 11′ for two years now. Gaël has been exploring his magnificent region (Bouches-du-Rhône, Southern France), paddleboarding between the sea and lakes, from the Calanques National Park to the ports, demonstrating that "all-terrain spirit" of the Wattsup board.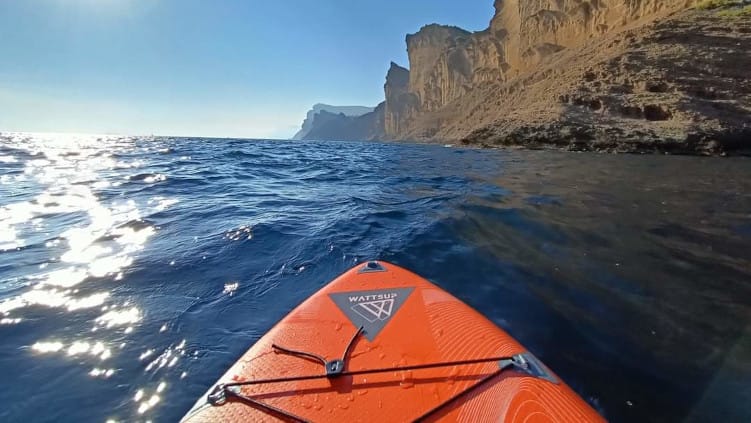 Hi Gaël! To kick off, could you tell us more about yourself and the community you've built (71k members!) on your Facebook group Randonnée PACA?
Hi, I'm all about sharing. Unfortunately, no one in my family likes to do big hikes. So on 13 March 2016, I came up with an idea of creating a group to be able to share my passion with outdoors enthusiasts. It was set up for people who hike alone or in a group to discover what we're doing through posts and photos and explore it themselves.  I've never imagined that the group would become this big.
How did you get into paddleboarding?
I've been paddling for around two years now. What pushed me to get into stand-up paddleboarding was my passion for all sports and general curiosity. Also… I love water! I paddle as much as I can and I love discovering new places too. In the Summer after work, I like to go for a paddle, watch the sunset and just enjoy this moment.
You ride on Wattsup Espadon 11', how did you come about this versatile board?
I wanted to start paddleboarding but I had never done it before. I do a lot of kayaking and I like to switch between the two. This is a great entry board and I am very happy with it. I absolutely do not regret my choice and recommend it.
With its allround design, where do you usually paddle?
I mainly use it on the sea and lakes. When on the river, there's the problem with the current, so we need to cars at the finish and end stop. I also use it in waves and I love to play with balance. I'm a bit crazy so I need to let off steam too.
What are your impressions when it comes to glide?
I found both glide and tracking really good! There's also lots of volume that makes the board very stable. Of course at the beginning, you fall in but once you find your balance, everything is fine!
The Wattsup Espadon has a lot of volume that allows to take another SUP passenger or extra cargo…
I have already paddled in a tandem on it. I also want to take my dog with me and paddle and camp along the way – it's a dream of mine. With all that width and space on the board, I have already cooked on it: fajitas in La Ciotat and hamburgers in Saint-Cyr! I like to cook when I'm surrounded by nature. But it's not over, I have a big project coming up… barbecue on a paddleboard! This Summer, I'm going to paddle around Cap Taillat. I also went to the Blue Cave starting from the Calanque de Morgiou. Great memories with the orange colour of the board standing out!
What are the unmissable spots to paddleboard that you shared in the PACA group?
You need to see Calanque de l'Esterel… Cap Taillat and the creeks of Marseille in general! But beware of the new regulations that will be put in place during the Summer season. It is important to respect the regulations, to preserve nature – I can't stress it enough! I really like the port of Alon in Saint-Cyr-Sur-Mer, or heading to the Bec de l'Aigle in La Ciotat.
What's next?
We're currently working on developing the P.A.C.A Hiking Association (Partager Accessibilité Complicité Amitié) and we are looking for people who would like to join us and share their experience in stand-up paddleboarding and hiking too. The association aims to organise trips for people with disabilities. We have already secured four partnerships including a SUP store. We are waiting to finalize everything and spread the word!
Thank you very much Gaël for your time and we can't wait to see that BBQ on a paddleboard!
Follow Gaël Beven and the PACA Hiking Association:
 Facebook / Instagram
To find out more about Wattsup, visit www.watt-sup.com and follow the brand on social media: Facebook / Instagram
*This is a translation of the original article by Laurie Montagner