Outrigger Canoe (OC) paddling has seen a meteoric rise in the past 3 years! Clearly the boom of SUP paddling has benefitted the OC scene with more and more SUP racers looking for cross-training sports or leisure paddlers attracted by the deeper Polynesian roots of Stand Up Paddling. On stretches of water all over Europe, OC paddles can now be spotted. This new popularity of the sport has been driven by paddle ambassadors and enthusiasts such as British paddler, Jenny Williams.  A cornerstone of the UK Outrigger Canoe community, Jenny has been beating the OC drum for years, and is now tasked with growing the WOO Outrigger Ohana (family) in the UK. TotalSUP talks to Jenny about the rise of the UK OC scene and the brand WOO outrigger!
Hi Jenny, who are you and how did you get into OC paddling?
I'm Jenny Williams, outrigger and fitness enthusiast and distributor for Woo Outrigger in the UK. I have been paddling outrigger canoes since 2008, both as part of a team and as an OC1 paddler.
I have always been into health and fitness and worked as a fitness instructor prior to paddling. Outrigger canoeing has given me some great opportunities and I have competed globally – representing the UK in 2012 in the Calgary World Sprints as part of the women's crew, I was the fastest female 6 KM paddler in Giglio Island (my first ocean race!). I've competed in Hawaii in the Queen Liliuokalani race and more recently, I took on the Orofero race in a mixed OC2.
I wanted to do more for the sport, so I created Thames Ocean based in Weybridge Surrey, West of London, a beautiful part of the river, where I organise outrigger hire and water based (OC) fitness sessions, SUP hire and SUP yoga.
When did you first come across Woo?
A few years ago, I bought a Woo Feline, met with Guy Ringrave, the founder of Woo and was so impressed with the boat that I decided to distribute Woo in the UK, and now work with Fanny Ringrave, Guy's daughter. In the UK you can contact me for any Woo boat, I'll be happy to help and organize. I really like bringing paddlers into the Woo family and of course, spreading enthusiasm for the sport!
In buying from Woo, you don't just buy a pre-built canoe made in China, you buy an OC1 for you. It is designed to your spec by a team of professionals in Anglet, in the French Basque country. You also become part of something greater, you join the Woo Family, a part of an ohana that you can look up and paddle with wherever you are. You support a smaller business and you support the dream of Guy, a passionate paddler, and visionary, to make Woo the biggest OC brand out there.
What is the future of Outrigger in the UK?
OC seems to be getting more traction in the UK now. I believe this is due to the emergence of SUP and the cross over between the two sports! SUP has been super accessible to people and as a result, more people are on the water and see these magical looking canoes and they want to try them. We are lucky to have some strong paddle ambassadors that champion both SUP and OC – Olivia Piana, Sonni Honscheid, Steve West and Ryan James to name a few.
In terms of competition, OC is lucky to springboard off of the back of the GB Surf Life Saving Scene. As a result of this, we are invited to races and have an OC category available to us. Suddenly racing is accessible – this wasn't always the case for OC in Great Britain. For a long time we travelled to races in Europe, the US and other international events, so it is really great that the UK Ocean Sports Family is coming together to provide events for all disciplines. Of course, it is still great to take part in races around the world.
As well as this our Woo Family is steadily growing in the UK, I know that I share the dream with Fanny (Ringrave) and the team at Woo to ensure that in the future, podium positions will be taken by athletes paddling our canoes!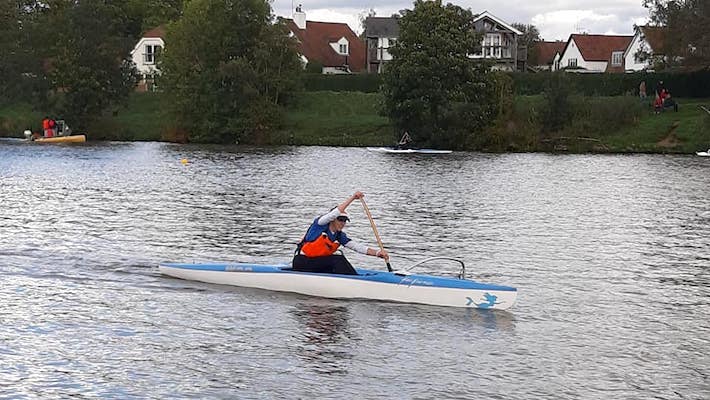 What is your favourite thing about the sport? 
I am a passionate advocate of the sport, and the benefits of it, both mental and physical – it is a sport that is accessible to all and can be great as a remedial activity. I've known guys who have played rugby at a high level, been taken down by injury and can no longer get on a pitch to play. They get into an outrigger canoe and suddenly they can compete again, they can be strong again and they can be part of a team again. Outrigger canoeing origins are spiritual, when you sit in the canoe – whether OC1 or a crew boat – you are a part of something far bigger, we are all connected by the water, the river, the lake, the canal, the ocean, wherever you are, you are always part of a broader paddling ohana, a community and that is what is so important.
OC is great for overall fitness and cross-training. You can be a recreational paddler or a competitive athlete, in the world of outrigger it doesn't matter! Going to events internationally you meet some idols of the sport and you talk to them and they are regular people! In outrigger canoeing there should be no room for ego, it is a spiritual sport and gives us freedom.
How can I get into OC paddling?
The OC world and the Woo family is growing in the UK. There are clubs based on the River Thames, in the North of England and in Bournemouth who would be delighted for you to join them. Cardiff White Water has recently acquired a fleet of Woo boats including the OC5 designed especially for beginners and more experienced paddlers alike. I also organise introductory sessions, OC hire as well as technical or fitness sessions at my base in Weybridge on the river Thames, we use a fleet of Kawans, an ideal boat for fitness and to develop technique.
Contact me and I will be happy to help you. If you are keen to demo a Feline, or an OC2 you can drop me a note and we can organise a paddle!
For more information on Woo Outrigger
Website: www.woo-outrigger.com
Facebook : www.facebook.com/WooOutrigger
Instagram: www.instagram.com/woo_outrigger