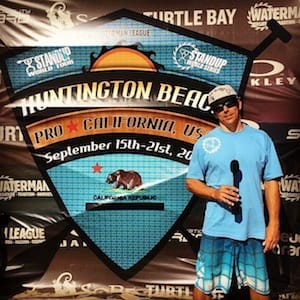 We had plenty of questions for Tristan Boxford, founder, via the Waterman League, of the Stand Up World Tour (surfing) and Stand Up Word Series (racing). From the origins of the Waterman League to the future of the sport, Tristan Boxford looks back at 2014 for us, talks prize money, new rule book and 2015!
Hello Tristan, can you please introduce yourself and tell us a bit about your background?
My name is Tristan Boxford, I am CEO of the Waterman League and we founded the Stand Up World Championship Surfing Tour and Racing Series. I live on the North Shore of Oahu just next to Turtle Bay where our headquarters are and from where we run all elements of production and delivery of events and media.
My background is that I was a professional windsurfer through the 90s and early 2000s, competing in waves on the World Championship Windsurfing Tour. I was British and European Champion, with my highest finish on the World Tour being 5th. Early in the millennium, I started to get more and more involved in Media projects and was becoming tired of the same events over and over on the World Tour in uninspired locations, so wanted to see something different. My initial focus was on adventure travel, as I worked on projects for MTV Europe, Transworld and other tv channels and wrote articles for the likes of GQ, Traveller magazines as well as dedicated windsurfing publications.
I then started to develop events for media in 2004 with a reality TV project involving the World's best windsurfers through 2004/5 which led to the launch of our Ocean Games event, an 'X games' of the ocean, held in Maui in 2007 and produced for NBC. This was the foundations of what would be the Waterman League.
What exactly is the Waterman League? What's its history so far?
The Waterman League was founded in 2009 to serve as a global body of representation for the complete cross section of Ocean Sports. With an advisory board of some of the world's most respected Ocean Sports figures (Archie Kalepa, Robby Naish, Brian Keaulana, Peyo Lizarazu, Luke Egan, Chris Bertish), the first focus was on an emerging sport called Stand Up Paddling, with the proposition to create a World Championship Tour for the sport.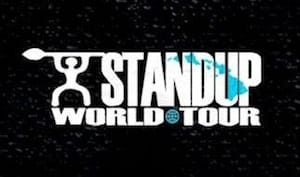 In 2009, we started with an exhibition event in the beautiful island of Tahiti at the infamous wave of Teahupo'o to set a new standard for the sport and provide a taste of what was to come, changing people's perception of what Stand Up Paddling was all about.
This led to the full launch of the Stand Up World Tour (SUWT) in 2010, with the historic World Tour Opener at Sunset, followed by events in Anglet, France in May, Tahiti in June, South Brazil in September and the Big Island of Hawaii in December, leading to the crowning of the sport's first ever World Champion, Kai Lenny.
In 2011, we added a stop at Surf City USA in Huntington Beach and then after an exhibition race event at Turtle Bay in October of 2011, launched the Stand Up World Series (SUWS) for 2012, that saw a groundbreaking new racing format take center stage as the World's best Men and Women battled it out for the World Title in Racing.
In 2013 we launched the Women's Surfing World Tour and as we wrap 2014, we now have events in 14 countries, and crown World Champions for both Men and Women for both Surfing and Racing.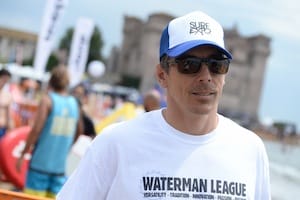 Are the Waterman League events open to anyone?
Anyone can qualify ! For Surfing we have Trials events in conjunction with all events, providing unprecedented access to the World Championship Tour, with the goal being to embrace new talent coming into the sport
In the Racing, all races are completely open. Until now, we have had quite an 'elite' feel, but we are focused on the embrace of participation at all levels, from entry level racing, to open fleet and of course continuing our work with the kids and our Na Kama Kai programs, providing unique events for kids U16, as well as clinics and other programs to support the youth, our future.
How do you pick the SUWT / SUWS locations?
For the World Tour, we focus on a mix of signature locations and key markets:
Signature: Hawaii / Tahiti / Morocco
Key Markets: US / France / Brazil
For the World Series, we also focus on iconic locations such as Hawaii and the Middle East, but also key markets in the US, Brazil, Japan and Europe.
Do the locations change much from one season to another?
We are consolidating on our events to grow in each region – over the coming years, there will be some growth in new regions (particularly Australia), but the mainstay events will remain the same
Are you the organizer of every single events?
Technical direction is all managed by us to provide a professional and consistent playing field for the athletes – we then work with our local partners for all other elements of the events
What SUP surf and racing rules do you follow?
We have our own rules and are launching our all new rule book for the new year that will be a comprehensive guide to both Surfing and Racing Rules for the cutting edge of the sport.
Do you work with the ISA (International Surfing Association)?
We have a close and growing relationship with the ISA and this is a positive direction for us and them to work, as we believe in the unified growth of the sport for all concerned
There was a bit of controversy in regards to prize money payments to which you replied at the end of last year. Did it work out in 2014?
Yes – we grew this from the ground up without seed capital, so it was not easy! What this meant is that we were at the mercy of all elements as we built it, from late payments, to no payments, and so at some point this does create growing pains, as much as we tried to avoid them. In this case, it made us late in payments, but we never left a debt unpaid and we covered all outstanding debts early in 2014.
We since brought in a small investment to cover this problem and allow us a cushion off which we can operate moving forward so that we can avoid this at all costs in the future – it was a situation we never wanted to happen and will never let happen again.
In 2014, we awarded over $250,000 of prize-money for the sport, an unparalleled achievement for this stage of the sport and providing an unmatched opportunity for athletes in the sport
Are you happy with the 2014 season? What were for you the highlights of the year?
I am very happy with the 2014 season. I feel as though the Tour and Series matured and reached new heights, and the level of performance across both Surfing and racing sky rocketed.
On the World Tour, the Title race between Kai Lenny and Caio Vaz was extremely exciting and the level of passion and enthusiasm that this brought was awesome. It was also great to see so much new talent assert their presence on Tour indicating that it will not be a two horse show in 2015, and we have a huge hotbed of global talent ready to stake their claim. Discovering Morocco was a great opportunity this year, and we saw some magic in this remote region that bodes well for the future of the Tour.
In the women's World Tour. Izzi Gomez made history, clearly showcasing that the future has arrived (Editor's note: Izzy is 14 years old), but valiant performances were had once again by 2013 World Champion Nicole Pacelli and Aline Adisaka, as well as the US contingent of Candice Appleby and Sophia Bartlow and the European charger, Iballa Moreno. Again, the competition is intensifying as we look forward to a phenomenal 2015.
On the World Series, the Connor Baxter vs Kai Lenny battle continued and was extremely exciting, with Connor getting the edge this year and able to close the door to Kai before the final event in Hawaii. The racing in Huntington Beach and Turtle Bay was extremely exciting this year with dramatic conditions for both, especially the finals. Entering Asia with our first event in Japan was also extremely exciting as we see huge growth potential there over the coming years. Again, it was exciting to see the wealth of new talent coming into the sport and new faces making their presences felt: stand out performances for sure by Mo Freitas and overall, by Zane Schweitzer, winning the European Cup and with solid finishes all year on the World Series.
In the women, it was exciting to see Angie Jackson step up and then the new faces of Lina Augaitis and others meeting her in battle for an exciting Title Race that endured to the last heat of the final day of competition in epic surf. I am excited to see a new year of women's racing as event winner in California Candice Appleby also commits to a full year of racing in 2015.
Location X, what a great idea! Did you come up with this idea in 2014 or did it happen before?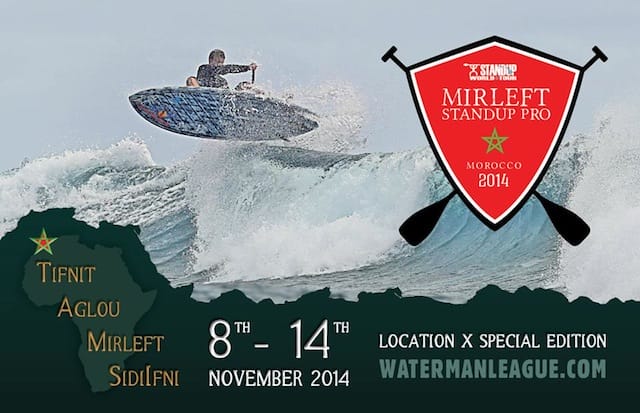 We produced our first Location X in 2012 in the BVI (British Virgin Islands), with the roving format and the best in the World competing. We had been working on the Morocco prospect for 2013, but unfortunately we couldn't pull it together in time, so when the opportunity arose for 2014, a little later than we would have hoped, we jumped at the chance to create something really unique. We announced it pretty late (late September), but it was the first step towards an exciting future in Morocco. Location X in Mirleft, Morocco was beautiful – untouched, virgin territory and wave rich, so an exciting destination for us to say the least.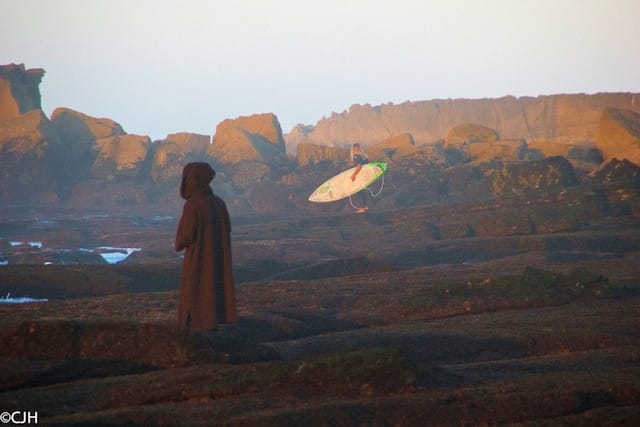 What do you have in store for us in 2015?
We are releasing our Official calendar this week, with the Tour to consist of 6 events and the World Series of 7. We are also producing the European Cup consisting of a series of high profile European events, as well as some exciting new 'Challenger Series' events (sanctioned by the League and still earning points, but scaled down to reflect the event status) around the world.
Thank you very much Tristan for taking the time to answer our questions.
Thanks TotalSUP and Aloha
> More information: http://watermanleague.com/