At only 18, the Australian Trevor Tunnington whooped some international sprinting butts yesterday at the Lost Mills Fastest Padder on Earth sprint event, establishing the best time of the day and winning with more than 2 seconds over Casper Steinfath and fellow compatriot Jake Jensen. Here is a fast interview with the Fastest Paddler on Earth 2015.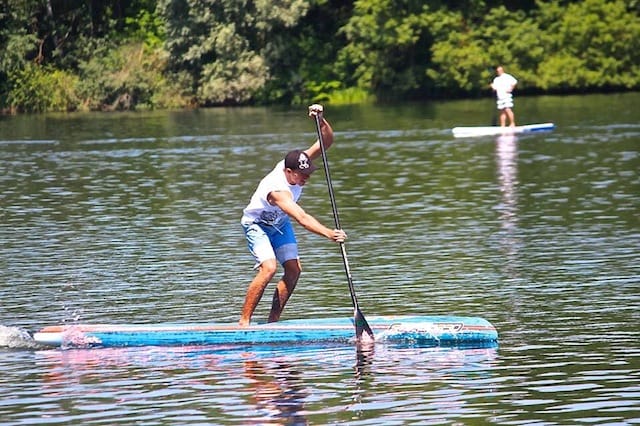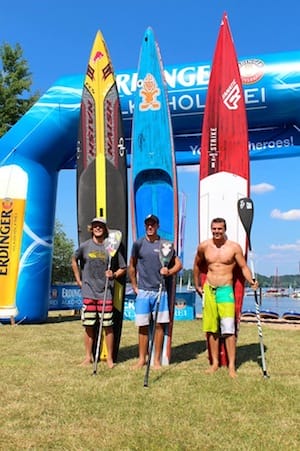 Hi Trevor, what is your date of birth?
Trevor Tunnington: I was born on 1st May 1997
Where do you live and paddle?
I live in Sunshine Coast, Queensland, Australia.
When did you start paddling?
I started paddling in about 2011.
What SUP results are you most proud of so far? 
My most proud SUP Result is definitely my 1st place at the Fastest Paddler on Earth (WOO!!)
Who are you most inspired by?
I am really inspired by Connor Baxter and Danny Ching. Connor has always been an idol of mine and Danny has such a perfect technique. It's amazing.
Who is sponsoring you?
I am a Starboard team rider (I am under the Staboard Austalian 'National Team') as well as a VMG Blades ambassador.
Did you train particularly for the Fastest Paddler of the Earth event?
I did do a lot of sprint training but probably should have done more 200 meter focused sprints.
What type of paddler are you and what conditions do you prefer?
I think that I am best at sprinting (I also hold the Australian title for 200m, 500m, 1000m, 5000m sprints). I prefer flatwater paddling probably but I am working on my downwinding skills.
Any other info worth mentioning to your new international fanclub ?
I have a personal trainer called Chad Islip and … hmmm haha and I am still at school
Thanks Trevor Tunnington and good luck for the rest of the competition!
Men's FINAL Results 
1 Trevor Tunnington 0:52.02
2 Casper Steinfath 0:54.67
3 Jake Jensen 0:54.83
4 Connor Baxter 0:54.93
5 Paolo Marconi 0:55.26
6 Kai-Nicolas Steimer 0:55.46
7 Bicho Jimenez 0:56.13
8 Paul Jackson 0:56.27
9 Leonard Nika 0:56.53
10 Peter Weidert 0:56.79
11 Eric Terrien 0:57.74
12 Tucker Ingalls 0:57.75
13 Arthur Arutkin 0:58.91
14 Fernando Stala 0:59.17
15 Peter Bartl 0:59.24
16 Carsten Kurmis 1:01.25
17 Stephan Stiefenhofer 1:01.29
18 Belar Diaz 1:01.40
19 Bart de Zwart 1:03.19
20 Michael Frosch 1:07.59
Women's FINAL results
1 Lina Augaitis 1:05.27
2 Angie Jackson 1:05.86
3 Manca Notar 1:07.44
4 Celine Guesdon 1:08.72
5 Fiona Wylde 1:09.19
6 Susanne Lier 1:09.61
7 Shelby Taylor 1:09.66
8 Sonni Honscheid 1:10.20
9 Susak Molinero 1:10.83
10 Carol Scheunemann 1:11.52