Aujourd'hui, Emilie Dauch nous présente la deuxième étape, pour le moins chaotique, de son Tour de la Guadeloupe. Pour rappel nous publierons au cours des jours suivants, une par une, les étapes de son aventure. Pour voir la première étape de l'aventure c'est ici!
Etape 2: Le Moule/Porte d'Enfer : 23km
24/10/2015 : Le pire jour de notre vie !
Les prévisions météo de ce jour-là étaient mer calme et vent assez faible, orienté Sud/Sud-Est : les conditions idéales (enfin, c'est ce que nous pensions !) pour tenter ce parcours compliqué et quelque peu stressant car sur une grande partie il n'y a que des falaises et aucune échappatoire possible en cas de problème… Départ sous un beau soleil et une mer calme, quelques passages mouvementés à cause du ressac des falaises mais sans grande difficulté. Puis au bout de 3h de rame environ de gros nuages commencent à s'amonceler au-dessus des falaises, le ciel devient de plus en plus noir, le tonnerre commence à gronder et là…le stress monte petit à petit !! Progressivement, plus de ciel bleu à l'horizon, la pluie, le tonnerre, les éclairs tout autour de nous et le vent qui se lève bien sûr…3/4 face ! Avec nos planches et pagaies carbones, autant dire qu'on ne fait pas les malins sur l'eau ! Cindy (entre 2 prières !)  a envie de ramer vers le large car elle aperçoit un rond de ciel bleu, moi j'ai envie de m'abriter dans une micro grotte sous les falaises …et Philippe nous ramène à la raison et nous dit de continuer vers notre point d'arrivée ! Après près de 2h de galère contre le vent et la houle qui s'est levée et vient taper contre les falaises, quelques grosses frayeurs lorsqu'on voit tomber des éclairs dans l'eau, des chutes à répétition, nous apercevons (enfin !) notre point d'arrivée. 4h50 de rame au total et l'impression d'être des survivors une fois les pieds posés sur la plage !
Résumé en images : (pas de photos sous orage, trop peur d'attirer la foudre avec la gopro sur la tête et puis pas vraiment la tête à prendre des photos !!)
Départ du port de pêche du Moule :
L'arrivée c'est tout là-bas derrière la pointe !
Jusque-là il faisait beau et chaud…
Les nuages commencent à s'accrocher aux falaises…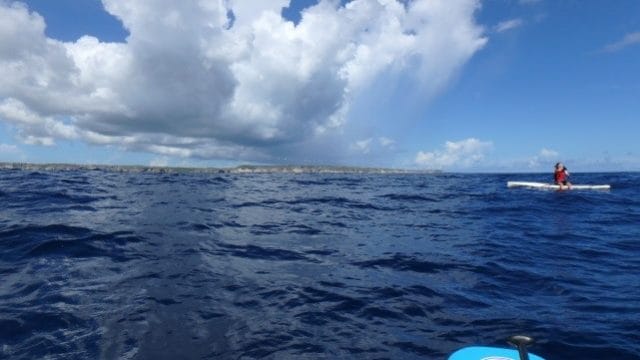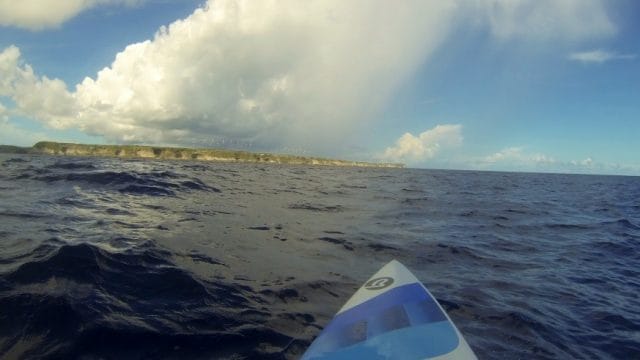 Happy to be alive !
A bientôt pour la prochaine étape de l'aventure!