Susanne Lier, Germany's 2015 champion and the recent winner of the N1SCO World Championship in Amsterdam, helps us understand the shape of SUP in the three regions she knows most for dividing her time between them: Germany, Switzerland and the spanish Canary Islands.
Hello Suzanne. You became Germany's 2015 national champion in June and have had a pretty good ride this year winning and placing well at major international events. How do you feel?
I'm very happy about the german title and I was well prepared to compete. Hard training with professional support, commitment and great material have helped a lot to aim for my goals. The German SUP Championship for the ISA qualification took place in Cologne on a lake on the 13th and 14th of June, just 1 week after Lost Mills, which meant at the time a lot of driving for me in less than 2 weeks. On the saturday evening we raced the long distance event and on sunday the sprints. I tried to save my energy for both days, kept cool in the shade and get fueled with healthy food.
The german federation is already preparing now our participation at the ISA worldchampionship with a great team. We will also have a training camp in Fuerteventura to get ready!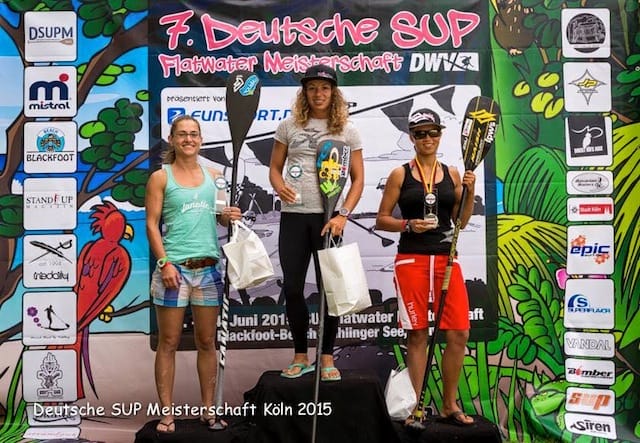 You are german, live in Switzerland, spend half of the year in the spanish Canary Islands? Are the German Nationals that important to you?
Yes I know that's a bit confusing but that's the life I chose and love. My life changed completely since SUP has been a big part of it and now I work hard in summer in Switzerland and work less and enjoy the ocean, the warm climate and the perfect training conditions in winter on Fuerteventura.
I'm German and I'm very proud of it and that is the reason why the nationals are very important to me to represent my origins. I grew up in the former eastern part of Germany before the Berlin wall felt down and I still call Germany my home.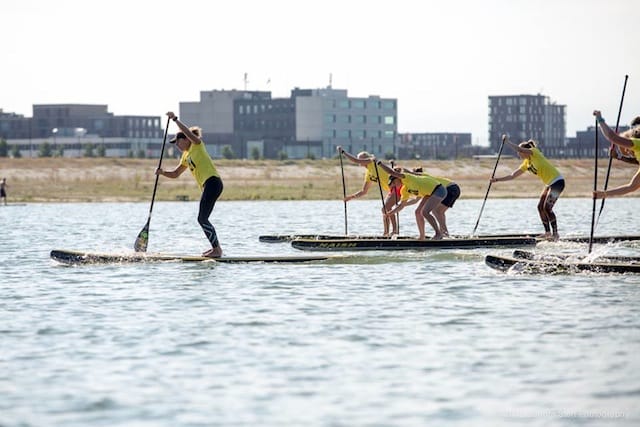 Another german champion is Sonni Honscheid, and she also lives outside germany. How do you think the two of you are perceived in Germany?
Well first of all, Sonni is better than me (wink). Sonni and her family are pretty famous in Germany because of the great performances of her dad and of course of the amazing results that Sonni is getting. I can only speak for myself but I think I will stay a Germano-Swiss "alien" for quite some time but thats ok. Actually most people think I am swiss. Unfortunately it is not all the time easy to explain to international race organizers that I'm actually not… and that I just live in Switzerland. But I think it's slowly getting to them. I chose to live in Switzerland 14 years ago due to professional reasons and the high quality of life there. I'm very proud to be part of the fast growing SUP scene here in Switzerland and to help to develop SUP in a safe way on our beautiful lakes. As for Germany, I respect all the female german competitor and everybody trains more or less hard to compete as best as possible but in all honesty I wish there would be a better atmosphere during the races. 
Any idea why Germany did not take part to the ISA world championship this year in Sayulita, Mexico? 
I think it was a mix of different reasons such as missing financial support & sponsors, and perhaps time and commitment from the athletes. It is not easy to compete against the best nations of the world.
It is changing though. The german federation and the athletes are already starting now to prepare the participation for the 2016 ISA event. We are already looking for sponsors to have as much support as possible for the trip.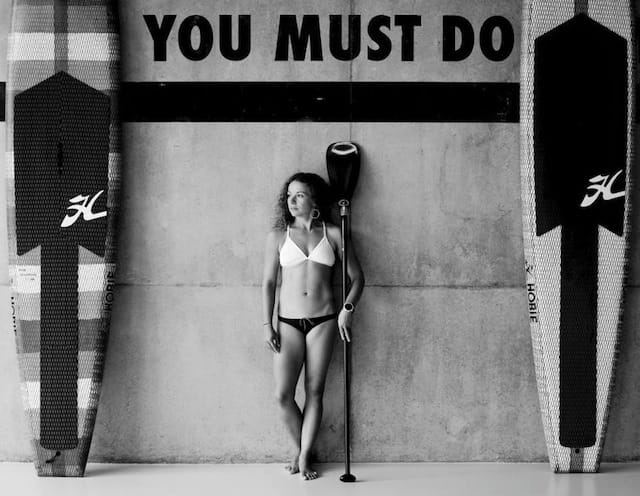 Is SUP racing in Germany much different than in Switzerland and the Canarys?
Oh yes very different. I have the feeling that in Germany we have a huge SUP concentration in the North and South but not so much in the middle of the country.
It's also very interesting regarding the placement of the brands in the different parts of Germany.
In Switzerland we have so many beautiful lakes and I have been able to witness the fast development of SUP with new SUP centers in all parts of Switzerland in the last 2 years.
People get really crazy about it and I can experience that every day in our 2 centers.
In both countries we talk more about flatwater paddling but River SUP gets more and more interest.
The boards which we see the most on the water are inflatables and Touringboards. People here are very interested in buying their own material even though the rentals are still affordable.
The race community is growing fast but it stays pretty local here in Switzerland. Through the regular training days that I organize, I try to motivate more women to train and to compete in our local races all the time.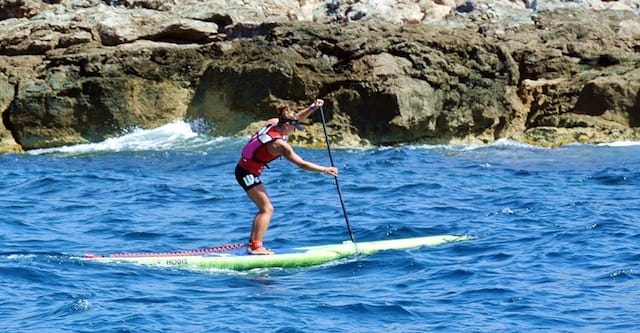 SUP in the canarys is a different story. Of course you can see more and more SUP surfers in the waves but the sup race is still at the beginning. It's related to the prices and the missing sponsoring. The local people have a lot of talent but to buy a performance race board is almost impossible with the average local salary.
There are more and more surf schools who invest to buy material and to rent sup wave boards and ISUPs to tourists
I'm confident that SUP will be huge there soon.
How is your season so far? What does the rest of the year hold for you?
I'm very happy with my results so far. Hard work pays off. My coach Stéphane Blanc helped me a lot to get in shape for the season and also to work on my nutrition and my mental preparation. Unfortunately I could not do all the races I planned to do in 2015, especially the Worldseries in Barcelona, which I had to miss.
At the moment I enjoy to compete at local races here and to race with the swiss community.
I've also just won the N1SCO World championship in Amsterdam which was really fun last year.
We'll see what I can do until the end of the year but I'm looking forward to be again on Fuerteventura soon.