UK Endurance Stand-Up Paddler Mark Slater chose to paddle the 220 kilometers of water canals through the Netherlands in one non-stop journey instead of the usual 5 days. A little less than 30 hours later and finishing 4th, he describes his experience of his SUP11 City Non-Stop challenge for TotalSUP.
TotalSUP: Congratulations Mark on completing the SUP11 City NON-STOP Tour and ranking 4th. In a facebook post you mentioned right after the race that this was the hardest thing you did. Why was this one was tougher? Do you recommend it ?
Mark Slater: Thank you and yes, I did find this a rather tough one. I think one of the main reasons was because there was no let up or variation, it was just one constant slog with no assistance at anytime from wind, current or tide. You were stood in exactly the same position the whole time and the only way forward was just paddle stroke after paddle stroke, but after saying that, it makes the feeling of achievement far greater after putting your mind and body through such hardships.
Recommend it, ummm, it has to be down to the individual to make the choice and they have to have their own reasons for undertaking such a challenge.
Could you please remind us your racing history and palmares ?
Mark Slater: Yes, I have been paddling for around 7 years now, competing in lots of UK events and a few international ones, but over the last few years have started doing a some endurance challenges and events. One of the first ones I did was about 4 years ago with 2 fellow SUPers and we paddled the River Thames from source to Sea which is around 350km in 4 days, then after this I did a few solo ones including the 200km route from Devizes to Westminster which took 30 hours and a 155km unsupported open water circumnavigation of the Isle of Wight in 24hrs. This year I have done the Great Glenn, which is a 93km crossing of Scotland from West to East via canals and the mighty Loch Ness and the Celtic Crossing which is a 50km open water passage between the Scilly Isles and mainland UK
I live on the South Coast of England in Bournemouth, have 2 children, Mia and Lola, am aged 46 and have a retail business selling bags and luggage.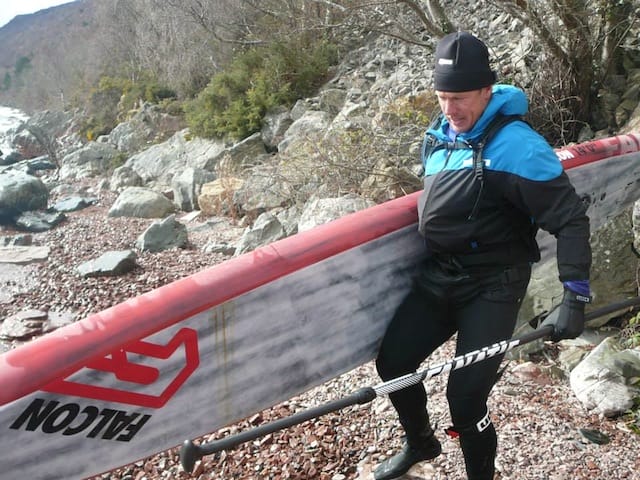 Why do such challenges?
Mark Slater: Good question and one which I ask myself on many occasions hehe…
I think some of the main reasons include:
I suppose it's good to try and push your mind and body to its limits occasionally and see how all copes.
The feeling of accomplishment after completing such a challenge far outweighs the pain and hardships endured throughout the challenge.
And with more and more youngsters getting into paddleboarding, it's getting harder to get decent results in the racing scene, so one needs to diversify to more obscure areas of the sport (smile).
How did you prepare mentally, physically and logistically ?
Mark Slater: Blimey, another good question…
I would say it's pretty difficult to train to get fit enough to paddle 200km, but if you can train to be fit enough to paddle 40km the rest is just down to mental attitude and nutrition.
I was a little concerned about my fitness for this event as I really struggle to get much training done in the summer due to work circumstances, the longest paddle I got in was 3 & 3/4 hrs
Mentally, I'm not sure really, I just try and think of how happy I will feel after crossing the finish line and how depressed I would feel if I didn't succeed
Equpiment obviously plays a big part and I am very lucky to have the use of Fanatic boards and paddles and ION clothing and accessories thanks to the support from UK distributors K-66
Can you take us through your race and the key-phases you went through?
Mark Slater: Well I planned to take it steady from the start and pace myself, but the heavy mist as soon as we left Leeuwarden meant I had to push hard and get close to Rico, so I could follow, as I didn't stand a chance of finding the route on my own, then after my first stop at Sloten, which took a little longer than planned, meant that it was a long and lonely paddle from there on in.
I forced myself to keep nibbling energy bars and flapjacks and taking on fluid at regular intervals.
I found the monotony and seeming very slow progress very hard to deal with. I kept trying to switch my mind off from the paddling and take in the surroundings, but with very little success. I also struggled quite a bit with the route and had to stop several times and phone the 11 Cities crew to confirm I was going the correct way.
A big milestone for me was reaching Franekeneer, as this is the end of the day 3 stage (in the 5 day event), which meant I was well over halfway, unfortunately, with the time being around 23:30 as I left Franekeneer, it also meant it was the start of a long night time paddle
I really stuggled on this next section, straining to work out the route ahead of me in the darkness and it was with great relief I when I reached Dokkum with the first signs of daylight and my final planned stop
From here I put my head down and really kept pushing myself to get the final 27km out of the way and to the welcome sight of Leeuwarden and the finish line.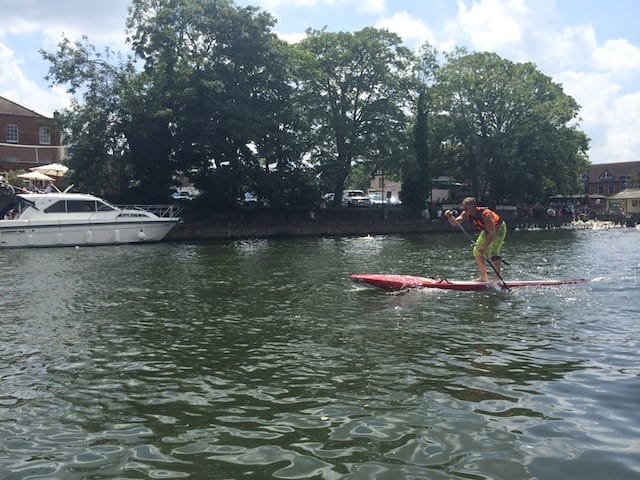 (Photo courtesy of Mayola Dijksman)
What's your next big challenge?
Mark Slater: No definite plans at the moment, however I do have a few ideas in mind, so will let you know if or when time and conditions coincide for one to take place.
Any particular UK event that you would like to promote here?
Mark Slater: The Great Glenn is a real challenge, conditions can be very varied (and extremely cold) and it is in a very remote part of the UK, but the scenery is amazing, you are paddling passed snow capped mountains and of course, through the legendary Loch Ness. So definitely one for the list!


The SUP11-City NON-STOP tour racers. Mark Slater, standing, 3rd from left to right. Bottom right, Arnaud Frennet, winner of the event.
(Photo courtesy of Mayola Dijksman)