Team Manager to the Irish crew at the recent ISA World Championship 2017 in Denmark, Paul Byrne is a seasoned watersports enthusiast and a great lover of SUP surf. He may be native to Ireland's east coast, but with its rugged coastline and its blustery, vivifying conditions, Ireland's west is where he believes one can truly take advantage of the best the country has to offer in terms of wave-based recreation. We took a moment to get Paul's opinion on what the SUP community is like in Ireland at the minute, what the conditions are like in the Emerald Isle's most coveted spots and why one should visit, board or no board.
Paul Byrne, you were recently part of the Irish team at the ISA World Championship in Denmark. Can you tell us a little bit about yourself, and what was this experience like?
That's right, I was fortunate enough to get the opportunity to represent Ireland again at the 2017 ISA World Championship in Denmark. It's always a great honour to represent your country. I consider myself quite lucky because my job is rather flexible and my employer, Willow Park School, gives me paid leave.
If this weren't the case, financially, I would find it quite difficult to take part in events regularly. Like most teams, we are completely self-funded after all. This was my third opportunity to take part with the team internationally, and I was Team Manager to a great Irish crew.
I myself was competing in the SUP surf category, but unfortunately my performance was one I would rather forget. Denmark was not our finest hour on the wave front. But it was still a great experience all-round of course.
Surfing has become very popular in Ireland in recent years. What about SUP? Is there a burgeoning SUP community on the Emerald Isle? Is it growing as a sport?
Indeed, it's no secret that Ireland has become quite well known for surfing in Europe. With the winds coming off the Atlantic, the west coast has so many great surf spots. It's fantastic!
Recently, Ireland's big wave spots have been getting a great deal of attention. SUP Surfing is very much present and there is a good community scattered along the coastline. That being said, I don't see it taking off to the same degree as in other countries.
I think this might have to do with the consistency and quality of the waves available. A lot of surfers don't see any point in trading their surf board for a SUP. However, if you live on the east coast, it makes perfect sense, as we don't get consistent surf conditions.
As such, the largest proportion of the SUP community in Ireland seems to come from that area.
What are some of the best or most reputed SUP spots in the country? What are conditions like there? And which is your favourite?
Ireland's position on the westernmost point of Europe means that our shores often feel the brunt of the Atlantic's fury as it batters our coastline all year round. The occasionally unsociable weather on our west coast has contributed to the atmosphere out there. Gusty winds and rain through all seasons are very much par for the course in that part of Ireland.
But one advantage to the abrasive weather conditions can be seen on the beaches of Bundoran, Lahinch and practically everywhere in between. Klitmøller in Denmark has been marketed as something of a "Cold Hawaii", and I think Ireland's west coast could lay claim to a similar moniker.
The empty line ups and the quality of the waves make it such a special location for watersports. And this is often coupled to a friendly, relaxed atmosphere amongst the practitioners of each sport.
Our beaches certainly don't have the same weather as those in Australia and they're not as idyllic-looking as many in Indonesia, but if you're after a pure unadulterated surfing experience, there aren't very many places that can rival the west coast of Ireland.
At the risk of upsetting a few people, I won't name the "best spots", so to speak. But as a general rule, I think I can say, "West is best!"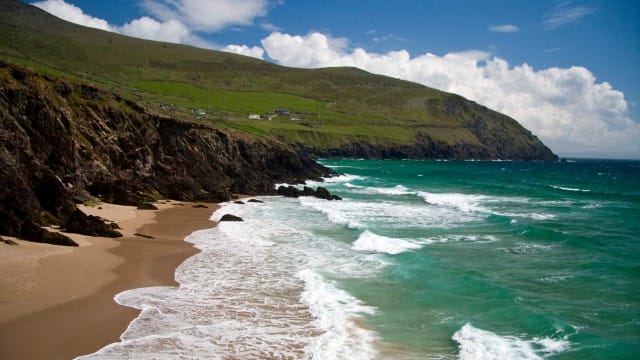 Ireland is known for its picturesque landscapes. What kind of scenery can we observe in some of your favourite SUP locations?
Ireland is known, above all, for its greenness. And that's really what you can expect from the landscape. You might have to hike through a field full of cattle, jump over an old stone fence or climb over some slippery boulders to enter the water, but it's all part of the decor.
Most west coast locations have hilly or mountainous landscapes as their backdrop, while typically diminutive farmers' cottages with smoke billowing from their chimney tops dot the landscape in many a rural setting. If you're lucky, you won't be too far from a small country pub with some live music and a big open fire.
Most of the time, it's safe to say that you'll never get bored looking back towards the shore!
Can you tell us about some of the local SUP riders in Ireland? Perhaps some of your ISA teammates…
This year's team was made up of some of the country's most dedicated crew members. In the ladies, we had Sarah Gannon, known locally for charging much bigger waves than her boyfriend and team logistics manager Dave Owens (sorry Dave!).
Claire McDonald took a step into the unknown in Copenhagen and paddled out of her skin in the Ladies' SUP distance race. On an inflatable board, no less. Some questioned her sanity!
The men's category saw Peter Kosinski, who is well-known in racing circles. Keith Gorman was also representing us at his second World Championshp in the distance race. The longer the better is Keith's mantra.
New gun Ross McGarry is starting to shake up the old boys back home and will be representing us for the next few years if the past 12 months are anything to go by.
Joining me in the surf category was Aussie Jay. Jason's actually from New Zealand, so I have no idea why they call him Aussie!
Are there any major or emerging SUP brands in Ireland? What brands – international or local – do local SUP riders usually opt for?
We have the usual big SUP brands with a presence in Ireland. Red Paddle Co. are leading the way with their inflatables, while the hardboard market is evenly divided among Starboard, Naish, and more recently, Bert Burger's Sunova.
Sunova has become really popular with the local SUP Surf crew. There is an increasing awareness of the build quality and high-performance characteristics that can be found in Sunova boards.
Finally, beyond the world of SUP, why should someone visit Ireland in your opinion?  
Beyond visiting for the SUP and the surf, Ireland is really well know for its natural beauty, and for good reason too. The rolling green hills, the strikingly gorgeous cliff faces and breathtaking coastal scenery are enough for anyone to pack their bags and spend some time in the Emerald Isle.
But there is more to this complex and intriguing country than just what meets the eye.
Ireland, as an island lying out on the north-western fringe of continental Europe was populated by human civilisations relatively late in terms of European prehistory. The first human settlements took up residence here around 6000 BC. Since then, Ireland has known many periods of invasion and disruption among its civilian populations. This rich history and heritage has helped to shape Ireland (both north and south) into the unique country it is today.
Whether you go for the vistas, the pubs, the lore or the 'craic' (that last part is an important one!), I do believe Ireland is a must-see on anyone's European travel bucket list!