The annual Tiber Tour and SUP Rome event took place this year over 22 April – 1 May 2023. Christian Dingenotto describes this as more than just a river trip, "It's a cultural experience." Christian, who was part of this years river family on the Tiber Tour, also a sea paddler turned SUP enthusiast, gives us an exciting and insightful low down of this years tour.
The Tiber Descent, much more than Rome
How it all began
Having a seakayaking background with circumnavigations like Ireland, Sardinia, etc. Plus  coaching in this field on a voluntary basis on different levels, I was "forced" up on the board last year due to health reasons (back issues). Sitting for hours was not an option. So the Stand Up Paddleboard was a new perspective and an option for me still getting on the water and paddling. Sometimes you have to be forced to change in order to develop a new passion. So my last year was a steep learning curve in different aspects. Planning what to do this year I searched for "SUP" in the event data base of DKV/ German Canoeing, and found a pretty basic entry and a link to the website for the Tiber Tour. I really like the idea of moving / paddling along islands and rivers, so I signed up for the trip without really knowing in detail what to expect. "Of course" Germans tend to plan and have a passion for having to know every detail in advance, so I kept busy the organisers Roberto and Andrea, who were patiently answering all my questions. I was a bit nervous as in the description of the trip some rapids of class 1-2 and few class 3 had been mentioned.
An Odyssey before the descent
Seemed simple – book a flight – rent a board – go to Rome take the organised shuttle from Rome to Citta di Castello and start paddling. But … one day before departure my flights were cancelled and I found myself on a 24h train trip from my home in Northern Germany to Rome. So the Tiber descent started with an Odyssey, having different calls with Andrea and Roberto helping me to somehow get to the shuttle-bus organised by them to get all of us to the starting point in Citta di Castello. Once in Rome all worked out fine and I was picked up by the shuttle-bus together with other paddlers to be brought to the starting point.
The Tiber experience
Even before we started I got a feeling that the whole event is more than just an organised river paddle. People (even from Germany, Belgium etc.) having taken part for several years saying hello to each other more like family. And the river itself embedded in a thousands of years old environment and cultivated country. Participants could just join for the long weekend (including the bank holiday) some would stay for the whole week like me.

So we were about 30 to 50 paddlers with SUP, Kayaks and open canoes. A safety team with very skilled SUP-Paddlers and kayakers would check every rapid before letting us go. So even the first day started with an amazing experience, where we starting paddling the Tiber after the drive from Rome in the early afternoon. The river for me seemed surprisingly small with a width of less than 10 metres and a "nice flow" with small rapids almost every half an hour. So it was always interesting to see what is around the next bend of the river and great fun. Being picked up after about 11 km by the bus we were brought to the town of Umbertide where we were meant to sleep the next two days. A large empty event hall where we could put down our mattresses and sleeping bags would be "home" for the next two days. After a hot shower (turned out to be a treat as we did not have a hot shower on some of  the other days) we gathered and walked to a local cooperative where we had an amazing dinner with local "home-made" food.
So this was the beginning of a daily rhythm which does not deserve to be called a routine!
Roberto announcing the trip for the next day in the evening
Starting by bus or boat or SUP by 10.00 depending on the plan and the weather conditions. "By" could be translated with the new Italian word I learned "elastico" being part of the experience.
Arriving in the late afternoon, setting up mattresses and sleeping bags in a local event hall, or sports club – even one time a fighting club where we had to wait until the foil fencing lesson ended before we could set up everything for the night, and of course dinner. Dinner was always a feast and an experience with local produce either where we slept or somewhere else during some agriculture-tourism (some time a drive for 4km on a gravel road int the middle of nowhere) with home made wine or beer and always special food from the region. And almost every day there would be a cultural experience like visiting the amazing town of Orvieto by night, getting a talk of a local scientist about the molluscs in the Tiber directly at the river bank, etc.
So from day to day although paddling was a crucial part and lots of fun in all these little do-able rapids (or having a swim for me in a class 3 one) but I got more absorbed into what they call the DIT spirit, which is the whole cultural experience and feels almost like family. So it is not just paddling, but the cultural experience in areas where there is generally no infrastructure for events like this. It was great paddling and living in an area where tourists normally do not get to go and having everything organised by so many people of the club by improvising and being elastico; because in such an environment things never work out as you planned. Organising organic food ("of course" they would bring red organic wine while paddling the Tiber in Umbria and white one for the days paddling in Latium) Along the tour avoiding use of plastic, getting cold showers hot, replanning the trip when the weather conditions for the next day seem to be not favourable, and so on. Roberto was always friendly and almost glued to his smart phone organising and reorganising. Once  I had trouble finding a place to stay in Rome after the end of the trip he said "Christian I have not yet a solution but have faith" and I had faith and he found one as always.
Paddling the whole distance from Citta di Castello to Rome would mean normally 15 days. To enable people to experience the Tiber in a week and experience different sections of the river the plan is slightly changed every year, which increases the effort of organisation as well.
Paddling
Paddling? Oh yes I almost forgot to write about that as the experience is such a holistic one – that is great as well – in many aspects. You learn with every rapid, Andrea Ricci always giving tips for the best line and always giving you the feeling that it is safe and encouraging to try your skills again on a rapid where you fell in before. For me it was almost the first time to paddle in (easy) whitewater and I learnt a lot and it is absolutely doable for any board paddler with some experience on rivers.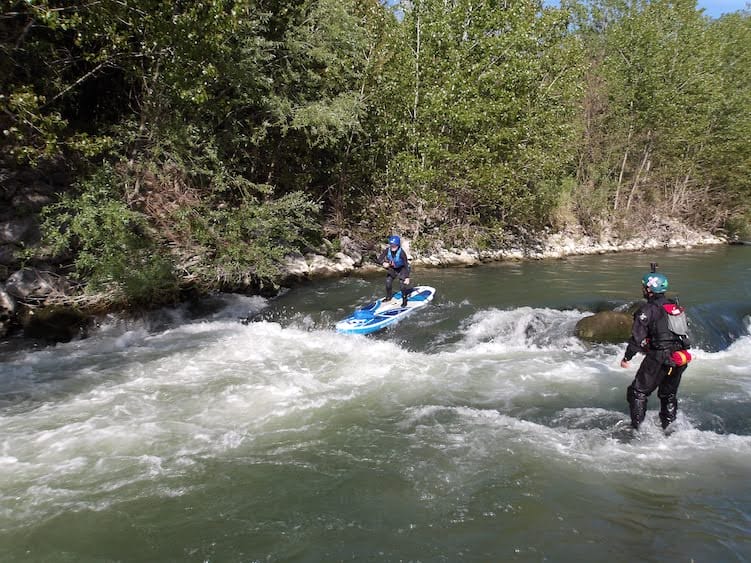 Arrivederci
So see you next year, perhaps that time even by train again (the CO2 emission is just 10 % compared to a plane) but better planned.
Apart from a helmet I would suggest to bring protectors for knees and calfs (from downhill biking) if you do not want to boast with your bruises you got from the Tiber descent. These are the only bruises you might get the rest is just a warm feeling of having made new friends and a passion for a tradition which has been kept up for mor than 40 years.
So ciao – see you next year
Distances
Su.22. April, Citta di Castello -Trestina 11,5km
Sa. 23.April, Trestina-Umbertide 17 km
Mo. 24.April, Resina – Pretola 12km
Tu.25. April Pretola-Targiano Ponte Nuovo 20km
We. 26.April Targiano Ponte Nuovo-Casalina 12km
Th. 27.April Lago di Corbara- Madonna del Porto 13km
Fr. 28.April Weir Scalo Teverina (Magliano Sabina) – Civita Castellana Magliano close to the icecream parlour 8,5 km
Sa.29.April River "canyoning" the Farfa-River
Su. 30. April Aniene (Largo Fausto Vicarelli) and Tiber (Ponte Cavour) in Rome 16km
Mo.1.Mai Ponte Cavour- Ponte Guglielmo Marconi in Rome 7,5km
If you would like to know more about the Tiber Tour and the SUP Rome event, then you can find details on their website and facebook page.
The event next year will be held from the 25 April to the 1 May 2024.
Thank you to Organiser Roberto Crosti, as well as John McFadzean for the lovely photos and Christian for this great expression of the trip.