Before SUP Foil started to become popular over a year ago, Cyril Coste and some of his friends already had the idea of designing their own foils for SUP flatwater conditions. Takuma Concept launched the Takuma Foil V100, the brand's biggest success to date, which can be used for all kinds of foil (SUP, Surf, Windfoil, Kitefoil). Two years since its inception and Takuma Concept has really taken off, with the French brand now selling and distributing its foils in markets all across the globe.
Hello Cyril, as founder of Takuma Concept, can you tell us a little about the brand?
We created the brand about a year and a half ago. Takuma Concept is a brand that designs innovative and accessible products for foiling and downwind. We are split into 2 different departments. The main office and the marketing department are based in France, but our R&D team operates mainly out of Japan and New Caledonia (where I am based myself).
You are based in New Caledonia, Why did you choose to settle there?
I moved to New Caledonia a few years ago. It is an amazing place to live and the perfect setting to test and perfect our new products. Right in front of our office there are superb downwind spots and the most perfect waves. We have many empty surf spots too and a huge lagoon in which we can test our latest creations, with virtually nobody around. New Caledonia is a little piece of heaven.
We now have a second test centre in the south of Japan where we can test out and be close to our foil factory. There we run tests on new wings, materials and boards in all kinds of conditions, with the goal of ensuring their adequacy for a number of different markets.
Can you tell us more about SUP Foil and why you decided to go in that direction?
With Richard Boudia and Pierre Yves Leroux, 2 years ago we started to design foils for flatwater SUP. It was hard to take off and we decided to mix our WindSUP (downwind SUP with the sails on the nose) with foil. The sensation of speed and flying was already amazing!
On the side, we began working on a much more stable and easy all-round foil, the Takuma Foil V100. It's a highly user-friendly all-round foil (SUP/Surf/Windfoil/Kitefoil). SUP Foil opens up a new surfing world! You can SUP foil in every non-surfable spot out there. You just need some chops, bumps, wind swell and you're set. It's a great deal of fun!
What advice would you give to someone starting out in SUP Foil?
The first thing to understand is that SUP foil is a new sport. It is not just like changing your fins. So it is important to take some time to get the feeling of flying and to do it safely.
The most important thing is to have the right foil for the right task. Not a kite foil or a foil designed for windsurf. This will not work and can be dangerous!
If you're in a position to do so, test it behind a boat. That is the best and safest way to learn how to foil.
Board shape is also important. It is super important to have a compact board. Not too long or with a lot of volume on the tail. This will help a lot when it comes to take off. It will help you pump and gain more speed.
Using a strap also assists during take-off. It helps you catch more swell on the downwinds. It can also help you move from one wave to another and control your board with greater ease.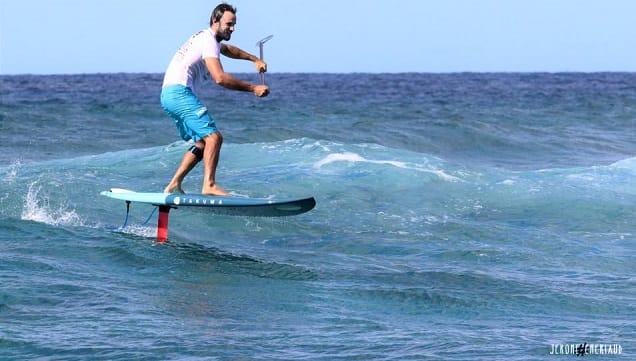 Where can one get a Takuma Concept SUP Foil?
The brand is growing at great speed. You can find our boards and foils in a variety of countries now. We are present in most of Europe, the USA, Asia, South America, Australia, New Zealand and more. And for the countries in which we don't yet have an import partner, you can find our products online at www.takuma-concept.com
Who are your current ambassadors and what strategy do you have in this area?
We dont especially have ambassadors. We mostly rely on the passionate watermen who are quite simply very interested in the sport such as Richard Boudia, Leo-Paul Etienne, Ishi Hisataka,Grégory Closier to name but a few. They help us promote the sport through their passion.