SUNOVA are a Surf and SUP brand famous for wooden SUP race boards which can be seen on the start lines of SUP races all around the world. Over the last two seasons, the brand has been expanding its roster of team riders and are now getting results at the top level of the sport. Chris from TotalSUP was SUPer happy to get his hands on one of their Allwater FAAST Pro boards. Here is his TotalSUP review for his new 'wooden' board, the 2023 SUNOVA AllWater FAAST Pro 25.5"
The SUNOVA Allwater Faast Pro
There is only one way to start this review, the board is beautiful and … wooden. Almost. SUNOVA use Paulownia wood whereas others might use something that in the advertising blurb might be seen as more 'exotic'.
However if you spend some time on the SUNOVA website you will find out that SUNOVAs choice of materials is not a marketing gimmick, they have chosen a material that fits their needs when making a board.
And I think the result is stunning.
Why wood for the SUNOVA Faast Pro range?
Let's talk timber. SUNOVA use two different sorts of wood for their board, some boards in the SUNOVA range use Balsa wood but their TR3 ProTec construction uses sustainably sourced Paulownia wood. I headed to Wikipedia to find out more and this is a pretty cool source of timber. It is a fast-growing, lightweight, fine-grained, warp-resistant wood sometimes called the Phoenix Tree as it can re-grow from the roots when cut or after fire.
There is quite a lot of information on the SUNOVA site about their construction and you can read about the TR3 ProTec construction used for this board on the SUNOVA Technology page (scroll down a bit). But before you go there, TR3 = Tree.
Here is what SUNOVA have to say about their TR3 ProTec construction.
TR3 ProTec is SUNOVA's own dedicated Pro Race range technology. Evolved from our ProTec construction, it is the latest and greatest offering and provides everything you could ever wish for in a race SUP. Designed to be lighter and more durable than its predecessor but just as FAAST, it feels lively and responsive underfoot but still very nimble. 
A super lightweight EPS core is coupled with sustainably sourced Paulownia wood making for a very aesthetically pleasing package. The wood is sandwiched over the entire board including the rails with fibreglass and bio epoxy resin. In the recessed standing area, there is a double paulownia fibreglass sandwich for extra strength and resistance to depressions. 
This seems like an intelligent use of an unusual material with the bonus that it looks gorgeous with the added benefit that the standing area is strong enough for a larger paddler, like me!
The SUNOVA FAAST Pro Range
FAAST is not a typo but the name given to the series of SUP Race boards produced by this Aussie/Thai brand. The SUNOVA FAAST range covers all the SUP racer's needs from Flatwater to DW in 5 different boards.
The Allwater FAAST Pro sits right in the middle of the FAAST range and promises to do a bit of everything quite well, in SUNOVA's own words this is not the fastest board in the range and was designed with an eye on the Carolina Cup Race, a race that has a bit of everything on a course that, over 26km includes ocean, flatwater, bumps, wind and current.
That design aim makes this a board that should suit a huge number of paddlers.
The SUNOVA Allwater FAAST Pro
Why did I pick the all-rounder in the SUNOVA range? I already have a very fast flatwater board and I have a capable all-round flat deck board but winter here in Sweden throws some very challenging paddling conditions at the keen paddler and the best way to protect feet from the cold is a dugout board. This Allwater is intended to be my winter training board, but maybe not quite what the designers had in mind for it!
I chose the 25.5" wide model, great for my height and weight (193cm / 98kg) that should work well in all conditions, will keep my feet dry on winter training sessions and will minimise my swimming time, even more important! Sadly it arrived in summer when conditions here are usually fairly flat and warm but despite that drawback, we have had a lot of water time so far.
Hey, good looking!
There is no getting away from the fact that SUNOVA boards turn heads when you get to the water and I have had more questions about this wooden work of art than I have about any other board I have paddled. People want to touch it, which is weird, and to know if it is heavy because it is wooden.
The Allwater boards are easy to spot in the SUNOVA lineup, they are the ones with blue noses, tails and highlights. In images this can look a bit like purple but rest assured, it is blue. The colour is applied over the paulownia wood layer letting the grain show through, this really compliments the wood. It is more like a colour wash than a layer of paint.
The paulownia wood is something I enjoy looking at, even after several months of ownership, it still looks special when I get this board out of the garage and on the water the sunlight sparkles on the high gloss topcoat. The nose is domed and is fitted with a self-regulating GoreTex vent (designed by SUNOVA) and an FCS plug for an accessory like an action camera, you know the brand.
The dugout starts with a V shape in front of the paddler sloping down to the deck, the paddler is down low, close to the water. On either side of the dugout are several options for mounting extra handles or, in my case some bungee to hold my dry bag with lunch.
The deck pad has a raised diamond-shaped pattern and is very grippy but comfortable with bare feet, with my winter boots on this should be perfect. The deck is slightly domed, like a surfboard showing the SUNOVA roots, this actually feels a bit strange when you hop on the board after paddling flatter decks but after a few paddle strokes, you forget about it and the shape helps clear any water through the four drain holes that are sensibly placed and have blue external shrouds, matching the nose and tail colours.
Moving back the deck pad gives way to a grippy textured deck that shows off the paulownia wood and the deck rises towards the tail where you will find the single leash point and another vent.
It is well worth taking a moment to check the tip of the nose and the tail, SUNOVA has finished off the extremities of each board with a beautifully crated cone, hard to describe so here is an image.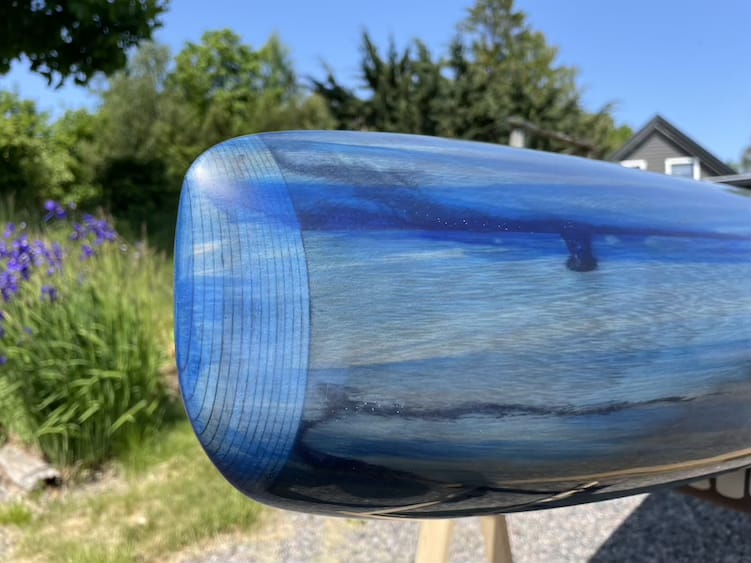 Flip the board over and the hull is finished as well as the upper surfaces, the nose is rounded that fades into a subtle concave that runs down the length of the board. The fin box has a forward position, more than any other 14' board I have paddled recently and the tail is almost a rounded pin tail design that helps with riding a wave but requires a little more concentration for buoy turns.
The rails are quite soft, somewhere between sharp and rounded which makes this board a little unstable until you get used to it, not tippy but a new user might feel that way. Primary and secondary stability are good and in any swell, it feels lively. The rocker is described by SUNOVA as 'medium', what this means in practice is that the board is happy in waves and pretty good in flatter conditions.
The carry handle is padded and centrally positioned, I found the board a little nose heavy when carrying it to the water it isn't a problem. SUNOVA supply a second handle with fixings in the box with the board.
The fin supplied is a SUNOVA branded Race 7 1/2 fin, this is a medium depth fin with a torx screw fitting, at last, a reason to use that screwdriver bit from my trusty old FCS screwdriver!
The board weight, with fin is 13.2kg. This is just within the weight range quoted on the SUNOVA website.
On the water with the SUNOVA Allwater Faast Pro
Once you have got past the questions from random strangers and get onto the water, and you have stopped admiring the finish you will find a well-behaved board that is easy to paddle.
SUNOVA have designed this board for the mixed conditions of the Carolina Cup and on their website they say that this is a board " … for racing in the ocean, flat or a mix of both. The type of board you take to a race if you're unsure of the conditions you will get." and I would agree 100%.
The Allwater Faast Pro is not the fastest board in my garage but it is the most fun on the sea, in the gentle swells found in the sea off Southern Sweden in the summer, the Allwater has been entertaining, easy to paddle into swells and eager to catch bumps when heading back the other way.
In side swells the rocker and rounded nose really help the paddler make easy progress without any fuss at all and with the wind or waves at an angle from behind the design really helps to catch waves. And I am very happy with the dugout and drainage, my winter training on this board will be significantly more comfortable when the temperatures drop below zero.
I think SUNOVA have succeeded in their design brief and made a board that is very capable of covering long distances at a good pace and accelerating quickly.
If you regularly paddle in mixed conditions then this could be the board for you but if your usual paddling is on flatter water then check out the Flatwater FAAST Pro / FAAST Pro Elite or the FAAST Pro Allround boards.
The one change I have made is with the fin. I prefer a deeper fin than the 7.5 inch supplied and swapping to something a little longer with a little less of a square shape made this board even more fun in rougher conditions. The SUNOVA fin will be tried out on a more flatwater-focused board where I think it will do a great job.
There are two things I would like to see added to this board. The first is a forward leash point. For a board that is designed to do a bit of everything having the option to run a leash more suited to flatwater paddling would be an obvious addition. The second would be some provision to carry a little cargo, race boards are often used for more than racing, long training sessions or longer trips need storage, not for an expedition but for a day out.
A top racers opinion of the SUNOVA Allwater Faast Pro
My TotalSUP colleague, Emily Evans recently got hold of her own Allwater FAAST Pro recently, a 23" version and has already used it to great success at the Paddle Logger/GBSUP national selection event in Falmouth, UK taking gold medals in the Sprint and Technical races and bronze in the long-distance race.

Here is what she thought of her race-winning Allwater.
The Sunova Allwater Pro is quite the racing beast, it makes light work of challenging conditions; it paddles well into the wind, and into a swell. This board provides a balanced platform to paddle in a side swell and provides good rails to foot steer in a side wind too.

Catching bumps on this board and paddling downwind is seriously exciting, the only problem is being fit enough to keep up with the speed in which this board takes off on any slight swell! A more forward-positioned fin box means the Allwater turns like a dream and with the tapered tail it's sensitive to trim making it ideal for technical racing. I've already had a lot of fun on flat water, in races and surfing this board, to be honest, I just want to head out again and again.
The TotalSUP verdict of the SUNOVA Allwater Faast Pro
This board is Faast Fun. The advantage of designing a board for a challenging, and famous, race is that the design team have a clear idea of what the board is needed for and the SUNOVA team has certainly satisfied that design brief.
Under a top-class racer like Emily, the Allwater Faast Pro shines in sprint technical and long-distance races in mixed conditions. With a less skilled but rapid paddler like me, the board is great over long distances and in rougher conditions.
The clever choice of materials and the care that has gone into the design and manufacture shine through and I am looking forward to putting a lot of winter KMs into my Allwater Faast Pro.
SUNOVA are one of the leading surf and SUP brands in the world with a massive range of boards and equipment, you can find out more about them on their Facebook, Instagram and Twitter profiles and see where the magic happens in The Board Factory. Don't forget to keep up with SUNOVA here on TotalSUP.
Images from Chris Jones except for the image of Emily Evans which comes from SUPJunkie