2 weeks ago Floridian paddler Seychelle  stormed to victory in 
the 11 City Tour
for the 3rd time. Her victory came after a week of highs and lows whilst competing on the 10th anniversary edition of the 
SUP 11 City Tour
, with victory swinging back and forth between Seychelle and Starboard paddler
Yuka Sato
. Seychelle started the race strong by clinching victory on the 1st day, before Yuka took the 2nd and 3rd day's victory.
A fourth day victory by Seychelle meant that the fifth day was the decider.
However on the final day the Team SIC paddler didn't just win,
she powered to victory 
with a 10 minute time difference between her and 2nd place Yuka Sato, thus clinching victory! Seychelle talks to TotalSUP about her well earned victory on the 11 City Tour.
Hi Seychelle, We saw your very emotional on the finish line on the last day. How does it feel to win the SUP 11 City Tour for the 3rd time?
It feels incredible! Really this win was emotional for me because it was my third SUP 11 City victory. For a while there I didn't know if I was going to be able to pull it off the victory. I went through a whole journey of ups and downs in the week and at one point I almost gave up the fight. But on the last day I found the motivation and the inner strength I needed to win. I gave it everything I had and it felt amazing!
What does this event represent in your SUP career?
This event was my first major international win back in 2015. It was the first race I traveled outside of the US to compete in. I felt like it helped to put me on the "radar" as a SUP athlete in the beginning of my career. I have always been deemed an endurance paddler so an event like this is special and a good one to keep coming back to paddle.
Can you take us through the battle that went on with Yuka throughout the 5 stages?
Yuka was a surprise entry for me, but I am really glad that she came, as the more international and pro paddlers we have at events like this the better it is for the sport. Japan has a solid SUP scene and it was great to see so many Japanese paddlers at the 11 city tour this year.  Day one went really well. I finished with a 2 minute 20 second lead on Yuka. It really helped to have a lot of experience in a race like this. There are a lot of bridges, turns, locks, traffic, etc along the way, the more you can use these to your advantage the better.
On day two I had trouble from the start and I actually never caught up with her in the whole day. She got further and further away. Yuka ended up finishing over 6 minutes ahead of me. I felt awful, I was tired and in pain the whole day. I wanted to give up and didn't want to complete the next 3 days.
But on day 3 I found some motivation to keep on pushing, but clearly not enough as Yuka extended her lead by an additional 30 seconds. I was really down and even feeling ill, but I never gave up. On day 4 I used my previous experience to my advantage and came ahead by almost 2 minutes, this gave me hope to be able to pull off a win and it showed me just how hard I had to paddle to put a gap on Yuka.
I really want to thank everyone who supported and encouraged and helped motivate me to finish so strong. I felt like I didn't want to let anyone down. The last day was a time trial and I had to win by 3:30. There was a strong head wind the whole day. So I just put my head down, paddled literally as hard as I could for 3 hours and didn't look back. In the end I put a 12 min gap on Yuka and came out victorious!
What did you think of the newly introduced time trials?
Well at first I was not stoked on the time trials. As I came in to this event thinking it was going to be similar to the last year I competed, where we worked together the whole time and shared the race drafting and only had to sprint at the end. With the time trials and no drafting, you really have to push yourself in a different way. However,I don't know if I would have been able to gain the time I needed in the end without the time trial so I am thankful. I still am not sure I like the idea though ;).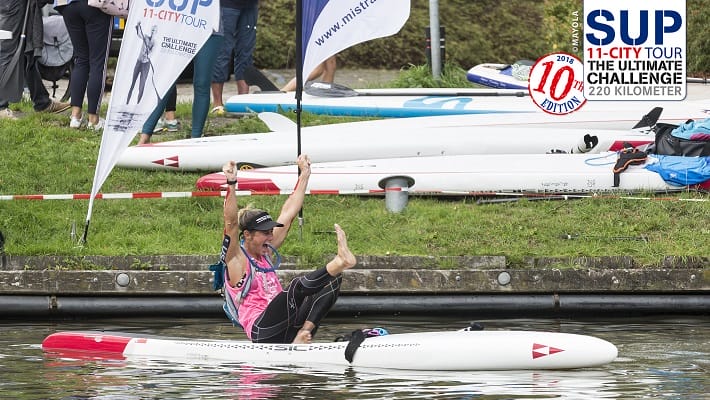 What recommendation would you give to anyone thinking of doing the SUP 11 City Tour?
Do it! Train as much as you can. This year I wrote a training program specifically for the SUP 11 city tour through my coaching platform Paddle Monster. But even if you are not able to train, just show up for the tour. Its going to hurt no matter what. But just show up, you will be rewarded, you will meet incredible people and you will surprise yourself!
How about the Non-Stop race next year?
Probably not. It's not so competitive. Perhaps in a few years time I would like to do it. 😉