Para Roman Frejo, a destacar entre su palmarés, Campeón de España 2011 y 2013, 4º World Series Oleron, 6º World Series Bilbao, 4º ISA World Championship, los acontecimientos en su vida ocurren igual de rápido que en el Agua. Y Josune, su guapa mujer, no le deja bajar el ritmo. La encantadora pareja se conoció hace casi dos años, se casaron hace 4 meses, han estado viviendo juntos en Inglaterra y España, han viajado por Tailandia y acaban de embarcarse en una nueva aventura juntos en las Antípodas. Cabe esperar leer sobre amor, tiburones, canguros, barbacoas, echar de menos las tapas y sobre todo mucho SUP !
---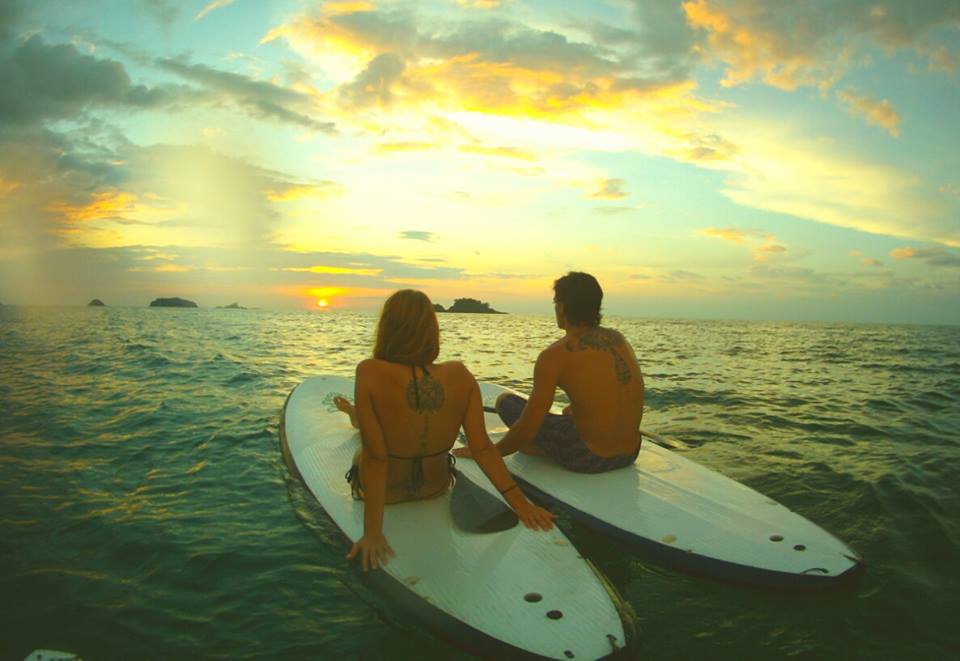 Queensland, Australia — Hola a todos, bienvenidos a nuestro pequeño rincón de TotalSUP.com, en donde os contaremos como ha sido nuestra experiencia hasta ahora, y la nueva aventura que empezamos en Australia. Quien sabe, nuestros pasos con los visados, alojamiento, trabajo, etc… pero tambien nuestra practica del SUP aqui, puede que os ayuden a vosotros algún día.
Antes de empezar a contaros nuestras aventuras en Australia, vamos a contaros, como desde caminos muy diferentes, hemos llegado hasta aquí los dos juntos. No os asustéis! esto no es Titanic ;)
Como todo lo que circula por esta página, esta historia nació a raíz del sup …
Josune : Llevaba ya tres años viviendo en Inglaterra, y justo terminaba de la especialidad de matrona. Decidí volver unos meses a casa antes de empezar a trabajar y así disfrutar del verano con mi familia y amigos. Una semana después de llegar, uno de mis amigos, que se dedica a la fotografía, me pidió que le echara una mano haciendo fotos de una carrera que se hacia ese fin de semana en el país vasco. Mi amigo me comento que me fijara en el enano de coleta que iba primero ­(Román: No soy enano, era la tabla ! que era muy baja ! ) y que le echara fotos sobre todo a él. Le eche las fotos, y ya de paso, alguna indirecta también.
Román :  Hacia un par de meses que había vuelto del mundial de Sup en Perú, acababa de firmar como corredor de Starboard España tras una buena temporada 2011, estaba trabajando como monitor de vela en un campamento como todas las primaveras, y lo iba compaginando con la temporada de carreras que ya empezaba en España, ese fin de semana tocaba ir a Hondarribia, era la primera edición de esa carrera y tenía amistad con el organizador, así que el viernes después de trabajar cargue la furgoneta y me puse en marcha. Una buena carrera, muchas risas, y la cara de una fotógrafa a la que no deje de molestar hasta conseguir su número de teléfono.
Después de un verano juntos en Alicante, que terminó en una relación a distancia gracias a nuestros trabajos, y tras muchas horas de Skype, incontables vuelos, visitas relámpago, viajes juntos a carreras, despedidas dolorosas y muchos dolores de cabeza… por fin empezamos una vida juntos en Inglaterra, donde conté con el apoyo de Starboard UK (Gracias Sam Ross). Tuve la oportunidad de participar en varias carreras y demos por la costa del sur. Supongo que cada país tiene su forma de organizar eventos, tengo que reconocer que en Reino Unido saben muy bien cómo hacerlo.
Aunque Inglaterra no está mal, y aprovechando que a los dos nos gusta mucho viajar y conocer nuevas culturas, decidimos probar suerte en un lugar algo mas cálido. Buscábamos algo con buen clima, con oportunidades de trabajo para ambos, y donde yo tuviera pudiera seguir entrenando y mejorando. La respuesta a todo eso fue Australia.
Oz tenía todo lo que estábamos buscando, una media de 20 grados al año, grandes hospitales, muchas escuelas de sup y los mejores superos del mundo, que además tenían un grupo de entrenamiento al que yo estaba dispuesto a unirme, aunque con mucho miedo después de haber escuchado como era su rutina de entrenamiento.
El hecho de saber que Paul y Angie Jackson estaban en Gold Coast, a quienes conocía de varias carreras como un par de mundiales, el 11 cities y el Battle of the Paddle en California nos reconfortaba ya que sabíamos que podíamos contar con ellos en caso de necesitar que nos echaran una mano. No puedo dejar de mencionar otra gran persona en este mundo como Chris Parker, el bossman de Supracer, con quien también contaba como enlace en Gold Coast.
Pasamos un último mes en España, en el que aprovechamos para casarnos y montar una buena fiesta con toda nuestra familia y amigos a modo de despedida.
Pasada la resaca, comenzamos nuestra aventura. Primera parada, Tailandia !
Nuestro plan inicial de viaje era comenzar nuestra aventura en Australia en Enero, después de pasar las navidades en casa. Malo fue el día que Mathieu Rauzier, ingeniero y diseñador de las tablas de SUP de Starboard nos escribió para contarnos que había conocido al amor de su vida y que estábamos invitados a su boda en Tailandia a principios de Noviembre.
Ésto nos creó un serio dilema y una larga charla con nuestras familia (Gracias Mat) para explicarles que este año las cenas y comidas navideñas las haríamos por skype.
Tenemos que reconocer, que no fue tanto esfuerzo, la boda de Mat y Yoyo fue preciosa y nos divertimos muchísimo con una parte importante de la plantilla de Starboard. 
Tras un fin de semana en Koh Samet, una isla paradisíaca de Tailandia donde se celebró la boda, decidimos seguir nuestro viaje por Tailandia de la mano de Mark Dickinson, un aventurero que no te deja indiferente. Nos descubrió el paraíso del Sup en la isla de Koh Chang, ya que Mark es el creador de los Tiki Tours, que podeis encontrarlos en facebook, y se conoce todos los rincones de la isla. Montamos en elefante, visitamos cascadas naturales y sobre todo, remamos. Remamos durante el día, visitando islillas pequeñas y vírgenes de la zona, descansamos en la tabla para contemplar el atardecer, y remamos durante la noche, jugando con las olitas y alucinando cuando vimos como nuestras tablas desprendían luz verde fluorescente sobre el agua debido a los microorganismos. Nunca habíamos visto nada igual!
El resto de la estancia fijamos nuestra base en Bangkok, dónde fuimos compaginando las visitas turísticas de templos y ciudades cercanas, con días de test para el desarrollo de las nuevas tablas de Starboard, donde contamos con la compañía de uno de los riders mas influyentes en este deporte, y gran persona, Bart de Zwart. También disfrutamos de comidas, cenas y salidas nocturnas en las cuales nos divertimos en el ambiente de Walking Street y la gente que nos acompañaba esa noche.
Agradecer a Svein Rasmussen y Caren Forbes su apoyo y hospitalidad durante nuestra estancia en ese paraíso.
Con mucha pena de dejar Tailandia, pero ganas de seguir nuestra aventura, nos dirigimos al aeropuerto para poner terminar esta parte del viaje. Siguiente parada Australia !