Robert Stehlik, the founder of Honolulu-based SUP shop and Stand Up Paddle brand Blue Planet Surf is about to take on the world. From his childhood in Germany to the Hawaiian shores where he has been established for more than 20 years, here is the life of a die-hard SUP entrepreneur.

Robert Stehlik you are the founder of Blue Planet Surf, a flourishing SUP boards and paddle company based in Hawaii. Tell us more about yourself! Why did you decide to move to Hawaii?
I was born in San Francisco, and raised in Berlin, Germany. I have always loved playing in the waves and it's in Europe that I first learned how to windsurf.

The European waves were good but I needed something more, my dream was to windsurf in Hawaii. So after finishing high school in Berlin and saving some money, I went to Maui, I was only 19 back then. I lived there for a year and worked for Hunt Hawaii, a surf shop in Paia. That's where I first thought about starting my own surf business. After a year, I went back to Berlin to go to college but it only lasted one semester. I moved back to Maui and went to the Maui Community College. After two years I transferred to the University of Hawaii at Manoa on Oahu where I got a degree in International Business.

As part of the studies, I made a business plan for Blue Planet Surf Gear, and started the business in 1993 while still a student at the University.

When did you start paddling?
Blue Planet was the exclusive Hawaii distributor for Boardworks boards when C4 Waterman came out with their first production SUP's. I was lucky to get coaching from the C4 guys- Brian Keaulana, Dave Parmenter, and Todd Bradley, when the sport was still really young, in 2006/07 and we sold a lot of C4 boards. I started surfing SUP's but soon discovered how much fun downwinders are. I started training with my friend Jeff Chang and other great paddlers on Oahu. In 2009 I paddled my first Molokai to Oahu race, solo on a SUP, and have done the M2O race six times since then. In 2015 I won my age group division on the 14' x 28" Blue Planet Bump Rider, the best 14' downwind board on the market, in my opinion.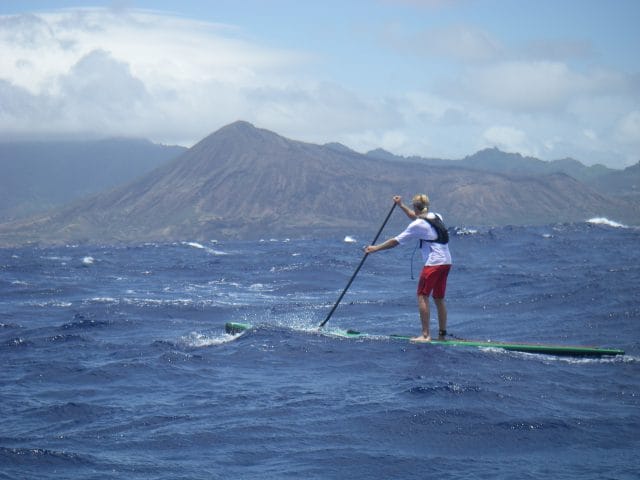 Can you list your activities related to SUP?
I enjoy surfing on uncrowded waves with friends and good vibes, I don't like to surf crowded breaks.  I love downwinders on windy days because there is non stop action and it never gets crowded.  It's an amazing workout and takes a lot of skill to go fast.
You have built a huge popularity on YouTube around your downwind videos. Is downwind your favorite practice of SUP?
Downwinders are just one aspect of the sport but one of my favorites, for sure.  We are lucky to have steady tradewinds, great runs here in our backyard, and a good crew to go with and my friend Jeff has a trailer to shuttle the boards. We have a weekly training group that meets every Wednesday and we also do runs on the weekends when its good. When we are training for the Molokai race we do longer runs, up to 30 miles but the usual Hawaii Kai run is about 8 miles to Waikiki or 5 miles to Kahala.  I offer coached downwinders for those wanting to get into the sport: http://blueplanetsurf.com/products/downwind-coaching-hawaii-kai-to-kahala-downwinder

Running a business and balancing it with family, friends, paddling, and travel keeps me busy, so I don't always have time to coach and do lessons. That's why we started making videos addressing common mistakes and with the tips I usually give people during lessons and coaching.  These are pretty much the same tips you would pay for in a lesson with me and you can get them for free on youtube, so it's not surprising that they are popular.
This year you seem to be decided to take your brand Blue Planet to the next level. Can you give us more details about this?
We have been working very hard on the Blue Planet boards, paddles and accessories for the last few years.  I think we have a lot to offer and great products that will do very well in the global market, we just have to make sure they are available.  Our boards have done very well in Hawaii, Australia, and Canada where we have strong distributors.  We are looking to expand into other markets through distributors and are very interested in the European market, so if anyone reading this is interested in distributing our gear in Europe, please contact me.
Designing boards is one of my favorite things to do, I visualize our shapes on the computer, we make some prototypes in Hawaii and the CAD files are then computer shaped by our factory in China.  We visit the factory regularly to oversee production and for quality control. We have a very good relationship with our factory and although we would like to make all our boards in Hawaii, at this point we are able to offer a significantly better value to our customers by making them overseas.  We have been refining the shapes over the last few years with the input from our team riders and customers.  I think our shapes are some of the best on the market and we try to offer something for everyone, from entry level user friendly boards to high performance boards for expert level surfers and racers and offer them in different construction options, including soft tops, inflatables, epoxy/ bamboo/ carbon/ kevlar hybrid and full carbon construction options.
The best way to buy one of our boards is to come to our shop in Honolulu or to one of our authorized dealers and demo a bunch of boards, we always encourage you to try before you buy.  We have a pretty extensive dealer network now through our distributors, check the links for locations in Hawaii, Australia, Canada and Fiji. We also offer free air cargo shipping on our SUP's in the US through our website and can ship boards internationally at a reasonable price, please contact us for a quote if you are interested.

We have expanded our shop this year, we took over the lot next door so we have a new parking lot and warehouse, we also remodeled our shop and expanded the retail space.  We are blessing and celebrating the shop expansion on March 19th, please visit our shop and find out why we were voted Hawaii's Best Stand Up Paddle Shop by our customers.

Follow Blue Planet :
https://www.instagram.com/blueplanetsup/
https://www.facebook.com/bpsurf/