The Porto & Matosinhos Wave Series 2017 is organized by Onda Pura with the support of the city councils of Porto and Matosinhos. It's a series of boardsport events which take place from May 3th to September 3rd, which include a National Surfing Tour event, a National Longboarding Tour event, a National Technical SUP Race Tour event, a National College Bodyboarding Tour event, a National Junior Surfing Championship, a National Surfing, Bodyboarding and Skimming Championship, a Regional Surfing Tour event and a Regional Bodyboarding event.
More than 30 000 people attended those events and this year the organizers are expecting even more people.
The two cities joined their forces to greet the top SUP athletes in Portugal for the third event of the Portuguese Technical Race Tour on Sunday, May 21st, with moderate waves, light winds and great scenery for a race.
Once again there was a showdown between current tour leader Ruben Alonso and defending National SUP Race champion Filipe Meira on the 12'6 division. With both racers head-to-head on the final stage of the 3,8km beach race, Filipe (24m59s) was able to catch a small wave and take advantage, repeating his win from last year on the very same beach.
After back-to-back victories on the first two events of the year, Ruben (25m15s) had to settle for second place on this occasion, maintaining his overall leadership on the tour. 2015 Technical Race champion Ricardo "The Frog" Rodrigues (26m00s) clinched the final spot on the podium.
"I'm really happy with my first place on a very competitive race with great conditions. It was super fun to be in Matosinhos once again", declared Filipe Meira.
In the Women's Division, after a long winning streak, Ângela Fernandes (28m03s) lost the final sprint to up-and-coming Anabela Prioste (27m54s), with Marta Salaberri (29m23s) finishing in third place once more.
"I'm so happy with my win. It was a very tight race until the end. We had excellent conditions for a technical race", stated Anabela Prioste.
In the 14' division, Rui Ramos (25m33s) made it three in a row. The athlete from Northern Portugal almost skipped a buoy but got back on the right track after being warned by fellow racers. 2014 National Race champion José Cirilo (25m52s) is slowly returning to form after a long absence by injury and secured the second place in front of Tiago Dinis (26m32s), from Algarve.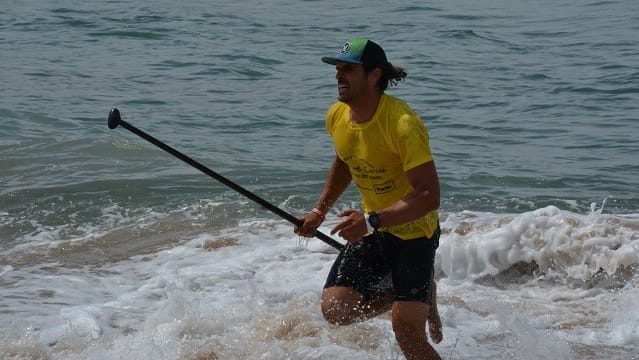 On the Amateur Division, José António Gaio (35m10s) beat Diogo Alves (35m52s) and Paulo Pereira (37m23s).
In the afternoon there was a SUP Wave Open event with some of the best riders from Northern Portugal and the National SUP Wave tour.
Current National SUP Wave champion Diogo Queimada offered a great wave riding performance to the many spectators with several high scores, defeating past winner Ângelo Bernardo (second place), newcomer Gonçalo Gomes (third place) and veteran racer and surfer José Cirilo.
"It was a good event for me. The waves were small but very good and it was cool to have the race and the wave event together", declared Diogo Queimada.
Also, in Portugal, the Portuguese Surfing Federation announced that its National Team will be competing at the EuroSUP – European SUP Championship, organized by the European Surfing Federation, which will take place in Peniche, Portugal between June 6th and June 11th.
Ruben Afonso and Filipe Meira will be representing the country on the Technical Race and Long Distance, with Ângela Fernandes being selected for the Women's Technical Race and Long Distance. Diogo Queimada and Rui Fialho were chosen for the Men's SUP Wave contest and Cátia Moura for the Women's.
"Our National Team is training for several months now and is focused on improving the important third place conquered in Lacanau, behind France and Spain. We are highly motivated and we believe we can get a good result at home", stated National Team coach Franz Orsi.
Credit Photo: Diana Gil