In the middle of May two intrepid paddlers loaded up a van with their SUP gear and headed south from the UK to the Dordogne River in France with one aim, to paddle as much of the river as possible. James Belcher and John Cobo are not ultra-distance athletes but two men with their boards, camping gear and a taste for adventure. Using Paddle Logger to track their activities this is their SUP adventure.
Hi James and John, welcome to TotalSUP. I followed your Paddle Logger Dordogne adventure on SUP My Race, it was an impressive feat. What was the spark that got you both on the Dordogne?
John This adventure started about 6 years ago when I first paddled a SUP in Oregon in the US, the SUP bug bit and when I moved to the UK I continued my SUP adventures in Cambridgeshire and the Lake District.
James I first went for a paddle with John in the summer of 2022 on a borrowed board, later that day I bought my first SUP! We were really enjoying our paddling together going further and further and when I suggested we do a 3-day, 90 km trip from St Neots to Granchester via the River Ouse and River Cam John jumped at the chance. That trip went really well and we decided to be a bit more adventurous for our next one
That is a pretty rapid progression from not paddling to 140km! Why the Dordogne?
John Deciding where to go was a challenge in itself! We knew we would have 2 weeks for our adventure and wanted to stay in Europe to make the most of our time. We spent months working out where to go, our spreadsheet had 47 different European river and SUP locations. We looked at river analysis (length, river height for SUP, Dams etc), river difficulty, ease of camping, safety ratings and of course scenery.
That helped us narrow our choice to three different SUP challenges, The Dordogne in France, the River Po in Italy and the circumnavigation of Mallorca. It was a tough choice but The Dordogne won because we both know a little French, we need to work on our Italian for our next adventure!
And why did you decide to use Paddle Logger on your epic French adventure?
James I like using Paddle Logger because it is easy to use, accurate and gives good feedback. Splits are nice and easy to view, it's also my favourite for the Apple Watch. John also carried a dedicated, 2-way satellite communicator for emergencies in case we had no mobile signal but didn't need to use it.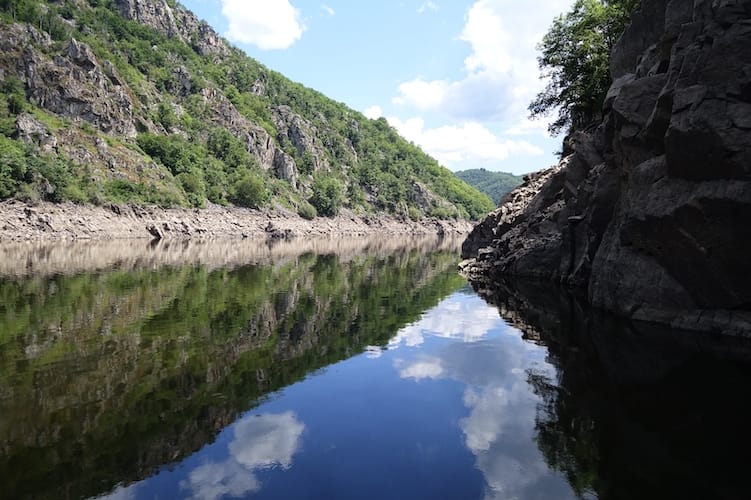 Fantastic I think it would be best to hand over to the two of you to tell your Paddle Logger story…
Thanks Chris. After all the preparation our plan was to start paddling on Tuesday, May 16 from above a dam near the town of Ussel then head downriver. For the first few nights, we would be wild camping in pretty remote areas of France before the river took us to more populated areas and we hoped to finish our adventure 10 days later.
At the start of our route, we knew in advance that we would have to portage around several dams and paddle across the lakes behind them so we packed our kit in a way that we hoped would make carrying easier, the best-laid plans! Fully laden SUPs are not easy to handle sometimes but it worked out OK.

Day 1 – Reconnaissance
We decided to investigate the first major dam by van and we were able to scout the portage trek in what would have been our third dam crossing. This was also a good time to check the portage in advance and this turned out to be a good idea, the road was blocked in several places by rockfalls and would only have been accessible by air. After a few false starts, we eventually got our paddles wet in the water in the lake above Barrage de Bort-les-Orgues starting at Confolent-Port-Dieu.
We had decided to do the first part of our adventure without all our gear from what would have been the start, as John said we were "in the right place, on the wrong day, paddling in the wrong direction".
Our first day was unseasonably cold! The weather was not good and we had very strong winds, crossing the lake was quite a new experience for us both and very choppy with the high wind. But the weather gods decided to smile on us and the winds died down we had a great paddle upriver. We went up the Dordogne as far as one could paddle and it was beautiful.
Day 2 – A windy gorgeous gorge
We started the proper tour on our second day, no turning back now as we headed downriver with all our camping gear. Our Airbnb host, Nico gave us the perfect start offering to drive us to our new starting point at Aynes just in the safe zone after Barrage de l'Aigle.
Once on the river the wind from yesterday continued to challenge us, we had some very interesting conditions to deal with. Strong headwinds, sidewind, and sometimes with tailwinds pushing us along. At some points, the waves from gusts submerged James' board almost completely! The river was kinder, the current helping us along but the wind! Definitely challenging, they would come out of nowhere before vanishing again.
We paddled to Barrage du Chastang, at the dam we took an hour to carry the boards and gear a couple of km from the water to the actual dam. Despite our planning, our stuff was damn heavy to carry when on dry land.
Our planning hadn't revealed that we now had another 6km to walk! I'm not sure what we would have done but the French version of lady luck smiled on us and we were saved by a friendly French couple that drove us to within a km paddle of our campsite.
Day 3 – Nearing civilisation
We set off from Argentat-sur-Dordogne, (above the Dam). the morning involved scrambling up a small cliff from the water with all the gear in order to avoid 2-3km more of portage around another dam. As it was we still carried everything a couple of km.
We were so rewarded though! For the afternoon we paddled through classic French Dordogne vistas. As a bonus, we learned how to paddle white water! It was a gentle introduction as neither of us died or capsized. However, there were a number of "exciting" moments.
We finished our day in Beaulieu-sur-Dordogne and our evening turned out to be more interesting than expected. We were heading to an early night in a sort of informal campground near a village, when we got there a young French couple in a canoe were leaving, they explained that the land owner had decided against hosting wild campers and they planned to continue to a campsite down a side river.
Taking their lead we did the same, it turned out to be a tricky paddle which put both of us in the water for the first time. We had to cross from a side canal to the other side of the river which was a torrent of water but it was worth it, staying at a really nice campground and our first chance to freshen up after 2 days of paddling.
Day 4 – Almost perfect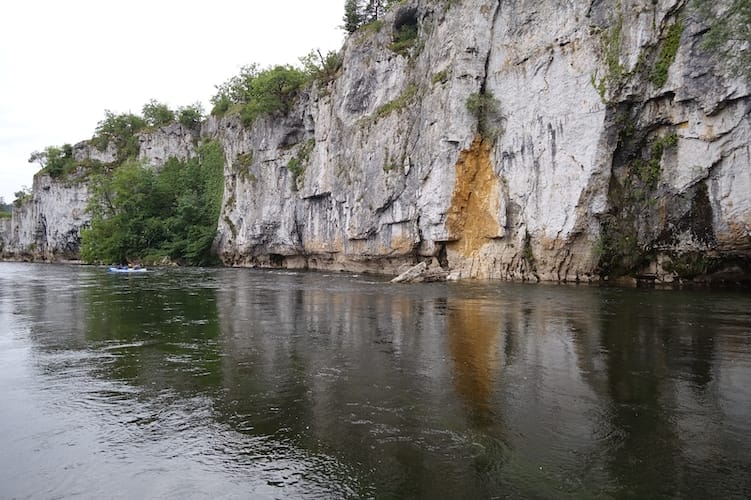 Our fourth day was almost perfect, leaving Beaulieu-sur-Dordogne the river gave us a 4-5 kph boost pretty much all day. There was very little wind. Not too hot, not too cold, no dams to portage over. It could not have been better.
The few rapids were pretty tame, except for the first one! This was where James and his board went separate ways, he resurfaced to an overturned SUP. Lucking the 30kg of luggage remained attached to both the board and rider.
With the famous Dordogne limestone cliffs on both sides we continued downstream, stopping for lunch of jambon et fromage in Carennac, a picture-perfect village, and ending the day at a campsite beside the river with a few beers and dinner with a couple of French guys who were also paddling the river. Perhaps their plan was better using hotels and not carrying as much kit with them.
Day 4 was when we discovered the kayak shoots. These are a way to avoid carrying a canoe or kayak around things by zipping down a concrete shoot like a fairground ride. We also discovered these are not always suitable for paddle boards! Oh well. Managed to just stay out of the water!
Days 5 and 6 – from Cliffs to castles
Two peaceful days on the river starting, the first starting with our French friends from the night before, Daniel and Thibaut. and finishing in Siorac-en-Périgord. Apart from them, the only others on the river were a family with 2 young boys, one lone fisherman drifting along, and a platoon of youngsters on kayaks playing a Scottish jig through some speakers while flying a pirate flag!
The next day was more of the same, enjoying ourselves with the river helping us along. Since the start of our journey, we had seen herons crossing the river in front of us every few kilometres. On day 6 we paid more attention to these elegant birds and wondered if it could be the same heron guiding us down the river all day/ all trip. Deciding that our Heron guide must be called Harry we followed him for the day to Lalinde.
So far the river had taken us from the high rugged mountains to limestone cliffs and now to fairytale hilltop castles and chocolate box villages. It is a very beautiful area to paddle through.
Quote of the past several days: James: "Our campground is just around the corner." —  It never was!
Day 7 – Thunder and lightning!
On the seventh day came rain, lots of rain. The day started sunny and hot with high humidity which was then followed by intense rain and lightning, thankfully just after we got the tents up and dinner mostly cooked.
The seventh day was also when the river changed, leaving the super quaint villages behind us into bigger, wide-open areas. Stopping at Gardonne we update our plan making Libourne our final destination as we've been told that the tides beyond there are too unfriendly.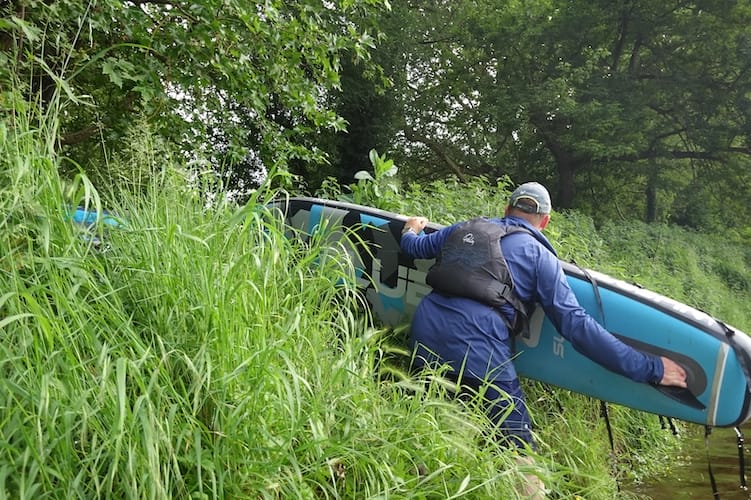 Day 8 – Au revoir Harry
Lunch was one of the highlights of day 8! Timing it perfectly to enjoy fantastic omelettes in Burgarak under huge umbrellas while a tropical downpour accompanied by thunder and lightning soaked the town. During a break in the storm, we got back on our boards and paddled downstream faster than the storm, happy to leave the bad weather behind us.
Harry the guide heron left us on day 8 He waited at the side of the river for us to paddle beside him, which he had never done before taking to the air one last time, circling us once and flying away. This coincided with us leaving the wild part of the river and entering flatter, populated areas and big, wide, slow river.
Day 9 – Local knowledge is key
40km paddled on our ninth day soaking up the countryside on the now tree-lined river and wondering where everyone else had gone, we saw only 2 fishermen on the water all day and a few in the villages we passed. Ending our day in Branne at a nice campsite with a fab outdoor BBQ restaurant on the riverside.
Luckily for us, the young man running the BBQ turned out to be a bit of a river expert and his advice was that the tide starts to make its impact as soon as the bridge we can see from our table, not 20km away as assumed. After much Googling we planned to hit the river at 6:30 the next morning!
Day 10 – Early start
On the water at 06:32 and trusting the nautical advice from the night before was a great decision, we did a fast 18km paddle, beat the tide and completed our journey!!!!  As we paddled that morning we saw on the river bank the height difference between high and low tide., we were glad not to have to paddle against that flow.
It was strange to pack up our kit for the train journey back to the start, what had taken us 10 days to paddle retraced in a mere 6 hours on the train but we hadn't quite finished…
Day 11 – La Finale
Reunited with the van we were able to paddle a lake in the Dordogne which had been unreachable to us at the start of the trip. So we finished near where we had begun in the mountainous region near the beginning of the navigable Dordogne. It was a great place to end the epic journey in beautiful sunshine. Our celebratory swim proved that the Dordogne is still very cold in late May!
Well, that was certainly a great way to spend your time on the river, looking back was there anything you would change?
John We were surprised by a few things, even after all the planning we had done. We had no problems with the signal for our mobiles which was great, in case we needed it. But we were unable to purchase food and do as much cooking as expected, It was a good thing we brought quite a lot of Huel and Snickers bars with us to keep us going.
We had a few issues with carrying our kit on the boards, the standard luggage straps had to be replaced with something heavier duty before we left and on the trip we had problems with 2 drybag zips and two pumps. The bags have since been replaced under warrantee which was good. We also wished we had about 30% less weight to carry, but still don't know which 30% to lose!
But apart from some unseasonal weather our planning and training paid off. It was a great trip!
John and James, thank you for sharing your Paddle Logger story with us at TotalSUP. Hopefully, your next adventures will be as enjoyable and we hope you can share them with us here at TotalSUP
John and James used Paddle Logger to keep track of their Dordogne adventure. Paddle Logger is an award-winning iPhone and Apple Watch app used by a huge number of paddlers around the world and is available free to use or with a subscription to access more Paddle Logger features.
You can find out more about Paddle Logger on their website, Facebook Page and Instagram channel. The Paddle Logger app is available from your local Apple App Store for the iPhone and Apple Watch.
All images James Belcher and John Cobo.