When it comes to stand-up paddleboarding, there's never a dull moment! Our sport offers incredible versatility and allows riders to tailor their SUP experience to suit their interests, skills and places they'd like to explore on a stand-up paddleboard. Whether you're looking for the adrenaline of the open sea,  the intensity of training sessions, the serenity of riding on calm waters or a multi-day adventure, you can do it all on SUP!
In collaboration with Coasto, the French watersports brand, we look at different types of stand-up paddleboarding activity to help you discover the best discipline for your needs!
1. Recreational stand-up paddlebaording
Recreational stand-up paddleboarding is the most common and accessible form of SUP activity. It most often involves paddling on flat waters, such as lakes, rivers or calm coastal areas.  Recreational SUP enthusiasts appreciate the tranquillity of these outings combined with sightseeing and experiencing nature from the perspective of their paddleboards. This activity is perfect for beginners and those looking for relaxed SUP experiences.
However, the social aspect of recreational paddling and "chill factor" appeal to riders of all SUP-skill levels and it's a great way to introduce friends and family to the sport and discover new locations in a different way.
SUP boards can also be used as a base for beach games or a diving and jump platform that can be enjoyed by kids and adults alike. For recreational paddling, explore the all-round boards in the Coasto quiver.
2. SUP Touring
Just as there is walking and hiking, there's a SUP activity called touring. It usually involves covering longer distances on a touring-shaped paddleboard, often on rivers or canals but also along coastal routes. The advantage of touring boards for this type of activity is that they provide more deck space and allow to take some additional cargo.
SUP Touring can be practiced during longer expeditions that may require camping along the way. It's a perfect activity for SUP adventurers and those wishing to explore certain stretches of waterways. Coasto's Nautilus 11'8" and the Cruiser 13'1" have been designed with SUP touring in mind.
3. SUP Racing
SUP racing is the most competitive form of SUP activity with focus on technique, speed and endurance. SUP races can vary in length and format: from Technical races (with buoy turns, beach starts, elements of SUP surfing and more), "explosive" Sprints and open water Downwind events to Long Distance and ultra-endurance competitions.
Although the range of SUP racing competitions is wide and they usually attract advanced paddlers and elite SUP athletes, these events are generally open to all SUP enthusiasts. This is great way to stay motivated, fit and set personal goals while progressing to this exciting SUP activity.
If you're thinking of joining the SUP racing scene, take a look at the performance iSUPs from Coasto: the Turbo 12'6 and Super Turbo 14′ models.
4. SUP Surfing
SUP surfing is the adrenaline option of stand-up paddleboarding. SUP surfing requires skills, balance, coordination, strength and endurance as well as a good understanding of the ocean conditions and the surf etiquette.
It's a discipline that can be demanding but incredibly rewarding for surfing enthusiasts. You can start your experience in small waves with inflatable all-round SUPs.
5. Downwind SUP
Downwind SUP is a form of stand-up paddle boarding that involves riding waves and swell usually from one point to another. It is a fast and exciting way to enjoy the water, but it requires skills to read bumps, balance and coordination. Most importantly, it requires water safety knowledge and preparation to harness the power of the wind and the sea to move quickly across the water.
You can downwind on the sea, large lakes and even rivers. Once mastered, downwind SUP provides a unique SUP experience of endless gliding and riding bumps. It's not the Holy Grail of SUP, but it's pretty close.
6.SUP Foil
SUP Foil is a variation of stand-up paddle boarding that involves using a hydrofoil to lift the board above the water allowing the rider to "fly" over the surface by gaining speed, on a wave or in the swell. SUP foiling can be done in different conditions, such as downwinding, surf or flat water (pump foiling),  depending on the type and size of the foil and the board. SUP foiling requires skill, balance and experience, as well as proper equipment and water safety precautions. The SUP Foil is ideal for riders looking for new sensations and a high performance discipline.
7. White Water SUP
River and whitewater SUP is a technical and fun discipline. Rivers offer more varied and complex conditions with rapids, currents and natural obstacles. This discipline requires specific skills and equipment (local knowledge, helmets, quick release leashes &more) to safely navigate these dynamic environments.
Starting with small rapids and in a safe environment – tapping into local knowledge of a certified Coach/Guide (do not paddle on your own!) – is the best way to experience river SUP.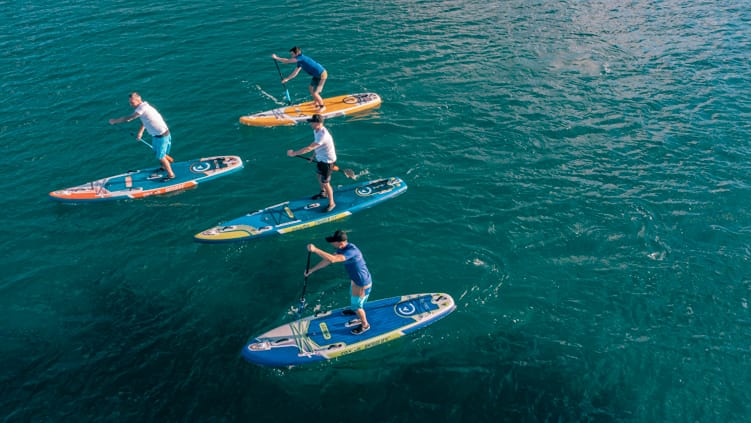 8. SUP Yoga
SUP yoga combines stand-up paddleboarding with elements of yoga. There are additional benefits involved such as mindfulness, flexibility and strength, with the challenge of balancing on a paddleboard. SUP yoga can be a fun and refreshing way to enjoy nature and improve your overall fitness.
It's a unique way to meditate and connect with nature. Inflatable stand-up paddle boards such as the Coasto Argo 11×33, offer a comfortable platform designed to get you started.
Coasto Argo 11′ – Photo : @yog_apo
9. SUP Fitness
SUP fitness involves board workouts with emphasis on strengthening, balance and cardio exercises. These sessions can combine elements of yoga, pilates and general exercise and can be practiced both on natural waterways but also in a pool!
10. SUP Fishing
For SUP and fishing enthusiasts, a stand-up paddleboard can be an alternative platform to cast their fishing rod in new places. Coasto Nautilus 11'8", is a board that offers enough space and stability necessary to enjoy the day in the wild and focus purely on fishing but also brings a whole new dimension to angling.
11. SUP with a pup
Paddleboarding with your dog is great way to share an adventure on the water and strengthen your bond with your loyal four-legged friends. You can dive deep into paddleboarding with your pup subject by checking our dedicated article – "SUP with your pup: Tips for stand-up paddleboarding with your dog". Large touring boards such as the Coasto Nautilus 11'8" or the Cruiser 13'1" are perfectly suited for this discipline.
12. Freestyle SUP
Freestyle SUP is a fast growing niche stand-up paddle discipline that focuses on advanced SUP paddle technique, tricks and manoeuvres on your board. This can include skilled footwork drills, jumps, rotations, unusual positions and staying off balance.
13. WindSUP and WingSUP
WindSUP or WingSUP combines SUP with windsurfing that involves riding a SUP or foil board while carrying a hand-held wing or sail that helps propel the board in the water by using strong winds. Also your board set up requires a central sword (additional centre fin) and a mast insert for windsurfing allowing to use it in various weather conditions.
It's a great way to enjoy your SUP when it's windy. At Coasto, the Mir 8'6 inflatable WindSUP was designed with this activity in mind.
14. SUP-kayak or SUPyak
This combination allows you to enjoy both activities at the same time: stand-up paddleboarding and kayaking where you can simply attach a seat and use a double-bladed paddle. There are also SUPs that can be converted into a kayak such as the Coasto Altai 11′ which also allows you to row while you're standing.
15. E-SUP
The E-revolution is taking over the world of SUP offering electric assistance for stand-up paddleboards allowing to paddle for longer and opening access to users with reduced mobility.  This is also a great starting point for sharing the SUP experience with friends and family. At TotalSUP, we tested the latest development from Coasto – The E-Motion SUP.
Stand-up paddleboarding is a diverse water sport that caters to a variety of interests. Whether you're looking for a relaxed time on the water, a space to meditate or adrenaline and competitive edge, there's a form of SUP activity that's right for you. So, go explore and have fun!
To find out more about the sport of stand-up paddleboarding, check out the complete guide to choosing your inflatable paddleboard. 
To find out more about Coasto, visit coasto.eu
*This is a translation of the original article by Laurie Montagner