Photographer, athlete, brand ambassador, Paul Clark is based in Bend, Oregon and likes to take his Stand-Up Paddle board on rivers, whitewater and on multi-day expeditions. Interview with a true SUP River specialist and adventurer.
Hello Paul Clark, can you introduce yourself and your SUP River background?
I'm Paul Clark, aka SUPPAUL, aka the "duffle bag paddle boarder." I am a paddler who uses paddle boards as the vehicle for multi-day expeditions which are often sup-supported.
That is, traveling with gear tethered to the board. When I was first introduced to SUP about 5 years ago, I immediately wondered if overnight trips were possible. Since then I have done numerous trips with my board in the Western States, Japan, Alaska, Pamama, Mexico, and Patagonia.
I have now begun outfitting others and teaching river SUP fundamentals with SUPPAUL "Rigged to Flip" clinics and SUPPAUL River Safaris.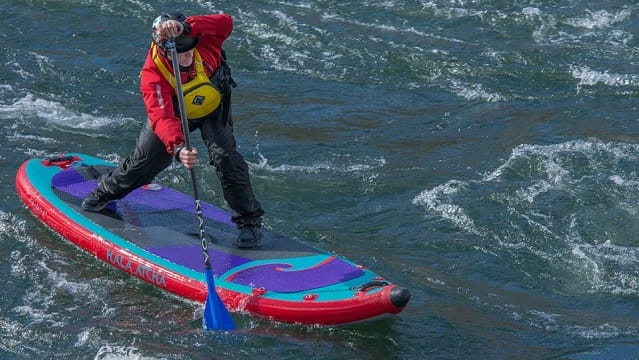 While most paddlers spend their time on the ocean, why did you decide to focus on whitewater?
SUP originated as an ocean vehicle for surf and beyond. River SUP takes its influences from the ocean but is more a hybrid sport. It's influenced by surf boarding, of course, but also kayaking, rafting, and whitewater canoeing. Board shapes are different as well as design. River boards are durable, they have retractable fins, tail rocker, width, and many of the best are inflatable.
Though glass boards and shaply rails are ideal for surf, river specific SUP boards are the way to go for expeditions. Why, because there is less stuff to break, they tend to be lighter weight than their glass or plastic counterparts, and it's less painful to fall on "rubber."
River curriculum tends to be all about paddle stokes and river features. My own curriculum is more experiential, introducing people to the river so they feel the current and swiftness of water. I supervise and give a variety of tools, but spend less time than others identifying paddle strokes, etc and more time focusing on staying low and keeping the paddle in the water.
If you stay low (knee, squat…) and keep the paddle in the water you can tackle much of what Class1-3 rivers have to throw at you. Ocean paddlers get that. Just as long as they wear the river SUP uniform S.H.I.P.P.S (shoes, helmet, insulation, PFD, padding, signalling device such as whistle).
Whitewater parks like the one in Bend, Origon where I live are great for training. You can practice eddy turns and ferries, as well as surfing. Two hours in a park will give you more skills than two days on a river.
On a river you tend to paddle on your strong side and call it good. Sometimes that means you repetitively make mistakes but keep going. In a park you train on your strong and off-side, experiment with different stances, and learn what it takes to ride the board.
Can you explain the different SUP River race formats?
I don't race. But there are many river races that attract the brightest talents in the industry. The GoPro Games and FIBARK in particular. Both are in Colorado. Colorado tends to be the epicenter for river SUP, river surf and comps. However, I am a river runner and expedition paddler. The Pacific Northwest has many opportunities and year long padding destinations.
Usually SUP races have two components, a down river sprint in Class2 water and a SUP Cross event running gates or buoys head to head rubbing rails and getting the crowd fired up. I like cross races.
Can you give us a quick Stand-Up Paddle overview of Oregon and its points of interest?
In Oregon if you want to do a multi-day paddle trip you have to hit the river. The Deschutes, the John Day, the Rogue, the Owyhee, the Grand Ronde… Many of these are desert rivers running wild for hundreds of miles. Bend has the whitewater park, and there are numerous river sections on the Clackamas, Hood River, Santiam, Umpqua, McKenzie etc that are world class whitewater SUP runs on Class2 -4
I will be returning to Patagonia later this year teaming up with my Chilean partner Eduardo Hernandez of ViveSUP to offer 8day SUP trips in the Rio Puelo Valley.