Follow Starboard SUP adventurer Bart de Zwart as he explores the Marquesas Islands for the next 12 days tracing the footsteps of the famous Norwegian adventurer Thor Heyerdahl powered by WindSUP. Here is the latest diary update from Bart as he arrives on the island of Hakahau.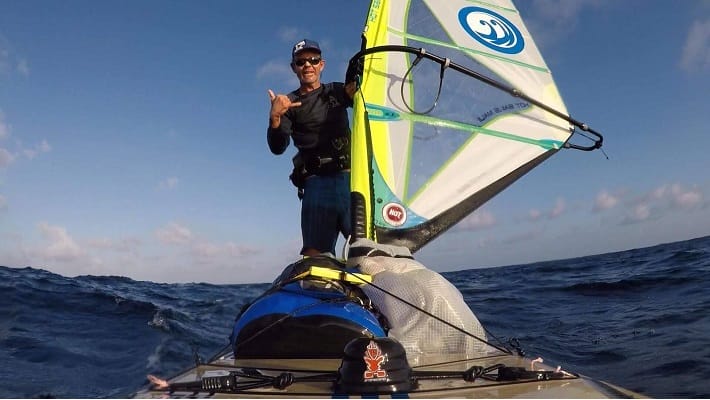 Yesterday I did 70 nautical miles (130km) this was the longest crossing of this expedition. I prepared everything the evening before so I could have a running start at 2 am. I decided to start in the middle of the night so I could arrive close to sunset on my next island Ua Pou. I spent that night sleeping on board Dick and Monique's boat with everything packed and already in the water, they fed me and we enjoyed a nice evening discussing boat life. I saved a lot of time by not having to pack up the tent and tye all my gear on the board.
I started paddling in the rain with a light breeze from behind. It was pitch black when I started, but soon after I had  an amazing sky full of stars, I used the stars to set my course, so it saved me looking  at my compass every few minutes. It is surprising how fast you get used to the movements of the waves without seeing anything. When the sun came up at 5:30 am there was a good breeze so I rigged up my windsurf sail, however this only for 10 min. The wind then decreased until there was nothing left. If I had to unrigg all the equipment and start paddling it looked like it was going to be a very long day, and perhaps night.
Fortunately, the wind picked up, this happened after I moved away from the wind shadow of the islands. Windsurfing a heavily loaded SUP board is really differentt. There is no space for your feet, and because of the weight of the SUP there is a lot of drag. When I was windsurfing I did not using the harness, I made this decisions because I traveled in only one direction, when you do this for many hours per day your neck starts to hurt, paddling feels easier but it is slower.
My routine is to paddle or windsurf for an hour and then take a 5 min break to eat and drink something,  if my tracker is functioning correctly I check my position and course, the hours just fly by. At sunset, I was an hour away from the point of the island and 2 hours from my destination. With the moon up I kept on windsurfing which was very difficult with the motion of the waves against the SUP board.  If you sail, you'll know what I mean by this.
It is always exciting to enter an unknown port or bay in the dark especially when it is windy and I can hear the waves  crashing on rocks nearby. I hadvery good sea charts on my iPhone to see where I was, and give me an orientation of Hakahau, However my arrival felt really special because I could not see any village lights, until I was past the village. I arrived safely after 18 hrs at sea but I was totally exhausted.
When I arrived on the beach I asked a local who owned a Vaa (an outrigger) school if it was ok to put up my tent on the beach next to his school. After being seaborne for so long it really took me a good while to get my land legs back and went to bed as soon as I blew up my mattress. Other than the few sailing boats stopping past, not many people visit this island (as is the case for all the islands). Although this is the main town of this island, with its dramatic peaks and mountain backdrop, it is a quiet and sleepy islands. The school kids have outrigger paddle practice every day here during school.
Teaki and Joel invited me over for coffee and eggs – a real treat in a place like this and after yesterday's crossing. They work at the paddling school so they know all the Tahitian paddlers and we found we had some common friends. Today I walked into the town and talked to the locals, I also enjoyed the views, but mostly I rested. Tomorrow morning I will head for Nuku Hiva – my last island with some exciting and beautiful bays.
You can track Bart's (Instagram: @bartdezwart) journey via the MapShare website: https://share.garmin.com/BartdeZwartSUPCrossing