SPAIN — One of the forerunners of Stand-Up Paddle in Spain, Javier Bartra is on every front of the spanish SUP world. In this first exchange with him, we want to know more about the brand Makoa he created 4 years and which seems to flourish on the spanish coastline.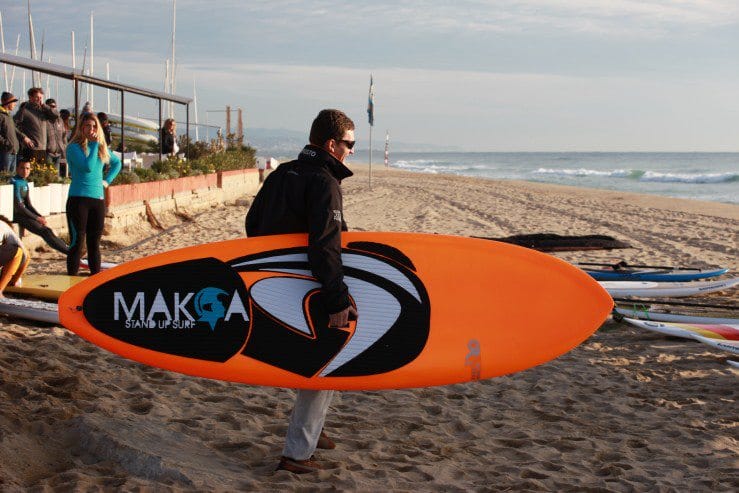 TOTALSUP : Hello Javier, can you introduce yourself ? 
Javier : My name est Javier Bartra Bertrand, I am spanish with a french mother and I live in Barcelona. I believe I am the first person to have ever imported SUP boards into Spain, namely the french brand GONG, 7 years ago already !! Now I manage my own board brand Makoa boards et I deal with pretty much all things SUP : school, shop, competition, etc…
Could you give us a bit of background on the story behind Makoa ? 
4 years ago I had the idea of starting my own brand after having mixed commercial experiences mixed with the distribution of various brands : Gong, Jimmy Lewis, Starboard … I wanted to have full control over each aspect of the business (price, shapes, quality, delays…) so I started with 3 sizes in 2011, 5 in 2012 and for 2014 we offer 14 sizes in all categories !
How does Makoa differentiate itself from what is on offer on the SUP market ?
This season, we created 8 different categorie : Wave Pro, Wave Easy, Wave Long, Freeride, School, Explorer, Race et Inflatables. We try to cover the whole demand range and put the riders at the heart of our project. Indeed, we try and propose boards that are more than anything comfortable and accessible by everyone.  I am aware that we are a small company and that we can't fight against big international brands but we can offer different products with a great Look & Feel, a good design, a strong build and at a good price … and yes all that is possible !!
What is your best-seller and why ? 
In 2013 our best-selling board was the Freeride 9'5 x 32″ x 185 litres. It is a popular one because because it covers a wide range of SUP activities : wave, allround and touring. Is is also a board that can suit pretty much all body sizes and weights. 
In 2014, we keep the 9'5 but we have created a new series that we have called the Easy 8'5 x 32″ x 140 Litres. It corresponds to a new trend of basically having fun in small waves without having to be a surf expert. I am confident this will be a success this year !
What are the challenges a small brand has to face on the spanish and on the international markets ? 
Just like everyone I guess, the main difficulty is a financial one. We are definitely limited by the economic crisis in Spain and banks limit their credits which makes it hard to grow faster.
The next thing I would say is the production time linked to a low cashflow, followed by sales as you have to facilitate the payments to the clients and it is not always easy to take such risks. 
As far as the products are concerned, I think we stand at a good quality level. 
On the expansion front, we are currently growing at national and more importantly at international level with new importers in Portugal, Uruguay and Brazil and we are looking for partners in France and Italy. 
What are the ambitions of the brand Makoa in 2014 and how do you see the future ? 
Stand-Up Paddle is hugely fashionable these days and growing at an incredible rate everywhere in the world, so we still have a long way ahead. As you know, SUP can be split roughly in 3 categories : Waves, I think it is going to be pretty quiet there in terms of new developments; Race which is progressing day by day and where things are not completely set yet and finally the whole department of  Trips / Touring / Allround where I believe there is plenty left to do. That's where Makoa wants to venture more particulary and we have developed this year 3 sizes of a new special model, The Explorer available in 11′, 11'5 et 11'9 x 30″ . It is a Race-type board but much easier and softer which make it perfect for touring. We are also launching a new Allround, the Free 10'2 x 32" x 200 Litres.
Does Makoa have a competitive team yet ?
We do not have a team of international athletes yet but we do a lot of ground work with our SUP school students. We do have a pretty good wowen's team in Allround and Race that we push a lot in the local Cataluña circuit and this year with the new national SUP Circuit. In Allround, we already decent results : 2012 1st woman in the Spanish Championship, 2nd in the women's in the Cataluña Championship and 6th in the Race category (12'6) in the men's. 
TOTALSUP : Thank you Javier, we wish you all the best for 2014 !
Javier Bartra : Thank you for your interest and your questions and good luck to TOTALSUP in this new adventure !