With SUP still taking hold around the globe, it is wonderful to see families using it as an opportunity to get on the water together.
Even greater is the good it does for children to see their parents leading them in a healthy activity, teaching them habits and skills which they will carry forward and develop into adolescence and adulthood. The emergence of SUP as a family activity isn't the only thing blooming, there are numerous kids' clubs, sessions and competitions happening all over the place where participation is encouraged through socialising, fun and games. These clubs, led by inspirational paddlers themselves, nurture healthy competition and are places where the next generation of SUP racers, Watermen and Women are honing their skills ready to take on their paddling idols if they so wish. We have already seen incredible performances in SUP racing this year from young paddlers competing among racers with years of experience, so there is no doubt that with the right encouragement, coaching and equipment, young people can achieve great things early on in their paddling career.
Brands like Fanatic recognise that young people need specific kit to give them the best start. They know that giving a young person a comfortable and enjoyable experience will mean that they are likely to return time after time. After all, one of the fundamental aspects of paddle sports is 'feel', so if we can't nurture that in our young athletes through giving them suitable equipment, how can we expect them to grasp the skills needed to paddle effectively.
Back in May this year I was delighted to teach the Kids' SUP Race session for Waterskills Academy at Cardiff International White Water Centre, which took place after the annual GB SUP 10k distance race. We had a group of very talented young people in participation, among these young people were Tije and Mylo van Bakel, supported by their paddling parents Joep and Suzanne. As a family, they are mad about being on the water and travelling together. I was inspired to catch up with Fanatic team rider Joep van Bakel to ask him a bit more about how the family dynamic works on the water for them, how they bring on young people in paddle sport at their local club in Wormer in the Netherlands and how Fanatic come up with beautifully designed equipment to aid progression for young people.
Joep please tell me a bit about your paddling career, what age did you start on the water?
I have basically been paddling my whole life after getting my swimming certificate aged 7. I then started with downriver white water kayaking also at the age of 7 years old, I then moved to marathon and surf ski kayaking in my 20's and over the last 10 years I have paddled SUP. It's hard to tell what sport I like most because for me it's more about "the game" of competition, having friendships on and off the water, travelling to great waterside locations too. Besides the paddle sports, I also love wing foiling for the windier days. We have a great kayak club in Wormer, it's my local club called "de Zwetplassers" and most of my training sessions happen from there.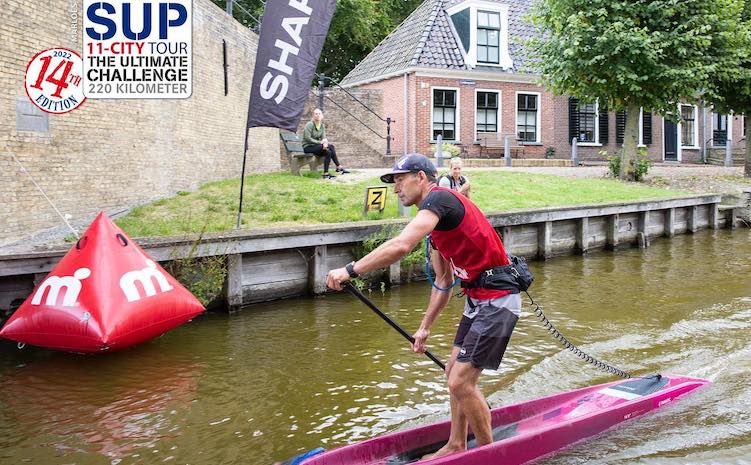 It's such an inspiration to see a family so orientated around being on the water together, what does that time spent together look like?
My wife and I both work at a school as sports teachers which means we have the same days and holidays off as our kids. Almost every weekend and holiday we spend on the water together. Most of the time we travel from one race to another. It's great to have this lifestyle not just for me but to enjoy it with my family. Together with them I paddle kayaks, SUP's and even got them into foiling. My boys started paddling on a SUP at the age of 4. Now Tije is 6 and Mylo is 10 years old. They started young but not just with SUP, they also played rugby, did freerunning, skating and kayaking. I think that it really helps them to do different sports at the same time.
We're seeing some talented young paddlers coming up through the ranks, what age are you introducing SUP to the younger paddlers at your club?
In 2019 I introduced the club to SUP paddling because there wasn't a place where my 2 young boys could enjoy the sport of SUP and train with other kids close to where I live. It all started with training Mylo when he was 7, and a few friends of his. Now we have 20 enthusiastic SUP kids at my local club aged between 6 and 16 years old that train and go to competitions together. There is no minimum age limit, although they do need to have a swimming diploma before attending, so the youngest we see is about 4-5 years old!
It's amazing to start them young in paddle sport, but it's also important to have the right kit, can you tell us a bit about how you have been working with Fanatic to get
this right?
When I started the kids' SUP training sessions there weren't any good boards on the market for children. All the boards that were supposed to be for kids were too wide and too short or too stable and too high with much more volume than needed, in my opinion. At that time adults like me around 85 kg where racing 14 x 21″ boards and small kids like my son had to paddle 10 x 26″ boards. If you want to introduce kids to SUP racing, you must give them a board that gives them the race feeling. It needs to be like a real race board feeling for younger paddlers so they learn the skills on a board that fits them correctly.
Herman van den Berg, agent for Fanatic in the Benelux was willing to invest in the new generation of SUP paddlers and together with him I had the chance to develop an inflatable race board specially made for kids. After testing different prototypes, we brought the best inflatable race board for kids on the market. The Fanatic Youngblood 12'6 x 21″ race board is perfect for all young people aged between 6 and 16 years. At my club all kids from 6 to 16 train and race on the Fanatic Youngblood boards. It's really important to learn the sport on gear that fits them.
How would you like to see the future of SUP racing for young people?
I hope for the sport of SUP that we can do the kids races all on 12.6 inflatable boards. That way we can get many kids into our beloved sport without ridiculous investments for carbon race boards. The kids should be able to race on the same kind of board, so they compete on an even playing field. If the ISA and ECA don't put it in there rules you will have young people racing on boards that cost over €4000 against others who can't afford such costly boards and will race on inflatables. It would be a shame to see disparity in people's financial status become a barrier to young peoples' participation in competition.
What advice, especially safety advice do you have for parents and families wanting to get on the water together?
My advice for other parents getting on the water with their kids would be "just do it" but make sure it's safe. Only go on the water with your kids in conditions where you as a parent feel 100% secure. If you can be relaxed your kids will be. Also don't forget your leash, it's the most important safety gear there is, you may also want to consider other flotation devices for your child such as a PFD.
Kids love adventures no matter how big or small. Make sure you do go out there on the water with your kids, lead by example, make sure it's fun for them and never force them to train if they don't want to. If you make it fun, it will stay fun!
Live by example and paddle!!!
To find out more about Fanatic's Falcon Air Youngblood board, go to:
www.fanatic.com/fr/sup/inflatable-boards/touring-race/falcon-air-young-blood
To join Joep Van Bakel's local club, visit: 
www.zwetplassers.nl