We met young spanish SUP entrepreneur Guillermo Gaibar whose enthusiasm and determination to design the fastest inflatable race boards on the market simply makes us wish for him to succeed. Here is the inflatable 12'6 Ithaki by ISUP Rooster, the first model of the new brand and available for a few days at factory price!
Hello Guillermo Gaibar, why did you decide to create your own Paddlesurf brand, ISUP ROOSTER?
I have been practising water sports since I was a teenager. However there has not been any sport that has made me feel what Paddlesurf has: harmony with the ocean. The idea of starting ISUP ROOSTER came up between Ithaca and Kefallonia, on the waters of the Ionean Sea,in Greece, and after trying several paddleboards, both rigid and inflatable. After a deep research studying and analysing them, I found some gaps, and a very specific one:  there was no board that made me feel what I was looking for. So I got down to business and designed three prototypes from which I made one: ISR ITHAKI, a superfast inflatable race paddleboard. After getting the right rigidity, speed, design, adaptability and stability, I decided to put all my efforts onto this project in order to keep on developing more paddleboards. I think I can contribute to the sport and add value to it while promoting its most positive aspects.
Has any rider had the chance to test this board? What was their feedback?
Yes. A small group of good riders tried the board in Barcelona including Pepe Oltra (2014 Spain Champion), Jurgi Zulaika (2nd on the 2014 Spanish Circuit), Pablo Sanz, Paolo Marconi (winner of the Miami Orange Bowl), Toni Fuentes (Head of the Catalan Surf Union), Miquel Roigé (director of the Moloka'i SUP Center in Barcelona) and Robber García, co-founder of local club Hacia el SUP. The feedback has been really positive with effective feedback and suggestion on details. You can find some of their feedback here.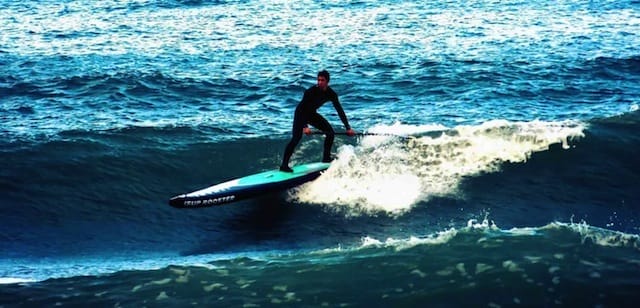 (Jurgi Zulaika on the ISR Ithaki)
Why should a rider opt for an ISR ITHAKI? 
Our goal is to get our inflatable boards to the same speed or even faster than the rigid ones. Now that may sound like an impossible statement but this is the clear target that we've set and we are fighting for it through design and technology. For rigid board riders or racers, our ISR ITHAKI can a perfect alternative . Whatever the conditions, they are likely to feel a light difference in speed between their board and the ISR ITHAKI in favor of the ITHAKI. Moreover, a rigid SUP board is usually fragile, which translates into a need of more care than the ISR ITHAKI. The latter endures any climates and weather conditions therefore the rider needn't worry about any possible crash all the time. It also fits in any situation: from choppy to flatwater. Another advantage is that you can bring it anywhere in its bag on wheels since its folded measures are: 3 feet high and 1 feet 3 inches wide. You can take it on a convertible car, a two-seater, a motorbike, on the train, subway, bus… Even on rollerskates! So transportation is not an issue, unlike a rigid board.
Here is the ISR Ithaki promotional video:
How long did it take you to design the ISR ITHAKI?
It has not been an easy task. All the designs that I made went through a strict process of examination with engineers from different countries who have allowed me to see the feasibility of every single step made. I have been working on it for 2 years going through hard negotiations and checks early in the mornings (esp. on Saturdays) to get in contact with manufacture and engineers. Moulds, miniature samples, pdfs, and many other stories I could tell you – I don't want to bore you though. I would say that it has been an Odyssey, and it is only the beginning! It's also been a learning process which have allowed me to understand the manufacture processes in details. Now I feel very confident that the next models won't take me that much time.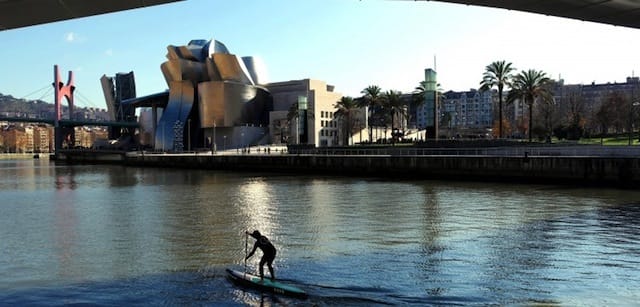 You speak chinese. Did that help at all in the product development process? 
I started studying Chinese when I was a kid and haven't stopped since then. I lived there for a while and have made some cultural trips. As you know, many SUP factories are based there and the control of the language as well as the knowledge of some cultural codes have helped me negotiate, weight up, see and check the quality of the boards and their production from the start point.
How can one purchase a ISR ITHAKI? 
If you want to get a ISR ITHAKI, we have started a crowdfunding campaign on the well-known platform Indiegogo. We have done it this way in order to get funding to keep on making SUP boards, but mainly to spread out our first board at a unique price (our benefit margin is almost zero). By doing this both our first clients and ourselves get a great outcome: they get a high-quality, fast inflatable paddleboard and we get to see our brand grow.
You will find the ISR ITHAKI with a full carbon paddle and a bag with wheels at a unique price until the 1st of April.
You can also find t-shirts and paddles! Enjoy your SUP experience with our paddleboard!