It's the question of the Summer! Whether you fell in love with the sport during a recent stand-up paddle tour or want to equip yourself with a board to enjoy the beautiful season on the water with your family, sooner rather than later, you will take the plunge and buy an inflatable Stand Up Paddle board! Today, inflatable stand-up paddleboards can be found everywhere: on the web, in surf shops, outdoor sport shops and even in supermarkets. 
But how to choose a board from all these available options? This is not a straightforward task as there is not ONE board that will suit everyone and there are various factors to consider such as  your weight, where you'll be paddling, how comfortable you are with board sports to name just few.
Also, depending on your budget, you will have to pay attention to the quality of construction of your board, in order to opt for a more durable and also safer SUP. Coasto, a French watersports brand, has helped us prepare some handy tips and an extensive Stand Up Paddle glossary to navigate this subject.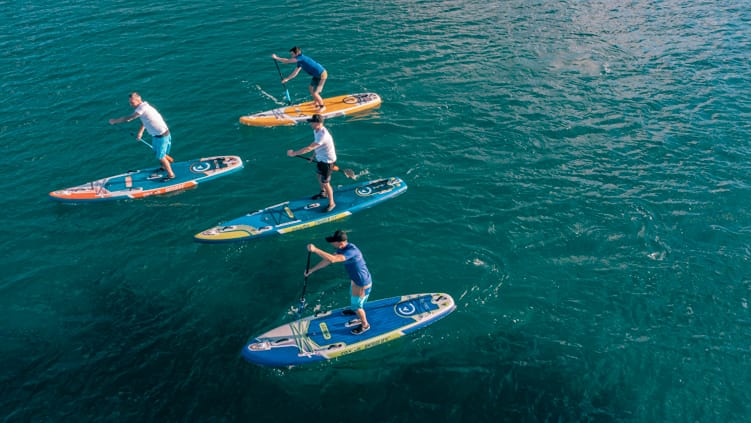 Choosing your beginner inflatable stand-up paddleboard: SUP glossary 
Here's a short SUP glossary to help cut through the jargon:
Dimensions: In SUP, the board dimensions are usually expressed with American foot and inch metric units. When converting inches and feet to centimeters , 1 inch is 2.54 cm and one foot is 30.48 cm. For example, a board 12'8" long is therefore 12 feet and 8 inches long (386.06 cm or 3.86m long)
Nose: The nose refers to the front part of the board. It can be round or pointed and impacts the stability and manoeuvrability of the board
Tail: The tail is the back part of the board. It can also have different shapes (square, rounded, diamond etc.). The shape of the tail impacts how the board will perform on the water
Rails: The rails are side edges of the board running from nose to tail. They can be straight, rounded or have a more pronounced shape
Deck: This is the upper surface of the board on which the rider stands. It is usually equipped with a pad, handles, deck cargo net, etc.
Hull: The hull refers to the shape of the lower part of the board, which is in contact with water when paddling. It comes in different shapes (planing/flat, V-shaped, concave etc.) When it comes to inflatable paddleboards the hull is usually flat
Bow: The bow is the front part of the SUP that cuts the water as you move forward. It can have different shapes, such as pointed, rounded, etc. To enhance the glide, Coasto's touring boards such the Nautilus 11'8′, have an additional rigid tracker fin on the nose to cut water more efficiently 
Rocker: The rocker refers to the upward curvature of the board from nose to tail. A pronounced, high nose rocker is suitable for surfing and rougher waters. A flat rocker has a less pronounced curvature aimed to enhance glide and speed
Deck pad: The pad is a non-slip foam or rubber surface located on the deck of the board. It ensures a better grip and a more secure stand
Center fin: The center fin is a single fin attached to the lower rear part of the board. It ensures the directional stability of the board and traction
Side fins: The side fins are located on both sides of the center fin. They contribute to the side-to-side stability and manoeuvrability of the board
Leash: The leash connects the rider to his board. It is usually fixed around the ankle, calf or waist using the quick release belt system. A leash saves lives – Don't forget that!
How to choose your inflatable paddleboard: Why an inflatable board and not a composite (hard) one? 
There are many advantages when it comes to inflatable paddleboard and the first one is the price and accessibility of ISUPs. The other main advantage is the ease of storage, portability and transport.
Inflatable paddleboards usually come with a bag or a backpack and can be easily rolled up to fit into a car and carried around – Forget roof racks and extra space in the garage!
Choosing your beginner inflatable SUP: Which shape for which type of paddling? 
Before choosing your inflatable stand-up paddle board, it is important to determine what you are going to use it for. Do you want to mostly go for relaxed paddles on a lake? SUP on a river? SUP surf? Do SUP yoga or you're looking for speed?
Different types of SUP activity usually require different board shapes. There are three main board shapes: Allround, Touring and Race. There are of course hybrid shapes between these, as well as designs for SUP surfing.
Allround: Recreational boards with a round nose and tail, generally shorter with a generous width ensuring stability. Allround boards are a good choice for paddleboarding on flat water (lakes, rivers) but also in small surf. Allround boards are a popular choice (such as the Coasto Hook 7'5  model) among families with children offering optimal stability and versatility.
You can also find WindSUP or WingSUP among allround boards with a mast insert for windsurfing and center fin.
Examples of Coasto allround boards: 
Touring: Touring SUPs are designed for long-distance paddling and expeditions. They are generally longer, with a flat rocker line and more streamlined shape than Allrounds, with a sharper nose and a more pronounced bow for better gliding and increased speed. Touring boards offer great balance between stability and performance, while also being a good choice to start and learn the sport. They also provide more space allowing to paddle with children, pets or to load more for longer expeditions. Touring SUPs can be however found less manoeuvrable than Allrounds (for example in a small surf).
Examples of Coasto touring boards:
Race: Race boards are specifically designed for speed. They are long, narrow, lightweight and shaped for maximum speed and optimal performance. Race SUPs require more paddling experience and technique and are therefore more challenging for recreational use but are a great stepping stone for skills progression.
Examples of Coasto race boards:  
For paddlers just starting the SUP adventure it's worth considering the Allround or Touring shapes. For those less accustomed to board sports an Allround SUP is a great entry board providing volume and stability to discover the sport on all its aspects, easily and smoothly. For the more seasoned paddlers,  Touring shapes are worth considering as these offer better overall performance.
Choosing your beginner inflatable SUP: What size?
There are four criteria when it comes to the size of a stand-up paddleboard:
Length: The length of an SUP refers to its dimension from nose to tail. Longer stand-up paddle boards (12'6, 14′ for example) offer better glide and an increased speed. Often with a race shape, they offer better directional stability and tracking
Width: The width of a SUP refers to its dimension between the rails. The wider a board is, the more stable it is, making it an ideal board for beginners or SUP Yoga practitioners. On the other hand, the more narrow the board is, the less drag it will have, which translates onto speed and performance. Entry level boards are between 32" and 35" wide, while SUP racing boards can go from 26″ to as narrow as 19.75″!
Thickness: The thickness of a SUP to its dimension between deck and the hull of the board. Thicker SUPs offer better buoyancy, are generally stiffer and more resistant to bending (banana effect).  Majority of inflatable boards have a thickness of 6″ (15cm).
Volume: The volume of a SUP refers to the weight it can hold and is measured in litres. A SUP with a higher volume provides better buoyancy and increased stability. It has a higher weight capacity, which is important for heavier paddlers or those who want to carry extra cargo.
So it's not just the shape of the board but also the size of your future stand-up paddle board that needs to be considered! Choosing the right size of your inflatable SUP may depend on several factors: your weight, your experience with board sports and your location and waterways.
Weight: At Coasto, all boards have a maximum recommended weight. But be careful! If you weigh 90kg, do not choose a board that supports 90kg max. Allow a little margin so that the board can support you properly on the water, for example Coasto Nautilus 11'8" Touring board weight capacity is 160 kg! If you are a lighter paddler, opt for a small board more suitable for your size: it will be easier to manoeuvre and easier to carry. 
Experience with board sports: If you are a champion in surfing or skiing and balance is not a problem, you may opt for a longer, narrower and a less stable board for enhanced performance. But if you are a total novice, a shorter, wider board with sufficient volume will be your best ally.
Location: The size of the board you choose will depend on where you usually paddle – lake, rivers, small surf. Of course, if you want to practice on all bodies of water, it's still possible to do it with the same board! But if you're struggling with stability on lake, it will be even more challenging on rough waters. It's always better to play the comfort card to start with, without choosing a board on which you would quickly get bored.
In a nutshell: Board sizes based on user weight – These indications are only to give you an idea. It's up to you to adapt these to your requirements!
How to choose your inflatable SUP: Single or double chamber?
What is a single and a double air chamber? The main difference between a single-chamber SUP and a double-chamber SUP is their internal construction. A single-chamber SUP is made with a single inner tube, while a double chamber SUP has two separate tubes inside the board, each with its own pressure valve.
Most inflatable SUPs are come with a single chamber. But a double one SUP can have advantages, even for beginners! The first advantage is safety. In case of problem (leak, puncture, damage) with one chamber you have the other to ensure buoyancy and a safe return.
It is also a matter of regulation. In France, an inflatable stand-up paddle is not allowed to exceed 300m distance from the coastline, except for boards longer than 11'6 and with two air chambers. Being a beginner, you will rarely leave this area, but if you want to progress and paddle further you may want to think about it.
The double chamber ads rigidity to the board. Most of the Coasto boards offer the double air chamber option but they come with additional weight and price. A double air chamber SUP is usually heavier and more expensive than a single one. It's up to you to decide!
Buying your first inflatable paddle board: What construction?
Let's talk about the quality-price ratio. While searching for your first inflatable paddleboard you will come across the ones sold in supermarkets for 200 € that may seem to meet the above criteria. However, what makes an ISUPs rigid and sturdy once it's inflated is the quality of its construction and materials used.
A budget board often have these necessarily elements trimmed down and we don't want to focus here on disposable gear. The principle is that beginner boards should last over time: even if you progress fast, you can always share your first board with your family and friends to introduce them to SUP, but you can also sell it and get the next SUP adventurer on the water.
So what are the ISUPs made of:
Dropstitch: Dropstitch is the heart of an inflatable SUP. It is a technology that uses slow-stretch fibers between two layers of PVC, creating a non-deformable air compartment. The dropstitch tech withstands high pressures that translates onto the rigidity of the boards once it's inflated
Single Skin: Single Skin SUP is made with a single layer of PVC. It's a cost effective technique found in budget boards. Single skin boards are lighter but not as durable and more prone to micro-perforations and leaks. A single-skin SUP is also less rigid (that can cause the "banana" effect) which impacts the overall performance
Double Skin: Double Skin SUP is made with two layers of PVC, which are bonded or heat-sealed to form a strong outer shell. This technology offers better rigidity and is much more resistant to impact and deformations. The majority of well-made inflatable SUPs are double-skinned, although some brands also add a third layer of PVC or incorporate glass and carbon fibers (more rigidity and strength… but added weight)
Rails: Rails are an extremely important element in the construction of an inflatable SUP. They connect the upper and lower layers of the board and ensure that it's watertight, impact resistance, they improve its durability, overall longevity and help maintain the rigidity of the board
Heat welding: Heat welding is a construction method used to join together the different parts of a SUP, where materials are heated and fused together rather than glued. This technique provides better sealing and durability to the board, as it reduces the risk of leaks.
At Coasto, all inflatable stand-up paddleboards are made using Dropstitch and Double Skin. The brand has developed its own heat welding technology named Thermo Twin Skin TTS ®.
Coasto has eliminated the use of glue during the assembly of the PVC walls with a new system that allows them to fuse together under heat for a board that is up to 30% lighter than a standard model.
Choosing your beginner inflatable paddleboard: What accessories?
At Coasto, all SUPs are sold in packages including a board bag, three-piece paddle, high-pressure pump, leash and fin – No headaches, you're ready to paddle!  AS you progress, you may want to switch to a different paddle or even fins, but for starters, these packs are really fit for purpose and cost effective.
Also, check the deck pad. If you want to do SUP Yoga or take on your pet passengers, it is important that your board has a thick and comfortable pad that covers, ideally the whole surface of the board. For a "classic", recreational use of a stand-up paddleboard, most boards are equipped with an EVA deck pad that is comfortable and has a proper grip.
Check the warranty of your board, customer service and spare parts availability. At Coasto, there's a dedicated customer assistance site that helps with the practical side of SUP (from fins to pressure valves) and is aimed to extend the life of your board!
Not fully decided yet? Visit the Coasto Product Finder! In a few seconds and just 4 questions, you will know what your ideal board is!
To find out more and explore Coasto quiver, visit coasto.eu
This article is also available in French: Comment choisir son paddle gonflable?