Franz Orsi, SUP athlete, adventurer and one of the official photographers for Starboard embarked on an Iceland trip with 3 friends earlier this year in June. A few weeks later, he shares his instagram memories with us.
To know more about Franz Orsi, >> Check Franz Orsi's interview here <<
(N)Iceland Trip Report:
(N)iceland memory #1: Taking off.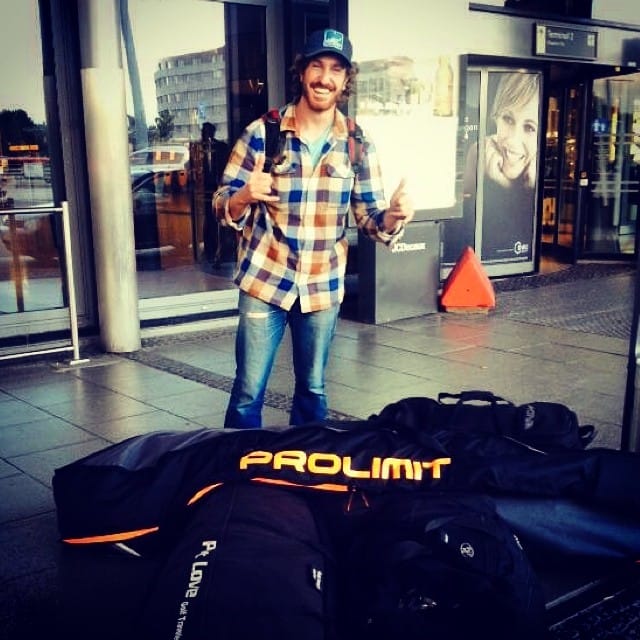 This picture was taken at Hamburg Airport. It's always an adventure to pack gear for the next surf trip. Adventure in the sense that I never know if I am going to make it or not.
Luckily we had the support of the cool guys at Prolimit that helped us out providing us with some great lightweight board bags that helped us staying low with the exceeding weight. Without them for sure we would have never make it…
(N)iceland memory #2: Euphoria.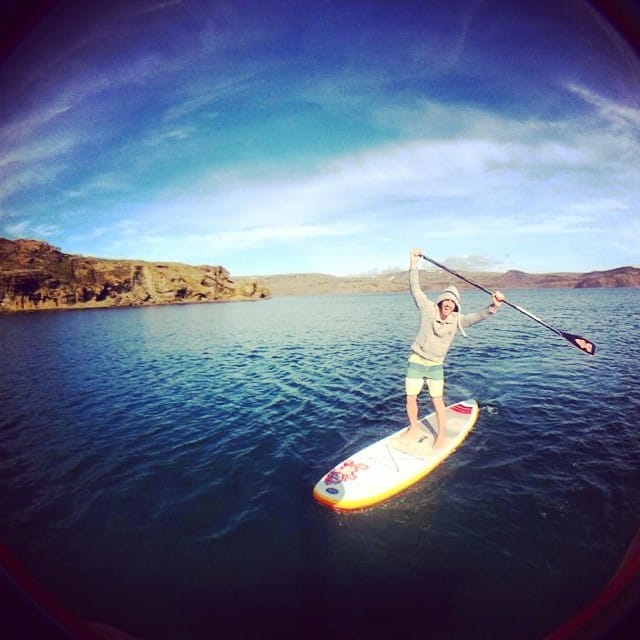 This picture was taken on the first day of our trip. Excited about the sunny and warm weather we immediately started to drive around looking for nice spots to paddle. Eventually we passed by this big lake while driving down south and decided to pull over for a quick flat water session. Stoked to be here.
(N)iceland memory #3: Open country.
These open landscapes made me think about this sentence from a Patagonia movie: "I'm drawn to the open country. It's where everything is clear, where the world makes the most sense. When I put myself out there I always return with something new. A friend once told me the best journeys answer questions that in the beginning you didn't even think to ask." – Jeff Johnson.
We really felt like this.
(N)iceland memory #4: Golden hour(s).
Say it's 8pm. Say you have been looking all day for the right spot to shoot some pics. Say you just had a nice aperitif at home. Say you take the car for a ride to the countryside. You would never imagine that the four following hours would be so great. Golden hours. That's Iceland, baby. You better learn the lesson soon. Tomorrow morning you can sleep.
(N)iceland memory #5: Pathfinder.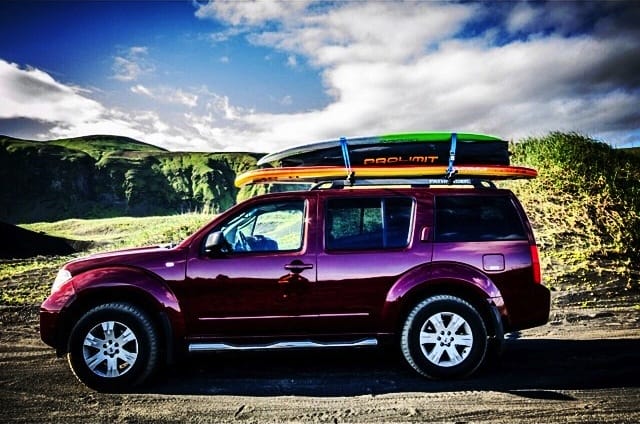 When we booked our car for the trip I didn't expect our luggage to be so big. Luckily as I arrived at the rental car office they told me that they had a problem with my reservation and that the car I booked wasn't ready, so at the end we got an upgrade and I was given a nice brand new Nissan Pathfinder. We quickly fell in love with our ride.
(N)iceland memory #6: As harsh as it can get.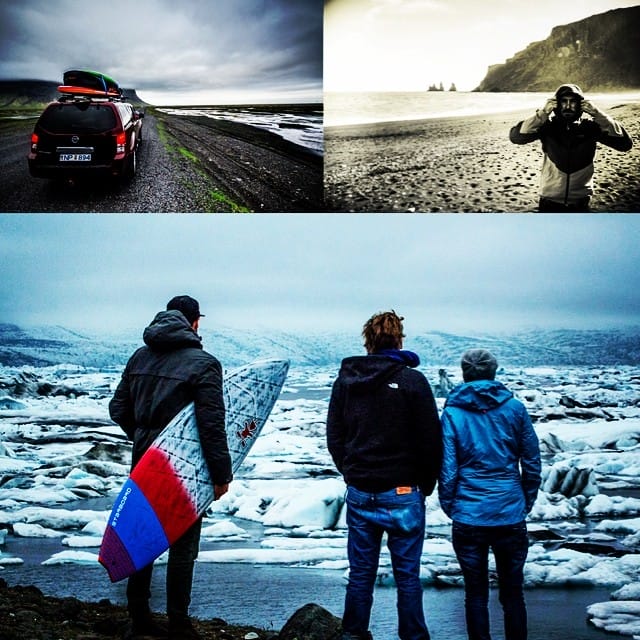 It's no Iceland without some heavy rains and freezing winds. We move eastwards looking for surf. No signs of civilization for several hundred miles. Are we going to find what we are looking for? So far lots of ice and empty coastlines.
(N)iceland memory #7: This must be the place.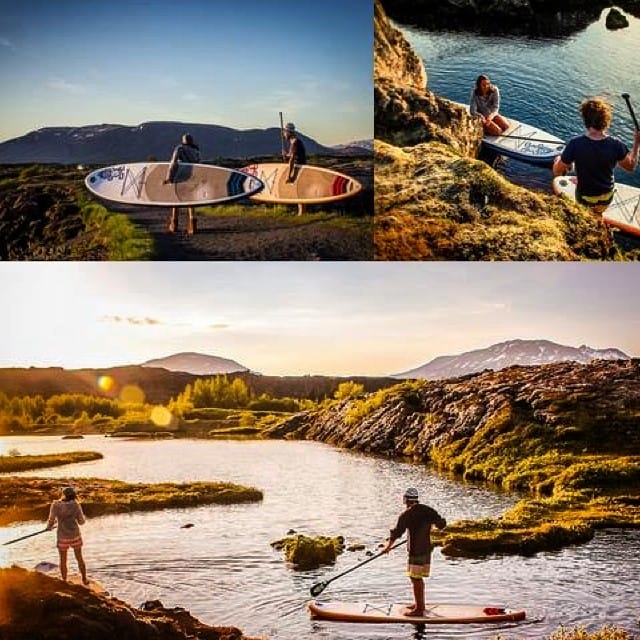 We have been looking at the maps for days looking for the best coastline configuration for the coming swell. We have been doing a lot of research in order to find the best possible location, sceneries and backgrounds. This image pictures me finally getting to the place I have been waiting to contemplate for such long time. Now everything makes sense.
(N)iceland memory #8: Let the show begin.
Wake up at 4.30am. Finally everything is aligning in the right way – all you can do is jump in the water and make the best of what the ocean will throw at you.
(N)iceland memory #9: Nightlife.
Waking up at 4.30am and calling it a day at 1am after a freezing SUP wave session, it's not something you do everyday. But that's great! Days are long in Iceland allowing for multiple sessions and late night surf – adrenaline is the only fuel though…
p.s. yes, these ones on the beach are icebergs.
(N)iceland memory #10: never stop exploring.
This picture was taken on a stretch of road that went straight into nothing for a good hundred miles. Of course we passed the speed limits and we got caught by the only police officer we have seen in eastern Iceland…
(N)iceland memory #11: Nothing matters.
It doesn't matter how much neoprene you wear, it doesn't matter how many people have surfed it before you, it doesn't matter how you have been travelling to get to there, it doesn't matter if you share the lineup with seals. You are in the water, playing with the elements. Enjoy it!
(N)iceland memory #12: Bye-bye #Niceland.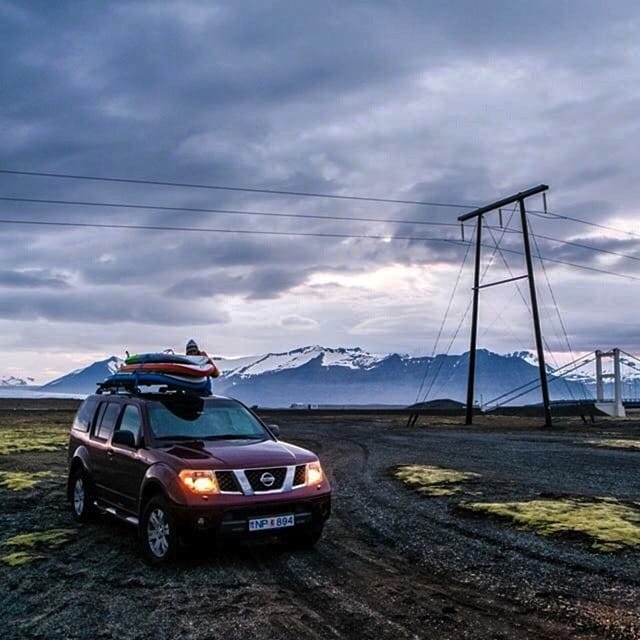 It has been an amazing experience. I will hardly forget those landscapes, that sea and that light. A land that struck me with its roughness. Some friends I made I will not forget. See you soon. Call me when the next storm is coming.
You can follow Franz on Instagram @Franzorsi