Portugal is a SUP Destination that offers a great variety for the travelling paddler with everything from the established EuroTour stop at Madeira, the spectacle of big wave surfing at Nazaré and the frequently visited area around Esposende. NSP paddler Marco Teodosio thinks there is another destination for the TotalSUP crew to add to their travel plans, his local spot Foz do Arelho.
Olá Marco, welcome to TotalSUP! I know you from SUP My Race and some readers may recognise you from the 11 Cities SUP Race but for those who do not know your name tell us a little about yourself
Olá Chris! It's good to be here. I am an NSP SUP racer and I live in Foz do Arelho, Portugal. This is a fantastic place to paddle surf and to train, it is my garden! But I am a little biased, I was born here and fell in love with the sea when I was young, maybe 12 years old when I started to bodyboard. I have been in the water ever since!!
And how did you get into SUP?
That was 2019, the surf crowd here had got so big and the line-up so was so crowded that I needed to find a different way to be on the water, my friend Ferreirinha introduced me to SUP and I was quickly completely addicted to it.
I got my first race board that year and took part in my first race at the national championship here in Foz do Arelho.
Having the national championships in your home town must have been a good incentive to train, is the area around Foz do Arelho all about surfing and technical paddling or are there good distance training opportunities too?
Foz do Arelho is a village in Portugal with an amazing beach that has on one side the Atlantic Ocean and on the other one of the biggest and most beautiful saltwater lagoons. The lagoon is full of wildlife with birds and fish and is a place I love to paddle. The whole area is great for water sports such as wing foil, kitesurfing, standup paddle and of course surfing.
Just 20min South we have the wave capital of Portugal, Peniche and 30min to the north we have the big wave meca Nazare and we are only 45 minutes from Lisbon so access is really good.
It is a fantastic location with amazing spots for all kinds of sport, great cliffs with amazing views for trail running mountain biking or just a simple walk. And the seafood here is amazing!
We are lucky to have good weather almost all year, in summer days we have a bit more wind from the north (good for wind sports) but in winter it is often glassy which is so good for paddling.
Sounds like a great place to go for a paddle! You are an NSP ambassador and I often see you on your NSP Ninja in the group
Yeah, last year NSP started to support me for my trip to the 11 Cities SUP Race in The Netherlands.
For my paddling at home in Portugal I really like the NSP Ninja for the lagoon and on the sea on not-too-rough days and I have an NSP Puma for paddling in the sea and for having fun in the waves.
A great combination of boards for all conditions. It seems like a huge step to take from the Atlantic coast to the canals in Friesland! How? Why???
Ha ha! In 2020 a different friend told me about an ultra race called the 11 Cities, I searched for it and it completely blew my mind. From that day on that was the goal.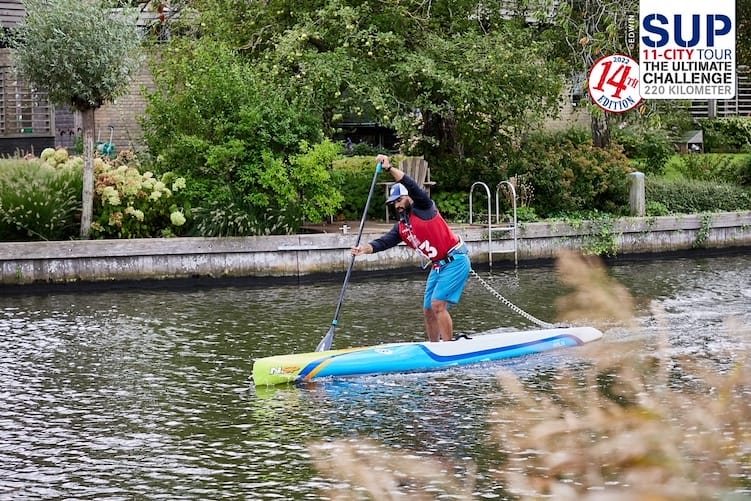 Taking part in the 11 Cities was an incredible experience, much more working in the head than in the body. At the start, my main goal was to finish and I was happy to finish with a 16th place overall and 5th place in my age category.
They say it was one of the windiest years for the race. The first day was just perfect, with almost no wind and sun but then the typical Frisian weather came in and it was all about wind and rain. Some days if you stopped paddling you were be going backwards! But the training was there as well as the nutrition so everything just went very well, being well prepared helped a lot and with a good mindset which is essential with that kind of racing!
The NSP Ninja worked very well there, as a flat water board that can handle some chop, was just the perfect weapon, with a great glide and making the long days paddling easier even with all of that wind. I am so looking forward to take the new Ninja there this year, with its new tail it feels even more stable on the chop and it keeps its very effortless glide, it is without a doubt, my favourite board.
What other preparation goes into a successful 11 Cities, is all your training on the water or do you like to mix it up?
As you say I mix it up.
As well as the support from NSP I had some help from my local Crossfit club – Crossfit Lusiadas and Transwhite so it was just the perfect time to complete a dream and dive into the 11 Cities. My coach David Silva set my goals and I appreciated the knowledge and experience of 11 Cities racer, Paulo Caldeira.
I have always been addicted to sports, as well as SUP Racing I have taken part in some Crossfit competitions, some bodyboard regional competitions, and also one weightlifting competition.
Thank you, Marco for taking the time to tell us about your local spot, it is now on the list of places for the TotalSUP crew to paddle! And we all hop you have a successful 11 Cities event in September.
You can keep up with Marco on his Instagram Channel and you find out more about his boards and more on the NSP social media channels, Instagram, Facebook and YouTube and of course on the NSP website. NSP Europe are on Instagram here and the European distributor, Surfcloud can be found here.
Images from Marco Teodosio and from the 11 Cities SUP Tour