At 16 years old, Erika Benitez who trains in Southern California, is a young prodigy who has already won 3 Mexican national titles. The teenager, who is a potential future star 0f  SUP Racing, introduces herself and the forthcoming season.
Congratulations on your 3rd consecutive Mexican national title! How do you feel after such an achievement?
Thanks! I am so happy and honored to know that I'll be representing Mexico for a second time in the ISA Worlds.
Can you tell us more about yourself?
I am Erika Benitez, I am currently 16 years old; my hometown is Long Beach but I live in Stanton. Since 2012, I have been training with The Paddle Academy run by Mike Eisert, my number one coach, and I occasionally train in Long Beach and Bolsa Chica. I've always been connected with the ocean, it's something that my dad has passed on to me. I was 12 years old when I started to race in SUP. At 9 years old, my dad introduced me to the sport. One day in Long Beach, he was paddling by himself; as I watched him, I also wanted to jump on the board and try paddling for the first time. There is a video of me and my dad paddling around Mother's Beach in Long Beach back in 2009. Since then, I have been passionate about the sport and racing.
You live in the US and have a double nationality, when did you decide to compete for Mexico and why?
When I first starting demonstrating what I was capable of doing in the sport, a good friend and professional SUP athlete that opened the doors for me named Fernando Stalla invited me to be part of the Mexican National SUP team, knowing that I had double nationalities. At only 14 years old, I was nervous to take the offer, knowing that only the best and strongest athletes competed in the ISA Worlds. I didn't feel prepared or ready to compete in the race but with a little encouragement from my parents and coach Mike Eisert, I said yes!
We did not see you in ISA Worlds in Fiji, despite the fact that you were qualified. Why is that?
When I won the Nationals for team Mexico to compete in the ISA Worlds in Fiji, I was super excited to find out that I would be racing in such a beautiful place. Unfortunately, due to the short notice from the Mexican federation of surfing and the short time to plan the trip, I was unable to travel all the way to Fiji. Watching the race online gave me more motivation to compete in the next ISA, which would be in Denmark.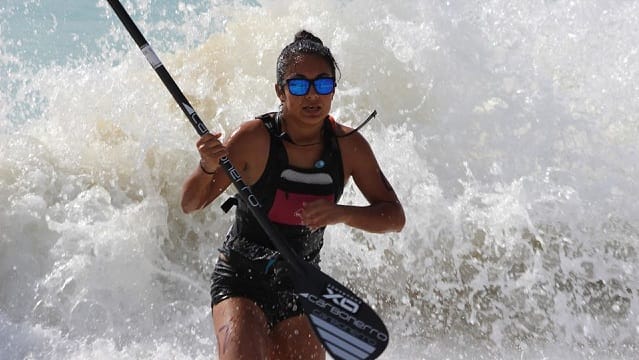 What type of racer are you right now ? And What race would you like to become? Do you also SUP surf?
I consider myself an Elite Junior SUP Racer but I am training hard to become a professional SUP athlete. I have raced in almost every condition possible: upwind, downwind, flat water, and in waves. I am comfortable in long distance and sprints. I love racing in flatwater, because you can truly see how fast you are without the help of wind to push you. No, I do not SUP surf regularly, but when I do, you can't get me out of the water. Catching waves is infectious, ask anybody on my paddle team.
What events are you focusing on in 2017? And why?
In 2017, I'm planning to travel more to races such as the Olukai downwind competition in Hawaii, the Columbia Gorge Paddle Challenge in Oregon, ISA World's in Denmark, and more. And, the reason is because I would love to meet new people and reach a higher level of racing. But the main reason is to keep enjoying this beautiful journey.
Who is your main equipment sponsor and what boards do you use?
My main equipment sponsor since I was about 14 years old, has been Brawner Boards. I've never had a sponsor so involved and supportive in what I do. The team behind the company is not only people I talk about boards with but they have become part of my family. Damian Brawner (the owner) always supports all of his team riders whether they surf or compete in SUP. He has traveled with our SUP team to almost every competition we go to, including international ones. He's much more than my sponsor but he's is my family, like a second dad, always by my side, taking care of me. My shapers, Greg, Daniel Mungall and Rick Rock, have created the fastest and coolest looking boards that I have ever ridden. They always hear me out when I have an issue with a board I'm riding or if I have a new idea for a future board. I'm so grateful to be around such an amazing and talented group of people that have now become part of my family.