After two months of an epic crossing between Peru and French Polynesia known as Cap Optimist, six women from France and Spain have succeeded in their challenge to paddle across the Pacific ocean. A sporting and charitable feat achieved for the benefit of children with cancer.
Cap Optimist: from Lima to Moorea on a paddle board
Alexandra Lux, Emmanuelle "Manue " Bescheron, Itziar Abascal, Marie Goyeneche, Margot Calvet and Stéphanie Barneix arrived on the island of Moorea, Tahiti's sister island on Saturday 25 March. They traveled 8,000 kilometers on a paddle board, since their departure from Peru on January 4.
The six paddlers crossed the Pacific in 80 days. A record registered in the Guinness book. They took turns day and night to complete collectively the equivalent of a marathon each day. On Saturday, with only the last few meters to go, the six women were eager to get back to dry land: "I can't believe we're going to get there, but I want to touch the ground, I want to see my friends and family again," confides Margot.
Like her, after 80 days paddling with their arms, in turn every hour, the waterwomen from the French South West regions known as Les Landes and one Spaniard, Itziar from Tenerife in the Canary Islands are waiting for only one thing: "We are really excited and impatient to find our loved ones, our families, our children. This is what really kept us going until the end" says Alexandra with a smile and a tear in her eye. She adds: "We paddled for them, for the sick children. We did it, we're really happy."

Accompanied by dolphins and about 20 Polynesian outrigger canoes, the six waterwomen made their way into the Moorea lagoon, where more than 300 people were waiting for them. "That's it, we've arrived! The welcome is just crazy" exclaimed one of them.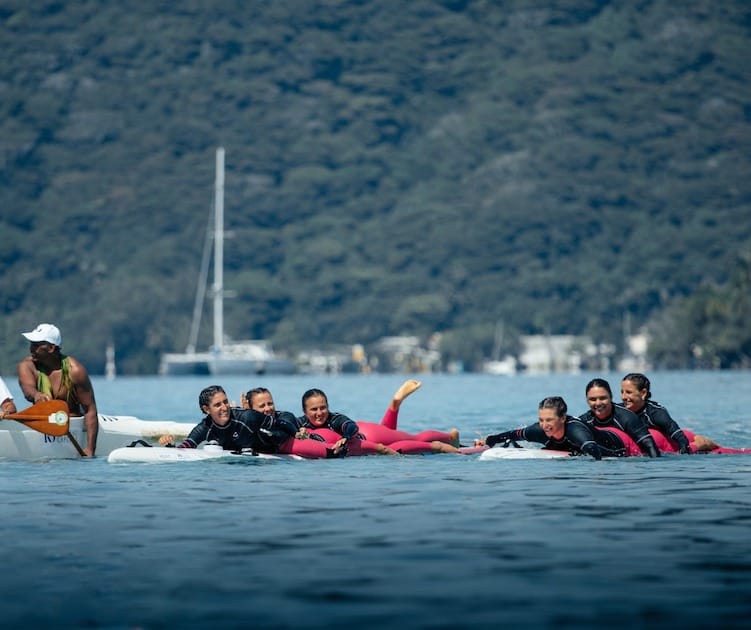 One of the paddlers, Stephanie, has overcome four breast cancers. She advocates resilience: "Sport gives us many things to fight against the disease: perseverance, self-sacrifice, having a goal. Mental endurance too. "The treatment paths and hospital stays are very long, and fraught with obstacles, like the Pacific Ocean."
Paddling for Children
Thanks to their journey, 400,000 euros have been raised. 60% will be used to finance solidarity actions.
You can still donate or support this amazing project by buying "Paddling for Children" goodies on the official project website: www.capoptimist.com
Find out more about Cap Optimist
www.capoptimist.com/