MAUI, HAWAII – In the world of Stand-Up Paddle the name Bart de Zwart rhymes with Long Distance SUP Racing, Victories, Expeditions, Wilderness and Solo Adventures. In this interview with TotalSUP he looks back at 2013 and uncovers his plans for 2014. Put your leash on…
TotalSUP: How was your last year?
Last year was a year with mixed results and some exciting expeditions and trips. After winning the last 3 years, I became 2nd in the 220km 11-City which is my main race every year and did Ok in most races.
The Greenland SUP expedition (see video below) was a great adventure in extreme conditions but it was also a rare opportunity to paddle in the Arctic. Also the Europe rail trip with Connor Baxter, which took us to 8 countries in 8 days with an inflatable SUP. It was a great way to see and paddle Europe.
How is the Stand-Up Paddle world changing?
Stand Up paddling is getting bigger every year and 2014 promises to be a big year for Stand Up Paddle racing.
We have a full-grown world series, The ISA championships, many of the big races from last year and hundreds of smaller ones to fill up the SUP calendar.
Only a couple of years ago, we went to all the races available because there were only a few here and there. There was a big one in Germany and a big one in Australia but we didn't have the luxury of the races every weekend that you see now.
It is not so easy to plan the year now.  It is easy to do too much and get burnt out half way the season.  But it gives a lot of opportunities to get into racing at all levels and it is exciting to see how far SUP has come in such a short time.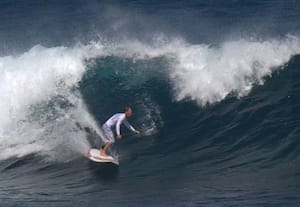 What do you do in the off season?
When my racing season ended in October, I spent 3 weeks testing and working on the new race boards at Starboard in Thailand. Still the race boards are getting better and faster every year. Working close with Svein Rasmussen and shapers Mathieu Rauzier and Brian Szymanski is always interesting. So much energy and creativity was shared that after 2 weeks we had some quick and faster boards.Then when I came home it was winter on Maui and that means waves.  We had one big swell after the other and race training wasn't the first thing on my mind for the next 2 months. It is always very healthy and motivating to take a break in raceboard training. Your body can recover and you get a renewed focus. Training started again in February.
Do you plan any new crossings or expeditions?
In the winter I always think of a new expedition or crossing. This year I plan to do 3-4 day-and-night, solo, non-stop and unsupported Crossing of the French Polynesian islands from Tahiti to Bora Bora.
I will also do a new travel story with Connor which will be a surprise.
What do you do to stay fit and in shape for the races this year?
I train SUP almost every day, eat healthy and ride my bike to get some extra endurance. I run a Windsurf and SUP shop in Maui and I am building  my own house so it is not always easy to fit in enough training hours. But training is everything. I am 43 and it is hard work to keep up with the young kids. Connor has been my training partner for years. It is important to have a good partner. We motivate each other and specially push each other to go faster, harder and longer.
What are you goals for 2014?
Win some long distance races and do some extreme expedition and write about them. I get a lot of feed back from people al over the world that my crossings and expeditions motivate to go out there and explore the world with a SUP.
One of my goals for 2014 is to win the 4 longest races in the world. I have done the 11-city tour the past 5 years but there are more races like that. One of them is the Great Glen Paddle race in Scotland, a non-stop paddle from one side to the other side of Scotland. Another one is the Muskoka X in Canada, this race is an adventure race where you have to find your won way through the Canadian wilderness without the use of a GPS.
Who support you in all your endeavors and what boards do you use?
Starboard and my wife are my main supporters. Starboard supplies me with the best boards for my races and expeditions and support me in my travels. My wife, Dagmar, supports me in all my adventures and  takes care of our shop when I am away. Maui Jim get me the best polarized eye wear for all my trips and Supskin made me a special drysuit for my expeditions.
I do most races with a Starboard All Star 12'6" x 25.5" (World Series) or a Sprint 12'6 x 24 and 14' x 24" ( 11-city). For my expeditions I use an inflatable 16x 32 or a 14'0 x 30" Expedition board we are working on.