By Nuno Pereira, owner at www.SUPNorte.com
The beautiful Madeira island was the first stop for both the Portuguese Long Distance and the Technical Race National Tours, and local rider and reigning champion Ruben Afonso absolutely dominated the weekend, with current female champion Ângela Fernandes doing the same on the women's side.
Day 1. Long Distance.
The competition started on Saturday in Funchal with the Long Distance event and smooth conditions for the 12 km paddle. In the Men's 12'6 division Ruben Afonso (1h17m01s) took the win after a tough battle with big rival Filipe Meira (1h17m34s), while local veteran Ricardo Rodrigues claimed third spot on his return to the national tour.
In the Women's competition, Ângela Fernandes (1h27m40s) proved to be too strong for her opponents, with Anabela Prioste (1h28m20s) taking second spot and Marta Salaberri (1h32m50s) third.
The Men's 14'0 division was won by Rui Ramos (1h22m06s) from Northern Portugal, with locals Diogo Neves (1h23m03s) and Roberto Rodrigues (1h25m28s) taking second and third spot.
Day 2. Technical Race.
On Sunday, competitors faced difficult conditions for the Technical Race with some wind and choppy waters. Once again Ruben Afonso (35m01s) claimed top spot with more than a one minute advantage over local rival Ricardo Rodrigues (36m20s), with last year vice-champion Filipe Meira (38m01s) taking bronze medal.
The Women's Technical Race was a re-run from the previous day, with Ângela Fernandes (41m22s) securing gold medal, followed by Anabela Prioste (44m59s) and Marta Salaberri (47m36s).
On the 14'0 division, once again Rui Ramos (40m26s) beat the competition, with locals Carlos Oliveira (41m15s) and Roberto Rodrigues (42m58s) in second and third.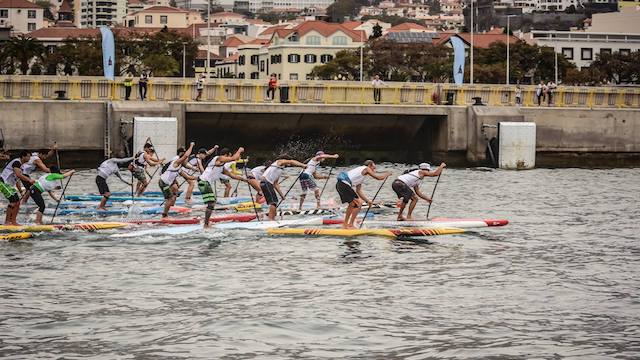 "In the Long Distance, I decided to save my energy during the race and attacked near the end, taking advantage of a few downwind bumps", said the overall winner Ruben Afonso. "On the Technical Race I started strong and paddled hard the whole way, knowing these conditions would suit me better and the board I was riding", he added.
"I was really happy with my win and that we had more women competing on this event", stated Ângela Fernandes. "Portugal has some top spots for SUP and Madeira is one of the best."
Returning to national level competition after a one year absence, local veteran Ricardo Rodrigues and 2015 Portuguese Technical Race champion was happy with his performance and announced that he is looking for a strong comeback. "My main goals are to finish in the top three spots and to return to the Portuguese National Team."
The National Junior SUP Race titles were also decided this weekend in Madeira for the first time ever. Unfortunately, no official or public announcement was made by the Federação Portuguesa de Surf (the Portuguese Surf Federation) and only local athletes took part. The island of Madeira has a strong watersports tradition and the locals clubs have been supporting the young kids for some years now. Soon there will be a new generation of paddlers ready to challenge the current top riders.

Nuno Alves was crowned Long Distance and Technical Race National Champion in the under-18 division, with Tomás Lacerda winning both titles on the Men's under-15, and Sara Berenguer claiming the National Woman under-15 Long Distance title and Verónica Silva the National Woman under-15 Technical Race title.
Next events on the Portuguese Long Distance Race Tour:
6th and 7th May, Caparica, FPS / Windriders
22nd and 23rd July, Moledo, FPS / Lalo & Wind
27th August, Nazaré, FPS / CDAN
16th and 17th September, Óbidos, FPS / ASUPP
Next events on the Portuguese Technical Race Tour:
6th and 7th May, Caparica, FPS / Windriders
21st May, Matosinhos, FPS / AON
22nd e 23rd July, Moledo, FPS / Lalo & Wind
16th and 17th September, Óbidos, FPS / ASUPP