In less than 2 weeks the Air Tahiti Nui Paddle Royal will take off! Scheduled to run on the 5th May 2018 what started out as a fund raiser to support the Air Tahiti Nui Va'a team, has now become a big event in the Tahitian race calendar. It is no surprise that this event is growing in statue with Tahitian Maeva Hargrave steering the ship, recently Maeva taught herself to swim within a month to enter the Ironmana 2014, a skill that took a crazy amount of dedication! TotalSUP talks to organiser Maeva Hargrave about the story behind the Air Tahiti Nui Paddle Royal, and the organisation of the race!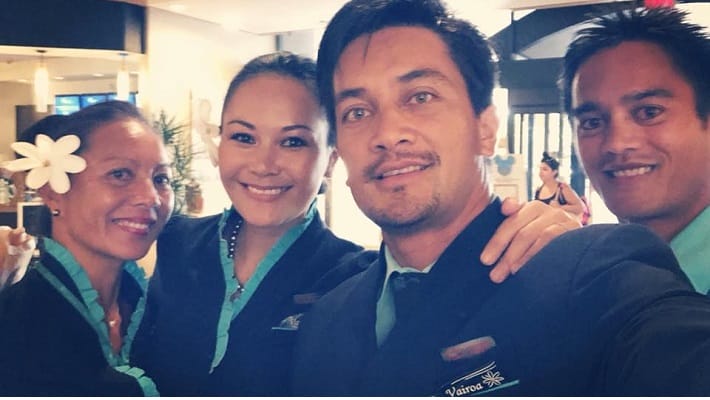 Hi Maeva, Can you introduce yourself?
I was born in Tahiti and grew up on the island of Raiatea with a large family and I am the daughter of Vanilla Farmers.   I have two children who are young men now, they are called Vairoa and Vainui and my husband is Daniel. I also work as the chief purser for Air Tahiti Nui. I attended school in France and returned to the island of Bora Bora.  Whilst I was in Bora Bora, I began windsurfing, before transitioning to kite surfing and finally into SUP.  SUP allowed me to access the beautiful Tahitian water and I became hooked instantly.
My first involvement in competitions was at the age of 45. I entered Stéphane Lambert's race, the Waterman Tahiti Tour and specifically the Iron Mana, held in Bora Bora.  I surprised my husband by telling him three weeks before the race that I was going to swim, prone and SUP long distances, I then asked him to teach me how to swim!  At that time, my ideal of swimming was a weekend in the lagoon mostly hanging out with my family. 
Whilst I was in Los Angeles, Daniel took me to the YMCA and I entered the 25-meter pool only to learn that I could not make a full length without stopping. Daniel never discouraged me, although he already had formulated a plan to have our son, Vairoa, follow me during the swim portion of the Iron Mana.  For the next three weeks I asked everyone to help out with my swimming. My husband motivated me, he said "anyone can make 1 KM, just doing doggy paddle.   If you make 1 KM you can do 3 KM, and if you make 3 KM you are crazy enough to make 5 KM", but he made Vairoa promise to be next to me during that swim.  Somehow, by the Grace of God, I made it and completed my first Iron Mana. Stéphane and all the watermen and women were so gracious and supportive, and I think I became an addict and have competed in the Watermen Series every since.
What is the history of the Paddle Royal race?
The origins of the race was out of necessity. My two sons paddled for Air Tahiti Nui Va'a and the team was trying to raise money to participate in races in the Vendee, France, Molokai, Hawaii and the HawaiKi Nui race in Tahiti.  So we decided to start the race as a fundraiser to support the entire team and coaches to send them to these events.  For the first two years the Paddle Royal was a combined race which included a 6 men outrigger canoe, SUP and prone category.
After that the Air Tahiti Nui Paddle Royal race gained a life of its own and evolved, last year the race was just SUP and Prone. The Air Tahiti Nui Va'a race is still happening but it is held on a separate date that better coincides with the outrigger season.
The progression of this event, the extra energy and excitement of this race can all be credited to Johanna Tinomano and Tuhei Teriinoho. It is down to the their dedication, creativity and professionalism which has elevated the Air Tahiti Nui Paddle Royal to a higher level and opened doors to great possibilities.
I think I speak for most Tahitians, that the main goal of the race and of Air Tahiti Nui Paddle Royal is to encourage and welcome people to our islands and for the Tahitian athletes to compete amongst other world class athletes.   We are extremely proud of our beautiful islands, everyone should come and see them. Postcards, pictures and TV alone cannot convey the unbelievable beauty of French Polynesia and her islands and people.
Air Tahiti Nui race has received overwhelming support from Air Tahiti Nui and Air Tahiti family (the employees), the race is staffed by volunteers and almost all are employed by Air Tahiti Nui. Each year our goal is to encourage everyone to get on the water and just have fun. We don't just want to be another race on the circuit, we want this to be the true Tahitian race.
Can you describe the race?
The lead up to the start of the race is accompanied by a Marquesan drum and dance troop. The race then begins when the PU (conch) is blown. Throughout the race, the spectators are treated to local bands, local artisans, fashion and other local entertainment and activities. Thanks to Air Tahiti Nui, our other fantastic sponsors and the incredible participants, the race has become a day to mark on your calendar.
This year the race is held at Pointe Venus located in the town of Mahina, a very beautiful location. The elite race is over 14 KM with 3 buoy turns it will offer a variety of conditions, flat water mixed with chop, headwinds and a Downwind run.  We expect a challenging and competitive race that should be fun for participants and spectators alike.
There is also a 5 KM novice SUP race, it starts on the beach front and rounds through a series of buoys. We are also running a kids SUP race that is 250m.  The Tama or kids will depart at Point Venus beach, they have one buoy turn and finish on the beach at Point Venus again, we really encourage all kids to come and paddle no matter what their level is! And finally this year we are proud to introduce the TAG Team 425 Pro Giant SUP fun race that which will be a mixed SUP race consisting of 5 men and a 1 women paddler. We are inviting teams of 6 to compete for challenge prizes in a 250m race.  A highly competitive, but super fun race to participate in.
As part of the French Polynesia Championship, the participants are competing for some amazing prizes.  All participants, Elite, Novice, Masters, Juniors and Kids have excellent opportunities to win some coveted prizes. There are prizes for the top 3 podium finishers in each category. Air Tahiti Nui will offer 6 round trip tickets that will be raffled amongst each of the
categories below, except the kids (SUP & Prone- Elite and Novice) and Air Tahiti will also offer 3 inter-island tickets.
These are the race categories:
Kids ages:  ages  6 through 11 years of age
Juniors:  ages 12 through 19 years of age
Seniors: ages 20 through 39 years of age
Masters: ages 40 +
Last year Enzo Bennett came 1st, with Steeve Teihotaata and Reete Ebb taking 2nd and 3rd respectively. Enzo a 425 pro paddler will be looking to retain his title this year, so it should be an exciting race!
What is the link with 425pro?
Having 425 Pro and Jerry Mihimana on board is tremendous for the Air Tahiti Paddle Royal Race. Jerry is originally from Tahiti, but is now living in Bali. We met at the Pacific Paddle Games in Dana Point, CA. 425 Pro sponsors many of the Tahitian Elite Paddlers Georges Cronsteadt, Heilani Cronsteadt, Enzo Bennett, Sylvana Ozbolt, Ricky Aitamai, and Natua Teriitahi. These paddlers will all be present at the Air Tahiti Nui Paddle Royal Race 2018. It will be an exciting race!
Also competing this year and sponsored by 425 Pro are two riders from France Sebastien Le Meaux and Apehau Tching Piou. Sebastien will be the first visually impaired paddler to race in Tahiti, along with his paddle partner Apehau Tching Piou. Air Tahiti Nui , 425 Pro and Air Tahiti Paddle Royal Race all share the same objective in that we want to open up new experiences, places and challenges to the world.  We hope that the presence of Sebastian and Apehau will motivate others with disabilities to paddle in the race. I think this is an important message to share with the people of French Polynesia, and especially Tahitians with disabilities.
Can you name some of the racers that are already lined up to take place?  
We have in the elite boys Keoni Sulpice , Tiavairau Chang, Tuki Tissot, and the elite girls Liloo Desanti.
The confirmed men are Georges Cronsteadt, Enzo Bennett, Ricky Aitamai,Natua Teriitahi, Steve Teihotaata, Rete Ebb, and Bruno Tauhiro and in the elite women the confirmed paddlers are Marguerite Temaiana, Hina You, Heilani Cronsteadt, Sylvana Ozbolt, Puatea Ellis and  Vaimiti Maoni. A crazy strong line up!
Georges Cronsteadt, Puatea Ellis , Vaimiti Maoni, Niuhiti Buillard, Bruno Tauhiro are also Air Tahiti Nui ambassadors.
The Race is on the Saturday 5th May. Follow TotalSUP for more information and result of the Air Tahiti Nui Paddle Royal!
For more information on the race click here