Team Australia
Team Members:
Michael Booth- 01/30/1991- Long Distance
Best 3 results: ISA World Marathon Champion 2016, Euro Tour Champion 2017, PPG Distance race Winner 2016
"I have competed professionally in SUP over the past two years transitioning from diverse range of paddlesports including kayaking and surfski. My mission is life is to encourage people to believe in themselves, to pursue success and to live a healthy lifestyle. When I'm not racing I spend my spare time travelling and working on varied business opportunities."
Lincoln Dews- 12/30/1995- Technical Race- Sprint
Best 3 results: 3rd Molokain 2 Oahu 2015, 2x Australian Sup tech champion, 2x silver medallist ISA world titles SUP.
"From Maroochydore, Australia. Studying bachelor of sport & exercise science. If I don't answer my phone I'm either sailing, or I've dropped my phone again…"
James Casey- 09/20/1991- Technical Race- Long Distance
Best 3 results: 1st Olukai, 2nd Sunset Beach Pro, Australian SUPtechnical and distance champion.
"From Sydney, Australia but travel a fair bit. When I'm home I work as a meteorologist or I am in the ocean paddling, foiling or surfing."
Terrene Black- 01/27/1983- Long Distance- Technical Race- Sprint 
Best results: 2013 Molokai 2 Oahu SUP unlimited champion, 2017 Molokai 2 Oahu SUP unlimited runner up, Winner 2017 APP World Tour stops Maui and Japan.
"I live on the Central Coast of NSW. I am a professional lifeguard and took up stand up paddling to cross the Ka'iwi channel. I now travel all over the world competing at an elite level."
Ke'ale Dorries- 11/09/1997- Technical Race
3 best results: 1st open woman Huntington Beach pro grand slam 2013, 2nd open woman SUP Surfing Australian Titles 2015, Open woman champion SUP Surfing, 10ft+ SUP Surfing, technical and distance race Scotts Head Paddle Games 2017
"I am a full time business student living on the Gold Coast. I have been paddling for 8 years and have been competing at at international events for 6 years. I am a woman in SUP activist and do what I can to promote SUP to woman and ensure they have the best experience"
Belinda Stowell Brett- 05/28/1971- Long Distance
Best 3 results: Australian nationals – 1st in Distance race 2016 2nd in 2015, 3rd in 2014. (Olympic gold medallist Sailing, 470 class, Sydney 2000)
"I was born and raised in Zimbabwe, came to Australia at 19 for university. Lived mostly in Perth, and ten years in Sydney. I am a sailing coach and work full time for the WA Institute of Sport. Addicted to exercise, love water sports and so SUP is a newish sport for me and excited (bloody nervous) to race for the first time overseas."
Lachlan Lansdown- 01/05/1996- Prone Paddleboard
Best 3 results: 1st ISA prone marathon 2015, 2x Catalina classic winner and current stock record holder, 3x runner up Molokai 2 Oahu prone stock
"I live just out side of noosa on the Sunshine Coast of Queensland. When I'm not training or traveling I'm a part time lifeguard and coach. Love spending time at home surfing the points."
Jordan Mercer- 12/02/1993- Prone Paddleboard
Best 3 results: 6x Molokai 2 Oahu World Paddle Board Champion, Nutri-Grain Surf IronWoman Series Champion., Most decorated ISA Competitor.
"I live in Noosa on the Sunshine Coast. I have been a professional Surf IronWoman since the age of 16 and I am currently studying Primary education at university. I love surf sports, surrounding myself with kind people, being a part of a team, making people smile, working with children, playing music, challenging myself and winning things."
Shakira Westdorp- 10/30/1984- SUP Surf
Best 3 results: 1st ISA SUP Surfing 2016, 5 x Australian SUP surfing, 1st ISA Tech race 2014
"Love surfing, laughing and drinking good beer with friends."
Hannah Finlay-Jones- SUP Surf
Best 3 results: 2nd Aussie Titles Open Women Sup Surf (2016), 1st NSW State Champ Open Women's Sup Surf (2017), 9th Turtle Bay Pro Open Women's Sup Surf (2016)
"I am currently studying Environmental science and marine biology at Newcastle Uni. I've been competing in all aspects of SUP for over 5 years and love that the sport has introduced me to new friends and new places! I'm super excited about competing with Team Australia in Denmark!"
Kai Bates- 12/08/1994- SUP Surf 
Best 3 results: 1st Aussie Titles Open Men Sup Surf (2016), Surfing WA rottenest Island classic open men's Champion, Noosa open of surfing SUP surfing open men's champion.
"I live in Mollymook on NSW's south coast, love all kinds of water sports especially Stand up paddling, been involved competing and traveling internationally for the last 5 years, currently working at Natural Necessity surf shop in Gerringong, Fill my days with surf, food, unreal company, and yoga. Love a challenge and love a win."
Harry Maskell- 02/12/1998- SUP Surf
Best 3 results: 1st in the junior pro SUP fiesta sprint race, 1st in the junior pro SUP fiesta SUP surf, Semi final finish in last years ISA games at cloudbreak.
"I've lived in NSW Australia my whole life. Recently graduated school and working to put my name as one of the best in stand up paddling."
Team Physiotherapist
Josh Carter- 06/11/1990
"I'm a doctor of physiotherapy and an accredited exercise physiologist who works out of a specialist surf sports practice on the Gold Coast, Surf Life Physio. I love stand up paddling, treating stand up paddlers and helping them to prevent injuries. I'm looking forward to travelling with the team again this year and helping them to perform at their peak!"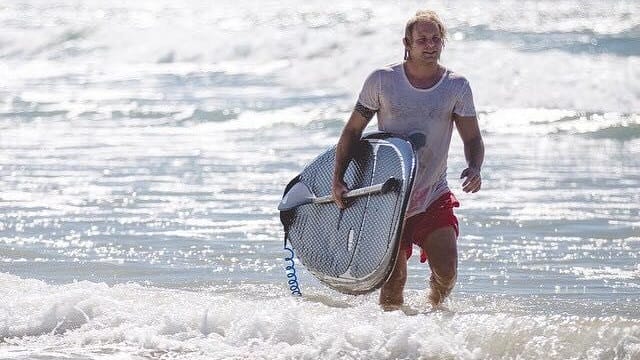 Team Manager
Troy Peasey
"Career Fireman 21 years, dad, waterman, recreational paddler and competitor, frother, camper, leader, animal lover"
Long Distance: Michael Booth – James Casey – Terrene Black – Belinda Stowell Brett
Technical Race: James Casey – Lincoln Dews – Terrene Black – Ke'ale Dorries
SUP Surf: Shakira Westdorp – Hannah Finlay-Jones – Kai Bates – Harry Maskell
Sprint: Lincoln Dews – Terrene Black
Prone Paddleboard: Lachlan Lansdown – Jordan Mercer
Team Manager: Troy Peasey
Team Physiotherapist: Josh Carter