by James Casey.
The Australian stand up paddle race season is underway and this weekend the Central Coast (just an hour north of Sydney) is hosting the Saltwater Festival. This is a relatively new race, just in its third year now, but is starting to gain some serious momentum with paddlers from up and down the east coast travelling to compete.
The Programme
The weekend kicks off
on Saturday
with the distance race at
Tuggerah Lake
. On the right day this lake can provide a downwind run
similar to Hood River
with corduroy lines from one end of the lake to the other. It can work in a northeasterly or southerly wind and the crew at the Saltwater Festival have the option to run it either way depending on conditions. Being an inland downwind run, winds do need to be quite strong to make it resemble Hood River but it can happen and with the race set to happen
tomorrow
there is
a promising forecast with northeasterly winds bringing the chance of some fun bumps
to be had. The second day is based along the waterfront at The Entrance with a
flatwater technical race
in the morning and
a Dash for Cash
in the afternoon, as well as a number of other relays and family races.
Big Prize Money
The Saltwater Festival offers some serious prize money with $500 on offer for the win of each race as well as $4000 for the overall event winner, meaning if you can clean sweep the weekend you will walk away with $5500. This prize money is split evenly between the Open Male and Female which is a nice gesture that will hopefully increase the numbers in female racing. Personally I feel the prize money should be allocated according to the number of competitors in each category, for example if the field is 20% women and 80% men then I feel some of this prize money should be distributed to the larger age group categories or spread more evenly down to the top 5 or top 10 for men.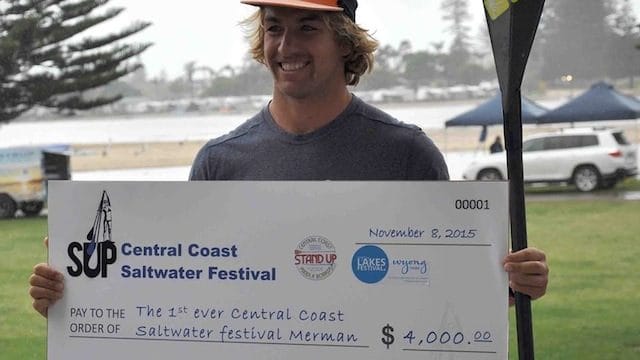 (Photo: James Casey, last year's overall winner)
Unfortunately this year the Saltwater Festival clashed with the ISA World Championships in Fiji so there will be a number of pros missing but due to the depth in Australian paddling it will still be hard to walk away with the cash. The men's racing will be headlined by World Number 2 Michael Booth and Break Through Performer for 2016 Matt Nottage. A plethora of pros from Queensland are expected to make the trip south including, Jake Jensen, Paul Jackson and Kelly Margetts, while Sam Parker, Andy Davies, new Central Coast local, Harry Lee, and potentially Dave Kissane (if it gets really windy) could put up a good fight to keep the money in New South Wales.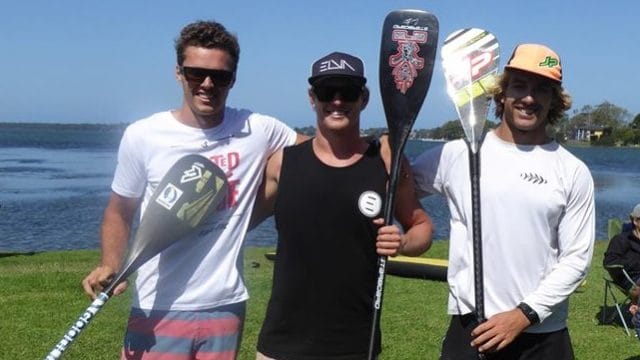 For the women Angie Jackson will go in as a red hot favourite for the overall title with rivals Karla Gilbert and Terrene Black already in Fiji.
My predictions
As a spectator for this race I'm going to have a crack at predicting each event over the weekend. The distance race will setup the weekend and potentially make the difference to the overall title. With less than 15 knots and you will see Boothy run away with it. Over 15 knots and some proper downwind conditions and you could see a closer battle between Nottage, Jake, Boothy and Beau. Downwind specialists Sam Parker and Dave Kissane could easily place in the top 5 in a true downwind race as could Kelly, Jacko or Harry Lee on their new downwind specific Sunova, One and NSP boards respectively.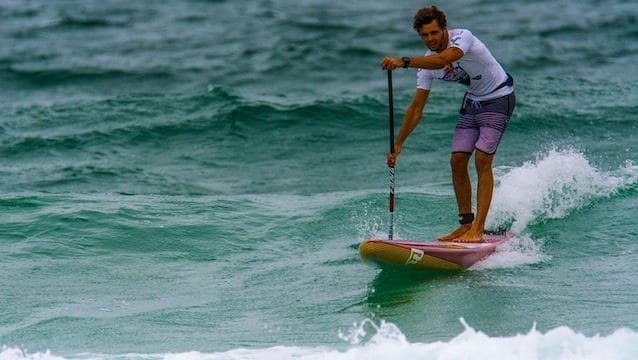 Downwind Distance Race:
1. Matt Nottage
2. Jake Jensen
3. Michael Booth
5. Dave Kissane
Flatwater Distance Race:
1. Michael Booth
2. Jake Jensen
3. Kelly Margetts
4. Matt Nottage
For the technical race Boothy goes in as favourite after doing everything to win it last year before dropping his paddle just before the finish line. Jake, Kelly and Nottage will keep pace with Boothy and push him most of the way.
Technical Race:
1.Michael Booth
2. Jake Jensen
3. Matt Nottage
4. Kelly Margetts
For the dash for cash it depends if it is a one design race. Last year everyone had to race 10ft ECS boards and Jacko came away with the win. If it is a one design race again I'll back Jacko to go back to back but my top 5 will include Jake, Beau, Kelly, Nottage and Boothy.
Dash for Cash:
1. Paul Jackson
2. Jake Jensen
3. Michael Booth
4. Matt Nottage
The men's overall title will be a hotly contested affair with Boothy going in as the favourite but if the wind whips up for the distance race you could see Nottage or Jake take the win from him.
Overall Title
1. Michael Booth
2. Jake Jensen
3. Matt Nottage
An exciting weekend of racing even with a bunch of Aussies missing the action as they prepare for ISA in Fiji. I'm looking forward to seeing how the weekend unfolds. Follow the Central Coast Saltwater Festival Facebook Page for up to date results over the weekend.